•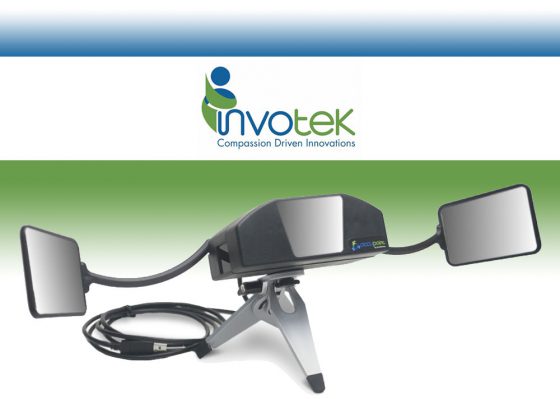 AccuPoint is a movement tracking system that enables a person to control a computer even when they cannot use their hands . While most AccuPoint users control the mouse and enter text using head movement, any body movement can be used. AccuPoint tracks a reflective dot cluster that is attached to a person or a piece of clothing using double-sided tape. AccuPoint will track a wide range of movements — from very small to very large — while distinguishing tremors from intentional movements. Our Absolute Tracking technology means the computer cursor stays aligned with your head, providing better control and saving you time and energy.
AccuPoint mounts easily to the back of your computer display and plugs into a USB port. Our comprehensive software suite provides three levels of access: comprehensive typing and mouse control, typing within an app that talks, and just mouse control. The video below shows Loyd using the talking app.
How It Works
AccuPoint tracks the movement of a small cluster of dots affixed by double-sided tape to the user – there are no wires or equipment connected to the person. While most people use the AccuPoint system for tracking head movement, the device can track anything the cluster is attached to – fingers, toes, anything! George demonstrates this in the video below.
To get started, the user sits in a relaxed position a couple of feet in front of AccuPoint. AccuPoint will find the dot cluster with its cameras and present a calibration target. Once calibrated, the cursor remains aligned to the user's head.
To select items on the computer screen, the user points to the desired spot and holds their head still – a process called dwelling. The user can set the dwell time and dwelling can be turned on and off to prevent inadvertent clicking. If the user prefers switch input to dwelling, there are two programmable switch ports on the back panel of AccuPoint for inputting left and right mouse clicks via the user's favorite switches.
The software programs that come with AccuPoint offer a wide range of settings to optimize AccuPoint for the user. You can adjust the amount of head movement that is required to move the cursor across the screen and add filtering to remove the effects of head jitter.
AccuPoint has a standard threaded mounting hole used by photographers for mounting cameras (¼-20 mounting thread). Included with AccuPoint is a small tripod. Also included is a plastic pocket for easily mounting AccuPoint to a laptop. AccuPoint weighs only 9 ounces and connects to computers running Windows 7 through 10 via a USB port.
What It Does For You
AccuPoint gives you control of a computer by moving your head. You can move the mouse cursor, click on icons, and type in letters using our on-screen keyboard. Anything you can do with a mouse and keyboard, you can do with AccuPoint.
AccuPoint addresses issues that persons with disabilities may encounter when trying to use other head tracking technology. The Absolute Tracking technology enables the user to calibrate once per use and then the computer cursor remains aligned with the user's head. This is particularly important for users who struggle with head control.

AccuPoint Software Suite
Three diverse software programs are included with any AccuPoint system to meet a wide range of needs. Most users require no additional access software.
ACCUPOINT TALKING WORDS
AccuPoint Talking Words software is designed for users who need a simple word processor with speech output but don't require access to all computer functions. A multi-featured, fully integrated, on-screen keyboard is included. New computer users and those who have greater difficulty with movement control will find everything they need to compose written messages with AccuPoint's comprehensive Talking Words software, which includes the following features:
Quick and easy installation
Simple to learn and use
Large, multi-featured, fully integrated, on-screen keyboard
Speech output via Microsoft "text-to-speech" technology
Programmable phrases for quick access to speech output
AccuPoint access is limited to this program, eliminating the confusion that may accompany full computer access.
ACCUCLICK
This software enables computer users to simply point and click on the computer screen – ideal for those who don't require a full-featured on-screen keyboard. AccuClick allows the user to left click, right click, double click, and click-and-drag at any point on the computer display. AccuClick can also be used with communication programs such as The Grid, which handles dwelling internally.
ACCUKEYS
AccuKeys enables users with more sophisticated computing needs to interact with nearly all computer applications. The on-screen keyboard remains in one spot and manages other Windows applications so that they don't interfere, reducing fatigue and increasing typing speed. AccuKeys' advanced functionality makes it a better on-screen keyboard than third-party on-screen keyboards for most users.  AccuKeys…
Enables mouse control functions (left click, right click, double-left click, and click-and-drag).
Allows typing into word processing, email, web browser, and most other applications.
Remains stationary in one spot on the screen, managing other programs and improving ease of use.
AccuKeys also includes word prediction (pictured above), which reduces the number of letters that must be typed to enter words by approximately 50%. The word prediction algorithms predict new words based on the previous word you have typed. The software learns over time the words that you use and the way that you use them.
AccuKeys also checks spelling and offers word alternatives based on the spell checker suggestions.
Click here for more information.