•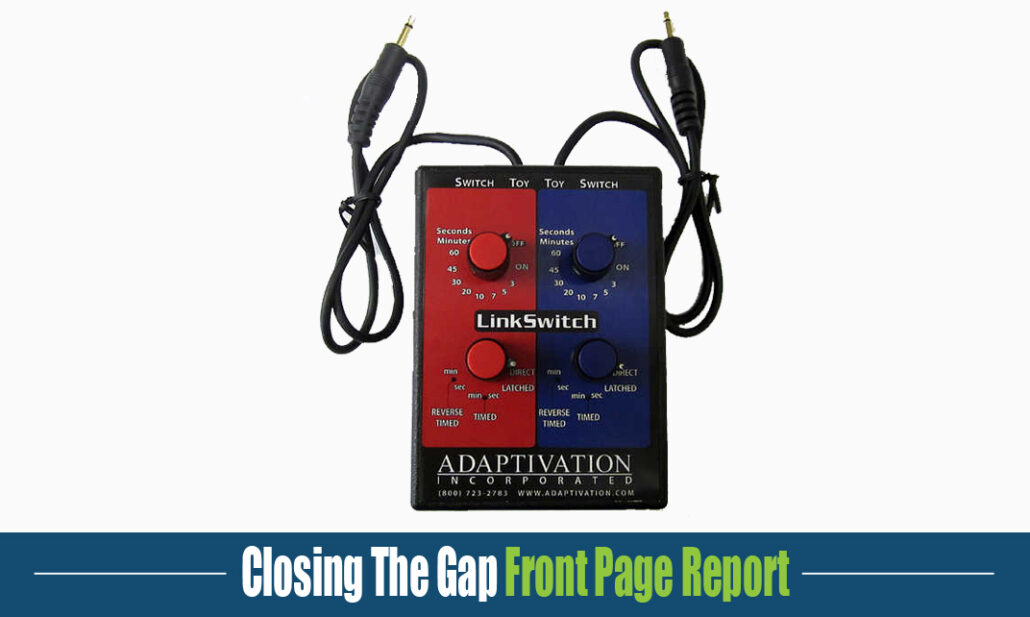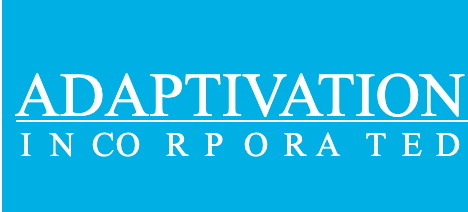 The LinkSwitch is a switch-latch timer that enables individuals to activate battery-operated devices using any adaptive switch with a standard plug. Simply plug both the switch and the toy or other battery operated device into the LinkSwitch, then touch the switch to activate. All LinkSwitch devices come with dual-channel modes and add latching, timing, and reverse timing capabilities to battery-operated devices.
New Feature
Use the "Media Mode" on the LinkSwitch to activate a Digital Book Player from your state's Braille and Talking Book services. With the LinkSwitch connected to the player through a Swifty, the activation of a single switch turns the digital book player on for an adjustable amount of time. The player then turns off, requiring the user to activate the switch again to continue to listen to the recording. This feature is great for anyone who needs processing time. Includes one 9-volt battery.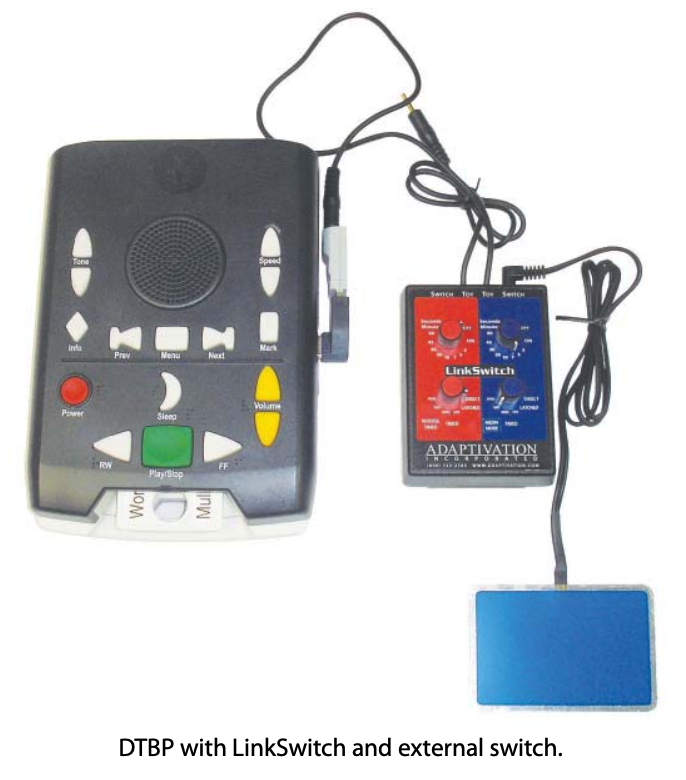 Media Mode
Media Mode is used when one needs to control certain media-playing devices so that they have a timed play function. Such devices include movie-playing software on computers and Digital Talking Book Players (DTBP) as used in each state's Braille & Talking Book Library services. DTBPs and some media-playing software have the ability to pause, and resume playing simply by pressing a button or key, such as the SPACE key.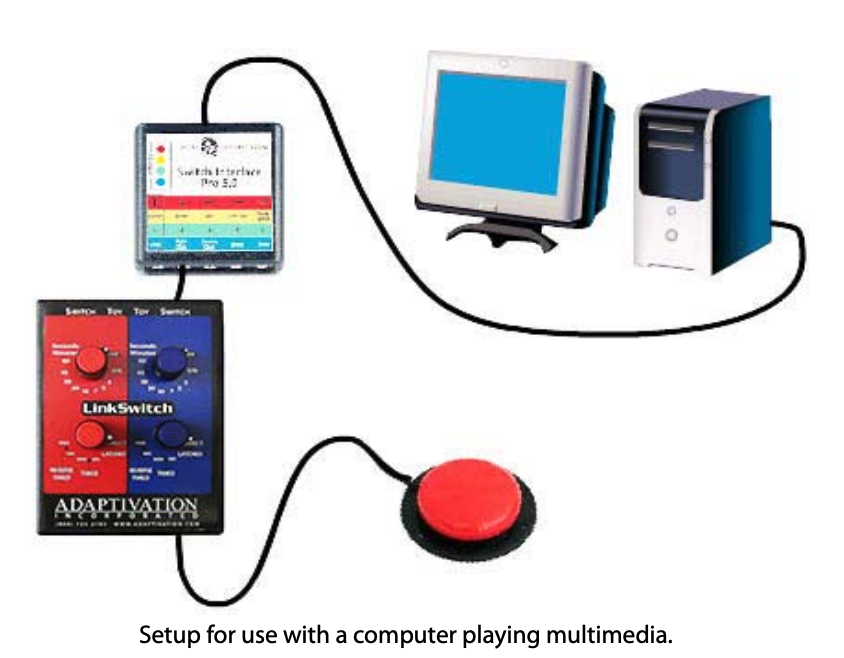 Some media players such as Windows Media Player may not have this pause-play ability with a key; One must move the cursor over the pause-play button, then left-click with the mouse. With the DTBP, there is a dedicated button to pause/play the Digital Talking Book.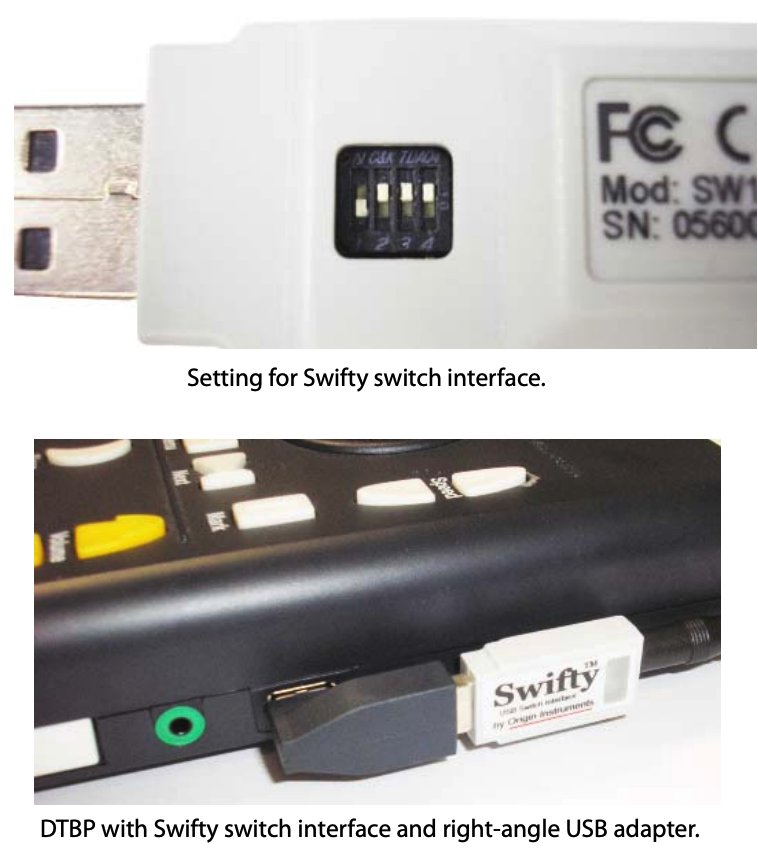 Media Mode works only on the right (Blue) side of the LinkSwitch. Media Mode allows the use of an external switch to perform a timed play-pause-play function such that the media will playback for a prescribed amount of time as determined by the timing knob on the LinkSwitch. To use Media Mode, plug an external switch into the LinkSwitch, and plug the LinkSwitch cord into your DTBP or computer. Note: DTBPs and computers will need a switch interface, available from Adaptivation. DTBPs work well with the Swifty switch interface.
Set the time knob on the LinkSwitch to the desired time and the function knob to MEDIA MODE (seconds or minutes). Prepare your device to play. Pressing the external switch causes the DTBP or computer to begin playback of the media. After the time indicated by the knob, the media will stop playback. The user must then press the external switch again to resume play.