•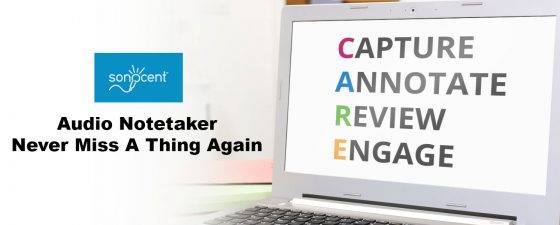 How does it work?
To get started, hit 'record' and highlight key moments as you listen with the software's pioneering speech-visualization technology. Build powerful resources by adding slides, diagrams and text notes right alongside your recording.
Productivity, better learning outcomes and effortless organization are the headline benefits of choosing Audio Notetaker. For a student it means super-useful notes… for a teacher, a more inclusive classroom… and for a professional, detailed records of meetings and interviews.
Their CARE process: powerful resources in 4 simple steps

Capture
Work with recordings taken on your laptop or with the free companion app. It's easy to go back to the key moments – audio is visualized, phrase-by-phrase.

Annotate
Bring together all your information on a topic. Highlight audio, and add photos, slides and text notes alongside your recording.

Review
Listen back to the key moments of your recording at your own pace. Create more detailed notes and take dictations.

Engage
Quickly bring together information by topic or task. Export into multiple file formats and share with colleagues or classmates.
Disability support in education.
Their software makes educational content accessible – from lecture material to online learning resources.
Create truly inclusive learning environments.
From diagrams on the whiteboard to classroom instruction and online videos – there is certainly no shortage of educational content for students to tap into these days.
But for students with certain disabilities much of this information is delivered in formats that simply aren't accessible.
That's why they created Sonocent Audio Notetaker – software that enables almost any student to capture, engage with and develop a wide array of educational content.
Better notes start here.
People need to take notes in many scenarios – from the lecture theatre to the meeting room. But the way most of they do it – scribbling frantically while trying to process what we are hearing – just isn't effective.
That's why they came up with the idea for Sonocent Audio Notetaker.
With the software, you can capture everything you hear without writing, and highlight key points for review with a click. Plus you can add your slides, diagrams, and text notes to the same project.
Watch the short video opposite to see how it works.


Never miss a thing
Trying to write or type everything up in classes and meetings is difficult. But with Audio Notetaker, you can capture everything for review and focus on listening and participating.
Do it at your own pace
After your class or meeting, you can listen back to the key moments from your recording and type your notes without any time pressure.
Get organized
Build up a library of multimedia resources – slides, notes, and audio – from classes or meetings. Tap into the information when you need to.
Up your productivity
Unlike digital recorders, Audio Notetaker gives you a 'bird's eye view' of your entire recording. Go back to the key moments with a click.
Who has it helped?
Their software has helped over 100,000 students with disabilities at schools, colleges and universities.
That includes students with:
• Dyslexia
• ADHD and ADD
• Dyspraxia
• Autism
• PTSD
• Physical impairments