•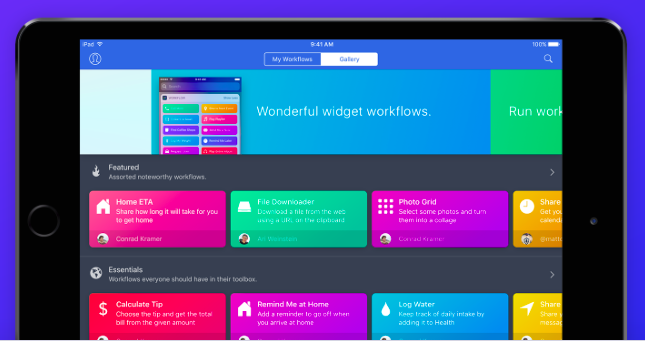 Workflow ($2.99) is a utility for chaining together a series of actions from different iOS apps into a single "workflow" that can be performed with a simple tap, saving a lot of time and effort through automation. The goal, according to Workflow's developers, is to "spend less taps, get more done."
In 2015, Apple awarded Workflow one of its coveted Apple Design Awards. The award was unique in that it recognized the Workflow team for their efforts to integrate support for the VoiceOver screen reader available as one of the built-in accessibility options on iOS devices. As far as I know, this was the first time an app had been recognized with an Apple Design Award for its accessibility support. Even better, it was two members of of Apple's accessibilty team who are blind who did the demo when Workflow received its award (the actual demo begins about 36 minutes into the video).
In addition to its exemplary VoiceOver compatibility, Workflow can be especially useful for those who rely on the built-in iOS switch access feature (Switch Control) to get their work done. Even with the built-in QuickType word prediction available on iOS, a switch user would need to perform quite a few switch presses to send out a simple text message: a few switch presses to open the Messages app, several more to move the scanning cursor to the onscreen keyboard and enter the desired message text, and yet a few more to send the message. If the message is one the user frequently sends to the same person, we can automate much of this task with Workflow. With a simple tap (or switch press) on a special icon added to the Home screen, the Messages app would open with the name of the contact ("Mom") and the message text ("I'm ready to be picked up!") already entered into the appropriate fields. Many fewer switch presses would then be required to perform this task, since Workflow will have done most of the work of getting the message ready to send.
Workflow already includes many actions for built-in iOS apps such as Contacts, FaceTime and Messages.  These, actions can be chained together to create a workflow, with the output from one action used as the input for the next one in the chain. The app also has a Gallery of full workflows created by the app's developers or submitted by the Workflow community. I recommend looking at the Gallery first, to see if someone has already created the workflow you need.
Let's explore Workflow by creating a simple workflow that will send a quick message to a contact (Mom) with the message body already filled in ("I'm ready to be picked up").
Getting Started with Workflow
We are going to craete our first workflow on the iPad version of the Workflow app, but the steps are very similar on the iPhone. The layout of the iPhone app is just slightly different, to account for the smaller screen on a smartphone.
To create your first workflow with the iPad Workflow app:
Launch the Workflow app and choose the Add (+) button.
Make sure Normal is selected for the workflow type. I will discuss Today Widgets and Action Extensions later in this post.
With the iPad in the landscape orientation, you will see a list of the various actions you can add to a workflow on the left side of the screen. Scroll down (or do a search) to select the Text action, then drag this action to the work area on the right side of the screen.
Enter the desired message text ("I'm ready to be picked up.") in the text field for the action you just added.
Repeate Step 3, but this time add the Send Message action by dragging it underneath the Text action you added in Step 3.
Tap the Add (+) button for the Send Message action and choose the desired recipient from your Contacts, or add their phone number directly in the Recipients text field.
Tap the Settings icon for this workflow (as indicated by a gear icon) and give the workflow a descriptive name ("Ready for Pickup"), then tap Add to Home Screen.
Choose a color and symbol for the icon that will appear on the Home screen, then tap Done.
Follow the onscreen directions in Safari to finish adding your new workflow to your device's Home screen – you will tap the Share icon and then select Add to Hoome Screen and Add.
Here is what the finished workflow looks like in the Workflow app:

This brief video that shows you how to create the workflow in a more visual way:
That's it! You now have a new workflow on your Home screen. When you tap its icon, the Messages app will open to a new message that is already addressed to the appropriate recipient and also has the message body already filled in with the desired text. With one more tap, the message will be on its way. This is a very simple workflow to show you how the app works and get you started. There is a lot more you can do with Workflow as you get to know all of the actions that are available and learn how to combine them into more complex, and powerful, workflows.
If you choose Today Widget for your workflow type, you will be able to quickly launch the workflow from the Today view in Notification Center (which you can access at any time by swiping down from the top of the screen). You will first have to add Workflow to this view as follows:
Swipe down from the top of the screen to reveal the Notifications Center, then swipe to the right if the Today view is not already visible.
Tap Edit at the bottom of the view.
Scroll down until you see Workflow and tap the Add button (+).
Tap and hold the rearrange button on the right side of the Workflow widget, then drop it into the desired order under either the left or right column.
Tap Done.
Now when you open the Notifications Center, you can swipe right to reveal the Today View and see a list of all of your Today Widget workflows ready for activation. I do quite a bit of work with screenshots when I am doing blog posts or creating tutorials. To keep my iPad from filling up with these screenshots (and since I mostly work on my Mac when doing the tutorials), I have created a Send Screenshot workflow with three actions:
Get Latest Screenshots (set to 1)
Airdrop (will prompt me for a device to Airdrop the screenshot to)
Delete Photos (will delete the last screenshot from my Camera Roll).
The final way you can launch a workflow is by creating it as an Action Extension. These extensions are shown whenever you select the Share sheet for the current app. For example, while reading a website in Safari, I can quickly save it as a PDF document. To do this, I would tap the Share button, then choose Run Workflow from the Share sheet and select the appropriate workflow (Make PDF). You may have to add Workflow to the Share options first: with the Share sheet open, scroll all the way to the end of the listed actions and choose More, then make sure Run Workflow is selected.
One of my favorite workflows is an Action Extension: it creates a QR code of the current website I have open in Safari, which makes it easy to share any web resource with a large group. This workflow is just three actions:
Get Details of Safari Web Page (Page URL)
Generate QR Code (Medium)
Save to Photo Album (Camera Roll)
Workflow in the Real World
Now that you know how easy it is to create a variety of workflows, let's take a look at how Workflow can make a difference in the life of an actual iOS user: Logan Prickett.
When I met Logan back in 2015 he was a second year student at Auburn University at Montgomery. Logan is an academically gifted STEM student and the inspiration behind The Logan Project at AUM, an initiative to develop software that will enable students who are blind or who have low vision to fully participate in all college-level math courses. At age 13, Logan suffered an anaphylactic reaction to the contrast dye in an MRI. His heart stopped beating on its own which left him without oxygen for 45 minutes. His time without oxygen left Logan blind, a wheelchair user, with fine motor control difficulties, and unable to speak above a whisper due to damage to his vocal cords that occurred during life saving measures. Logan has the cognitive ability to do the work in his courses, he just needs a few technology supports in place to ensure his vision and motor challenges do not get in the way and prevent him from tapping his full potential.
Logan relies on Switch Control with the Speech option turned on to interact with his iOS device. The Speech option for Switch Control is the equivalent of also having VoiceOver turned on. This allows switch users who are also blind, like Logan, to get audio prompts that let them know which item has focus as they scan through the interface.
After becoming familiar with Switch Control, Logan started using workflows to send quick messages to his team, such as "I'm ready for pick up" or "class is running late." Workflow made the task much easier because each workflow opened the Messages app with a preset message already addressed to the correct person. All Logan had to worry about was selecting the right workflow (as identified by a descriptive title) and then performing just a few switch presses to send the text message when he was ready. As Logan's command of Switch Control has improved he now can rely on the word prediction more, so that not all of his messages come from preset workflows. However, the preset messages are still available to Logan for those times when he doesn't want to go through the process of typing a lengthy message with the iOS keyboard.
Over time, Logan's workflows have grown to accommodate other actions he has to perform in the course of his daily life, including:
Accessing articles saved to a Pocket account. Pocket is a free app for saving articles from the Web so that they can be read later. With a simple workflow available in the Gallery that ships with Workflow, Logan can decide how many articles he wants to have read to him. The articles are then read in sequence using text to speech. This is a great help for Logan to access research articles for his academic work, as well as websites on topics that interest him outside of school – such as hunting!
Controling an Amazon Echo: this recent development has really opened up Logan's access to information from a variety of sources: podcasts, audiobooks, a news summary, the local weather and more. Ann Gulley, who supports Logan at AUM, figured out a simple way to use VoiceOver to trigger the Amazon Echo through the use of "dummy workflows." These are workflows that don't actually have any content in them other than a descriptive title. When Logan navigates to the dummy workflow that has been added to his Home screen, VoiceOver will read the title ("Alexa, what's the weather like?") and this will trigger the Echo to give Logan access to the desired information in audio format. This has worked much better in practice than having a full worklfow that uses text to speech to speak the Echo trigger.
The video shows Logan using a number of these workflows:
Workflow, along with the iOS accessibility features Logan relies on, have had a profound impact on his ability to not only pursue his education but live a more independent life. The proof: Logan has presented at the CSUN conference and he already has a publishing credit to his name. Logan provided expert insights to a book chapter focusing on mobile accessibility in higher education. He is now actively involved in helping to develop a fully audio method for teaching higher level math to not only learners who are blind, but also those who have dyslexia and other learning difficulties. This is just one example of how built-in accessibility supported by accessible apps such as Workflow makes a true difference in the lives of our diverse learners.