•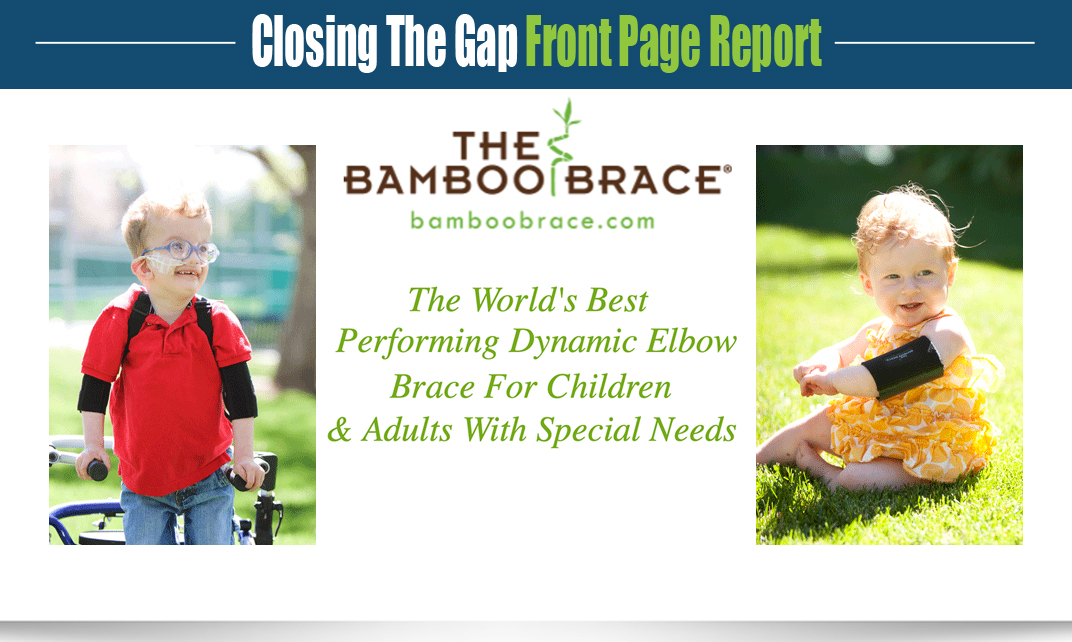 The Bamboo Brace is a dynamic elbow splint for children with special needs that encourages extension of the elbow at more favorable angles in order to learn gross and fine motor skills as well as prevent undesired oral/facial interaction.
The Bamboo Brace is sold with 5 flexible and interchangeable support stays of varying resistance. There are 4 different size options which fit children from as young as 2-3 months up to about 18 years of age.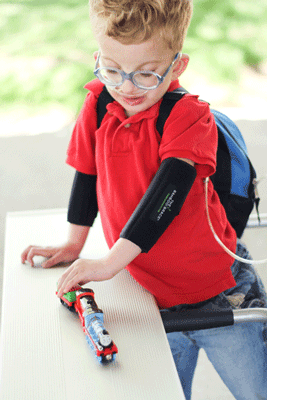 As a rehabilitation tool, The Bamboo Brace is excellent for both cases of spasticity (i.e. cerebral palsy) and weakness (i.e. low muscle tone, Down syndrome). In both situations, the dynamic re-alignment of the elbow assists children in gaining strength and control of key joints and musculature that are critical to the development of gross and fine motor skills.
As a flexible yet effective deterrent, The Bamboo Brace also prevents unwanted interaction of the child's hands with the head, neck, and face for a variety of situations including mouthing, hand wringing, post cleft lip and palate surgery, autism and Rett syndrome.
Who can benefit from The Bamboo Brace?
Any child who has a predominant flexion (bending) pattern at the elbow that is slowing motor development.
Any child who is unable to bear weight through their arms or support themselves for crawling and other developmental motor activities.
Any child with a progressive neurodegenerative disease.
Any child who presents with spontaneous hand movements or incessant hand mouthing.
Any child who has recently had surgery on the head, neck and face to keep them from removing sutures or bandages and damaging the surgical site.

A list of some common diagnoses for which The Bamboo Brace is helpful:

Cerebral Palsy
Developmental Delay
Spinal Muscular Atrophy
Low muscle tone
Autism and Pervasive Development Disorder
Down Syndrome
Prader-Willi Syndrome
Rett Syndrome
Post-surgical patients: cleft palate, plastics, ear/nose/throat, and dental
Sensory Processing Disorder
Brachial Plexus Injury
What is Dynamic Elbow Bracing?
Dynamic elbow bracing is the motor therapy technique of placing a stiff, yet flexible enough brace on the arm to help improve elbow angles so that children with special needs have an easier time learning and reaching motor milestones.  In our treatment experience dynamic elbow bracing means that the brace is helping the elbow move in and out of positions along with the child being active in the process.  If the movement process is active and dynamic this means the combination of the child and the brace working together produce functional results that matter.
It may sound obvious, but the key is making sure the brace is 'dynamic' meaning that it can flex and bend to some degree and can be adjusted to the needs of the child.  The opposite of course is a "static" brace that is placed around the elbow joint in a fully extended position and prevents any kind of movement or natural bending of the elbow.  Static braces might help align the elbow for motor skill development but they do not allow the child to repeat the necessary joint movement and muscle contractions to actually learn the movement.  Static braces passively position the elbow in straighter angles but they are too stiff to allow the child to fire the necessary muscles during motor learning.
With a dynamic and flexible product like The Bamboo Brace the child actively strengthens muscles in the upper and lower arm, by producing the muscle power necessary to learn rolling, sitting, crawling, standing and walking.
What are some "motor skills" my child can improve on by using The Bamboo Brace?
Rolling (stomach to back and back to stomach)
Sitting using the more extended arm(s) as needed to help prop and bear weight for play, eating and daily skills
Two handed play and assisted play
Hands and knees, crawling and kneeling
 Transitioning to ½ kneeling and standing (pulling up at furniture and stair climbing)
Cruising (sideways walking) along furniture and household objects
Hand-held walking and using assistive devices such as walkers and push toys
Independent walking (will free up core muscles for rotation and balance)
Assistive climbing for accessing park and playground equipment
Bike riding, racket sports and other age appropriate play that requires two hands out front