•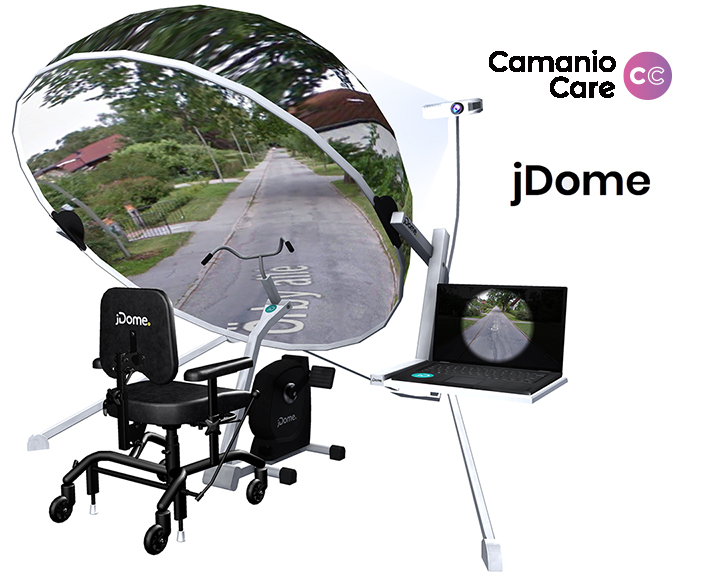 Happiness is underrated! The jDome® BikeAround™, takes you around the world.
The will to move around, get out and look around is only natural, but everyone does not have this opportunity. One of the largest challenges in health care is to offer meaningful activities. Illness and disability should not keep someone from having a meaningful everyday life.
Do you experience difficulties with…



…motivating exercise and physical movement?




…providing a variety of diverse tools for activity?



…having limited resources and inspiration for stimulation?
With jDome BikeAround, you can create an interactive experience which can help improve everyday life

Reminiscence
Let your clients return to places they recognize, such as their childhood community. 

Safe and secure
jDome offers a safe and secure way to physical and cognitive exercise. 

Simple and fun activity
Raise curiosity and stimulate interaction with others through an interactive experience.
How jDome works

jDome is suitable for

People with cognitive disabilities
jDome can be successfully used in rehabilitation and daily activities. Communication and motor skills as well as sensory stimulation can be exercised in conditions that are safe, repeatable and customary.



People with physical disabilities
Balance problems, cerebral palsy, overweight or acquired brain injuries.


People with memory difficulties
jDome makes exercise of, for instance, visualizing and abstract ability and interaction with others more pleasurable and meaningful.
jDome Package Deal includes:



Computer and computer holder


Projector and projector holder


Stand


Dome


Pedal unit and control unit


Carpet


Software jDome Street


Internet cable and transport case


Training and installation