•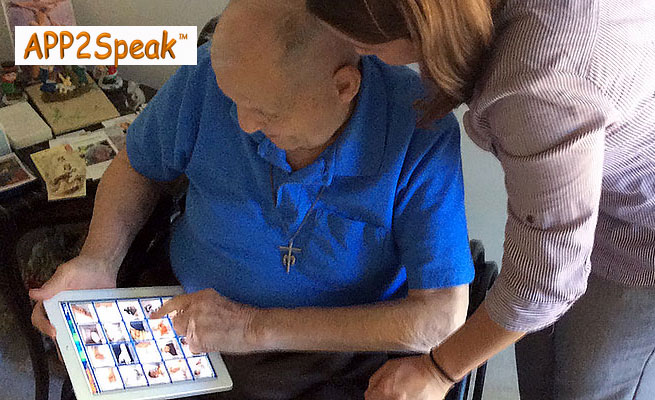 Blog from APP2Speak
Bridge the Silence
As a Speech Language Pathologist, I have experienced the joy of my patients' successes as well as my share of frustration that I could not help them achieve more. Several years ago, I recognized a major problem with the current assistive devices on the market when I was providing speech therapy to a 68 year-old that experienced a stroke. She and her family became frustrated while trying to communicate using Skype. My patient tried to position her picture communication board toward the camera and point to pictures. Her family could not see what she was pointing to and there was silence. (Picture communication boards are only useful if the audience is able to look directly at the board.) I stood there and watched my patient become frustrated and I experienced it too.
                                                       
Augmentative and Alternative Communication (AAC) is a term for devices that are designed to assist users with their everyday communication needs (also known as speech-generating devices). My patient and I discussed AAC; after many trials of different systems, we were back to square one – the picture communication board. We found that the AAC systems available did not meet her needs. They were too complicated for her to use and were also tremendously expensive. In addition, she did not like the cartoon characters and stick figures and layers of categories that were used to express a want or need.
 
Feeling frustrated there wasn't anything currently available that was appropriate for her situation, I set out to create something myself. I designed and created APP2Speak™ an inexpensive, easy-to-use adult AAC software application for the iPad.
 
APP2Speak™ allows users to create custom pages for personalized communication. The speech output is executed by clicking the corresponding picture on the page. Users can personalize the pages to their lifestyle by creating custom words or phrases, using their own pictures for communication and even recording their own voice or the voice of a loved one.
 
Several months ago, I had the privilege of meeting a gentleman with a great sense of humor who experienced a stroke. His wife helped him set up the custom pages on APP2Speak™. They took a picture of his mustache and recorded speech output saying, "Can you help me shave?" Another custom picture was a personal mug filled with beer and recorded speech output saying, "beer me".  Customization is a means to personalize your expression, to show your personality and to connect with family and friends. The gift of speech is worth millions of conversations.
Recently, I had the pleasure of having lunch with a friend I met at the St. Louis Chapter for ALS walk last year. I wanted to experience her voiceless world with her! We communicated using my voice (at times) and 2 AAC systems: APP2Speak™ and her communication device; a Surface computer with a speech output thumb drive from Talk to Me Technologies. This AAC system allows my friend to accomplish many things; for example, Email, Facebook, internet searches and communication. She also has an iPad with APP2Speak™. She uses APP2Speak™ for communicating in situations when she doesn't need to have a computer. It's easy-to-use and she particularly likes the text-to-speech page. (She was the inspiration for me to add this feature.)
We were successful with our conversational exchanges (using text-to-speech) and ordering our food. However, we found ourselves laughing because several times I was found guilty of finishing her sentence before she completed it. I am ashamed I made the mistake of using poor conversational etiquette because I know better! Proper etiquette is most important and essential when conversing with people with speech disabilities. They may need a little extra time to exchange their thoughts and ideas. It's frustrating when others try to finish their sentences or their thoughts and eventually start to talk for them as if they weren't there. As my friend said, "friends and family are the worst "buttinskies". We had a great time!
Communication is a means to express what we know. It is integral in all aspects of life, especially the enjoyment of our relationships with loved ones, friends and in our participation in everyday life situations within our home and community.
For more information on Assistive Technology and Augmentative/Alternative Communications Devices, please visit http://www.asha.org/public/speech/disorders/AAC/.
APP2Speak™ is a communication software application for adults with speech impairments resulting from a stroke, progressive neurological diseases, dementia, brain injury and other disorders affecting speech and communication. 
APP2Speak™ is an easy-to-use, interactive and fully customizable speech output application currently available for the iPad.  It is a cost-effective solution for expressing wants and needs essential to daily living and the enjoyment of relationships with loved ones and friends.
Preset pages contain real life photos to assist speech-impaired individuals to easily communicate immediate wants and needs by selecting a photo with speech output for a word or a phrase. The text-to-speech page is another option for quick communication. The endless custom pages provide personalized communication; you can take a picture within APP2Speak™ or use a photo from your library. Find your voice with APP2Speak™ !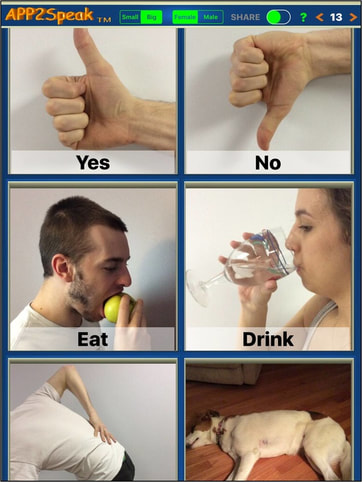 APP2Speak™

 

includes real-life photos and speech output. 

Preset pages consist of 20 photos on each page. Options include: picture size, speech output, turn photos off/on,  move pictures and a separate page for text-to-speech.

Custom pages are unlimited and provides the user an opportunity to individualize their communication style.

Personalize using your own photos or take a picture within

 

APP2Speak™

, add words, phrases, stories etc. and select text to speech or record your own voice.
APP2Speak™ is an augmentative and alternative communication software application for the iPad to help adults who have difficulty expressing their wants and needs essential to daily living.
APP2Speak™ contains 80 preset communication needs and wants. Each page displays 20 real-life photos with words. Each selection provides voice output (with male or female voice options) for word and phrase describing a want or need. The page size can be easily adjusted for visual difficulties: sizes include 4×5 or 2×10 (columns x rows). The pages can be swiped up and down, or left and right to switch between pages. Preset photos can be moved and turned on or off.  A separate page for text-to-speech is located on the Help page by touching the ?.
​
APP2Speak™ is compatible with external switches within the accessibility features on the iPad for use with physically challenged adults.
The custom pages are unlimited and provide additional flexibility to enable personalized communication. Speech Pathologists, family and friends can upload pictures from their personal photo library or, Internet (with wireless Internet connection). Another option is taking a picture within APP2Speak™; you can save on custom pages, label the picture, select text to speech or record your voice for speech output. Share your custom pages with other
​APP2Speak™ users through an enabled Bluetooth or Wi-Fi connection.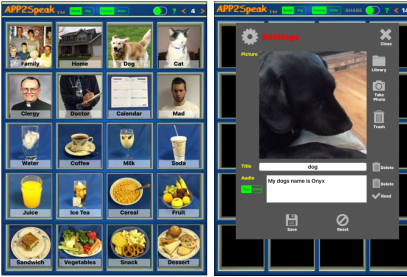 Current Format
iPad, iOS 8.0 or later
Features
4 preset pages of photos, words and voice output
2 options for size of photos
Option for male or female voice
Personally record your voice

Options to turn ON/OFF and Move Preset Pictures

Help page includes Video Demonstration, Written/Pictorial Instructions and 

Text to Speech page

Unlimited pages of customization using your personal photo library, Internet pictures or take custom photo within

 

APP2Speak™

 

and save 

in separate album folder created for 

APP2Speak™

Allows custom pages to be shared through an enabled Bluetooth or Wi-Fi connection
Backup and recovery of custom shared pages
APP2Speak™ is written in English.