•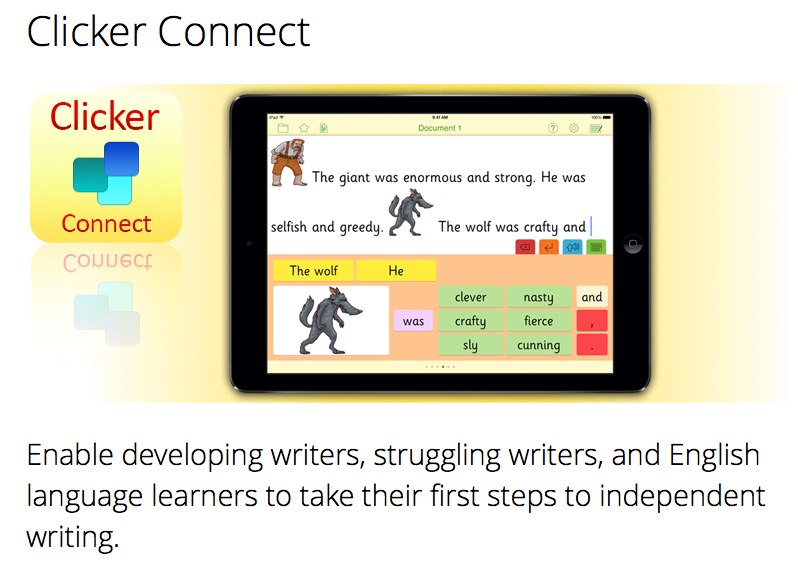 (The following post has been reposted with permission from Crick Software.)
Erin Sheldon, AT Consultant, Coordinator, Angelman Syndrome Literacy Project
I specialize in iPad-based literacy and communication strategies for children with Angelman Syndrome. I work with families and school teams. Angelman is a rare neuro-genetic disorder associated with developmental delay, lack of speech and motor control issues. I focus on engagement, motivation and the development of early writing and comprehension skills.
Clicker Connect is an ideal app to use because it is so flexible in terms of resource creation and ability-appropriate differentiation. I can quickly create beautifully personalized materials that are immediately engaging. Clicker Connect is an ideal tool to support predictable chart writing activities, where a repeating sentence stem can be completed by the student with a choice of words. The QWERTY keyboard allows students to construct their own novel sentences and to scribble or explore "writing without standards." The finished document is often a popular book for the student to choose for reading.
Clicker Connect is an essential tool for assessment. I am quickly and easily able to construct cloze maze reading activities, where I delete targeted words from a sentence the student is familiar with, then offer the student multiple choices to fill in the blank.

I often take the same books we made in Clicker Connect with predictable chart writing and use that familiar sentence for assessment. I assess word identification skills by deleting a targeted sight word, such as "like," from a familiar sentence. I might give the student four options to complete the sentence – like, look, said and bike. Then I read the correct sentence to the student and ask the student to fill in the blank. Analyzing the student's responses allows me to assess whether the student recognizes the word. If the student makes an error, it allows me to assess what visual features of the word the student is looking for. If a student selects "look" when I read "like," then I know we are making progress on early word ID!
The biggest benefit for me is that Clicker Connect gives me extremely valuable assessment data – sentences are produced in an exportable, printable document, so I can save them as a snapshot of comprehension, word identification and as an artefact of exploratory writing with the QWERTY keyboard.
Because it is so easy, I tend to create my own resources with Clicker Connect, but I am aware that there is an expanding range of free content available via the LearningGrids link within the app.
As well as the children with Angelman Syndrome, I also work with students who have higher incidence special needs – with these students the app is proving very popular because the finished document can look identical to their peers' written work.
I use Clicker Connect predominantly with children who have special needs, but I would recommend this app to anyone supporting emergent writers – its versatility enables you to provide developmentally appropriate writing supports for any student.
Your next step