•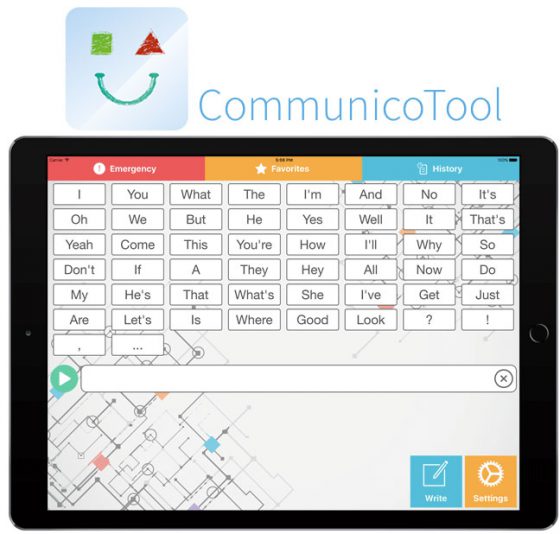 CommunicoTool 2
CommunicoTool 2 is a language and development application for tablet. The app offers a gallery of images, pictograms, and sounds to help children express themselves and interact successfully with the world. The visual and acoustic environment of this application can be entirely customized to fit specific needs. CommunicoTool works in a collaborative development network (Speech and ABA therapists, patient organizations) to ensure that therapeutic update and knowledge are blended in the product line.
Communication Module
The communication module is intended for expression, learning and memorization of the everyday words and sentences with the use of icons and images.
Communication + Module
The Communication+ module allows you to combine multiple pictograms or images to create a sentence.

Sequences Module
The sequence module helps create activity sequences with icons, images and timers. All is fully customizable.

Doloris Module
The Doloris module is dedicated to the expression and evaluation of pain. It allows the user to locate pain on a human body and to indicate its intensity.

Feelings module
The Feelings module allows the expression of emotions and needs through simple interactive icons.

Timer Module
The timer module enables the execution of a timed task and programmed timers. It is fully customizable. You can also personalize the timer by default.
Schedule Module
The schedule module is a customizable visual planner with a daily and a weekly view. You can upload images, visual timers and sequences.
Core Vocabulary
The Core vocabulary module with its small set of commonly used words supports the language learning.
 Click
here
for more information.