•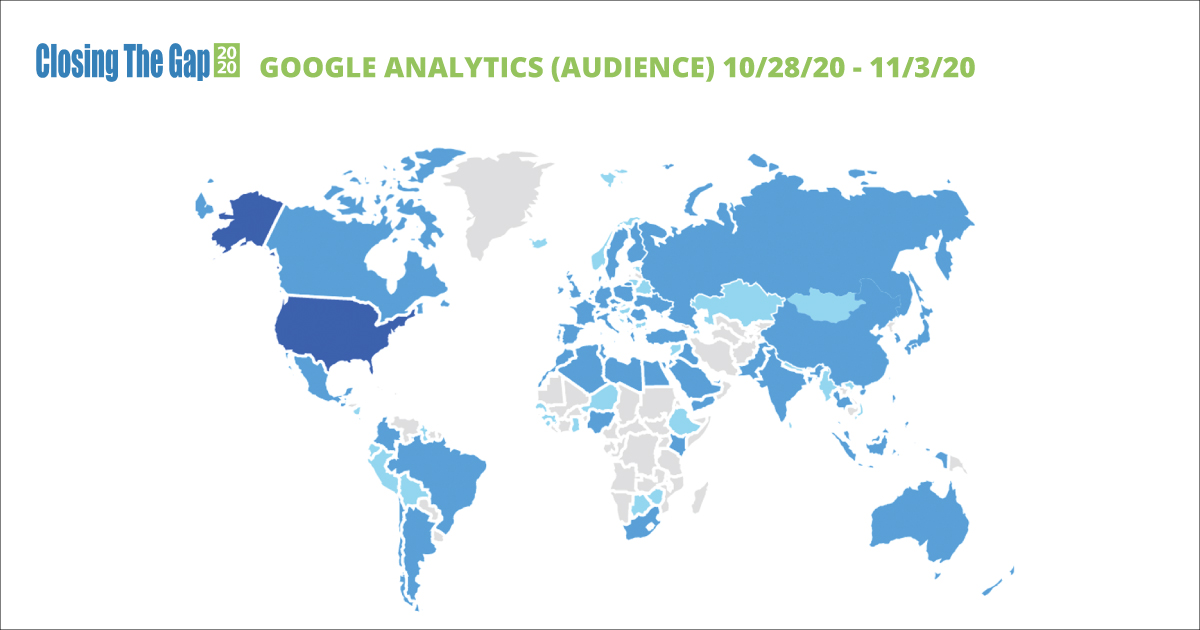 Areas in blue reflect the Closing The Gap audience from around the world!
One of the hallmarks of the annual Closing The Gap Conference over the last 37 years has been the LARGE world map, positioned near the conference registration desk, with a large sign across the top that read, "Tell Us Where You're From".
Pins were provided, and participants enthusiastically and proudly "Pinned" their home towns –A real, visual representation, of the distance traveled, and the common bond that brought us all together.
This year, we're humbled to share the conference with registrants from the United States, Argentina, Australia, Belgium, Brazil, Canada, Chile, Finland, France, Guatemala, India, Israel, Italy, Japan, Malaysia, New Zealand, Poland, Republic of Ireland, Singapore, Spain, Sweden, United Arab Emirates, United Kingdom and Vietnam.
In our new virtual conference environment, new tools are in place to facilitate the discussions that were once held in the hotel hallways, between sessions and after hours at the exhibitor's parties.
Conversations such as, "Oh my gosh, did you see that presentation by so-and-so?"
"Where are you going to next?"
"Did you visit the exhibit hall?"
"I'm exhausted, there's too much to see!"
Share Your Feedback 
Conference presenters worked countless hours to record their sessions and share their knowledge and insight, your feedback would be greatly appreciated. One the bottom of every presentation page you'll find a 5-star rating system and an opportunity to "Leave A Comment". We invite and encourage you to leave your thoughts, ideas and questions. 
It's through this feedback, that we will all continue to connect with one another, relating our shared experiences and collaborating with one another. Ultimately, bringing us closer together, and reminding us that we're all truly a part of something bigger…
–A community of dedicated practitioners and educators, working emphatically to change lives with assistive technology.