Presenter: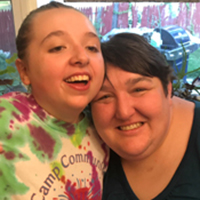 Institution: AAC Voices
Position: Educational Specialist for Learners with Complex Communication Needs
Billerica, MA
United States
Experience
Kate Ahern is an educational specialist in complex communication needs in private practice. She is certified as an intensive special needs teacher, for ages birth through adult in Massachusetts. Kate has vast experience in the field of assistive technology with children and young adults. Kate has spent twenty years plus working with children and young adults who have complex communication needs. Kate holds a Masters of Science in Special Education from Simmons College.
Live Q&A:
Date: 11/11/2020
Start Time: 12:00 PM CST
End Time: 1:00 PM CST
Topic: AAC
Live Q&A Preparation
Q&A's are live, Zoom-based and last for 1 hour.
Times are preset, clear your schedule now so you can participate in Q&A's pertaining to your interest area.
Watch recorded presentations before participating.
Have your questions ready so you can get the answers you need!
Join Meeting
"Join Meeting Now" links will be available to registrants beginning November 9. Live participation is required (Q&A's are not recorded.)
Not a registrant?
Presentations: