•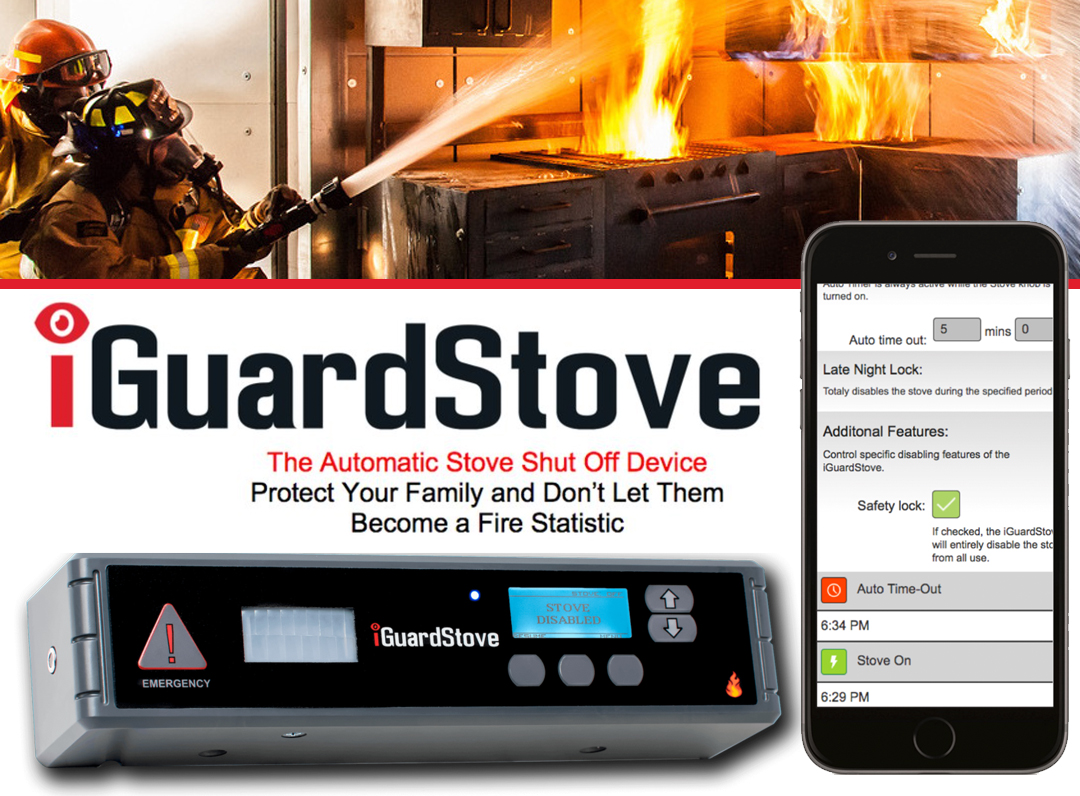 iGuardStove – The Automatic Stove Shut Off Device
The iGuardStove is a must for anyone who wants the peace of mind knowing their family is safe.
Automatically shuts off the stove after 5 minutes of no one being in the kitchen

Manual Timer for longer periods of uninterrupted cooking for roasts or stews

Convenient locks disable the stove from unauthorized use (Night Lock, Caregiver Lock, Child Lock)

Remotely monitor or disable the stove using your Smart devices

Text alerts can warn of situations that might need immediate attention

Daytime Activity Monitor warns if NO motion has been detected in the kitchen for 3 hours

Nighttime Activity Monitor records any late-night motion in the kitchen

Records stove "Automatic Shut Offs" to track memory changes over time

Handy daily calendar that shows if and when the stove is being used

Will connect to Nest Protect smoke detectors

Easy to install and easy to use
Access iGuardStove Features Remotely
Access Features Online

Access important settings online using your Smartphone

Text Alerts

Get important notifications of events that are happening in the kitchen

Activity Monitor

Get a text alert if there has been no motion in the kitchen in the morning

Disable Stove Remotely

Lock out your stove from anywhere using the online settings.

Remote Monitoring

Check to see if and when the stove is being used to ensure safety at all times.

Variety of Stove Locks

Choose from a Caregiver Lock, Time controlled locks and a Child Lock.  All designed for maximum protection.
Who uses an iGuardStove?
Adults Aging in Place

Families Touched by Alzheimer's or Dementia

People Suffering from Brain Injuries

Families Dealing with Autism

Physically Disabled – Durable Medical Equipment (DME)

Families with Children Learning to Cook

Independent Living & Retirement Communities

Owners of Rental Properties

Occupational Therapists and Neurologists

Anyone with a Stove
What Does the iGuardStove Do?
Certified – Reliable – Trusted
Simple To Operate
The iGuardStove is an easy to use motion sensor control device that simply shuts off the stove when it doesn't see any motion in the kitchen for five minutes. No more burnt food or melted pots or pans. In minutes you can add many valuable safety features that are NOT available on stoves at all. #1 in stove fire prevention! Prevent a stove fire today with a stove safety guard!
The iGuardStove Works With Two Stove Fuel Types
Electric Stoves: The iGuardStove is always on so there are no buttons to press. Simply turn your stove on as you normally would to start cooking.  After 5 minutes of not seeing any motion it shuts off the stove.  Once it sees that you have returned to the kitchen it automatically turns the stove back on to resume your cooking with no buttons to press. This will prevent a stove fire.  Its the best in electric stove safety 
Gas Stoves: To start cooking press the "Start" button on the iGuardStove which opens our gas valve and allows you to light your stove. After 5 minutes of not seeing any motion it shuts off the stove.  To resume cooking again simply press the "Resume" button on the iGuardStove which opens our gas valve allowing you to relight the stove. This simple stove safety device will prevent a kitchen fire. It's the best gas stove safety device you can buy. 
The iGuardStove
The iGuardStove Intelligent model can connect to the Internet giving you a lot of fantastic Stove Fire Prevention Safety and Home Care features.  These patented extra features, ONLY available on the iGuardStove, are designed for kitchen fire safety situations that require higher levels of protection and monitoring. It's great for homes as well as Adult Living communities. Its also an Autism safe stove product. If the iGuardStove Intelligent is NOT connected to the homes W-Fi it will still provide you the best in stove fire protection but will simply not have access to the additional Internet features. 
(There are Intelligent models for both gas or electric stoves.)
Don't fear the Internet connection: When the iGuardStove Intelligent is connected to the Internet the user of the stove doesn't see any difference in the way they need to interact with the device.  Your loved ones don't need a computer or even have to understand the Internet.  The Internet is only for the benefit of family members and care workers allowing them the ability to remote monitor, adjust settings and to receive alerts. 
The Internet is a powerful tool for families that wish to keep their loved ones safe and independent at home and the Internet makes the iGuardStove really shine! Being a stove safety guard it provides Peace of Mind to families around the world knowing they are prevented a stove fire from happening!!  
Click here for more information.