•
The Dot Watch is a wearable device that connects to your mobile device. 
It is completely practical and easy-to-use for the wearer. 
One prominent difference between the existing smart watches and 'Dot,' is within the usage scope accessing information in Braille rather than using text or graphics. 
To achieve this, a state-of-the-art, refreshable Braille Display is used. 
It utilizes cutting-edge, electro-dynamic cells to seamlessly relay information.
In such an active era, their device aims to outfit the ones deemed 'limited' or 'immobile'. 
With a single touch, get connected to your friends and family and to the world.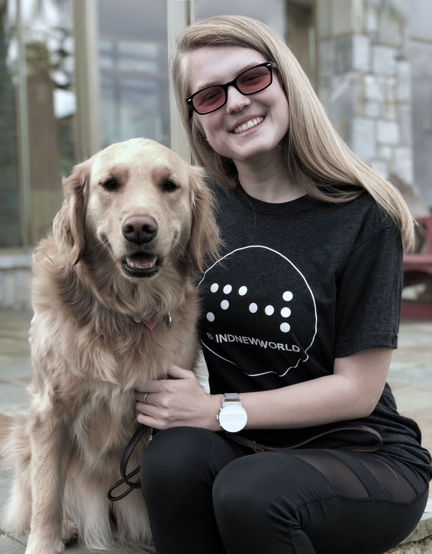 Go beyond conventional. This is not your average technology.
This is not your average technology.
An estimated 285 million people in the world are visually impaired; this includes legally blind and visually limited persons. For the past two decades there have been no new innovations regarding visually impaired technology. Available technology for visually impaired people (VIP) is expensive, bulky and often limited and only around 5% of visually-impaired people worldwide have the privilege of owning Braille devices. Educational and day to day life for VIPs has remained severely limited.
They were successful in mass-producing their core technology: the electro-magnetic actuator. These actuators are what you see in the Dot Watch. Their feat was drastically minimizing the size and the cost of the current market standard – the piezo-electric cell, which is still used by today through many electronic braille devices. Dot cell is the smallest, most cost-efficient, and the most mobile technology for electronic braille displaying. The Dot cell is the first mass producible, scalable, and affordable actuator technology. It offers an excellent performance at 1/10 of the price, when compared with the existing braille cell technologies. 
---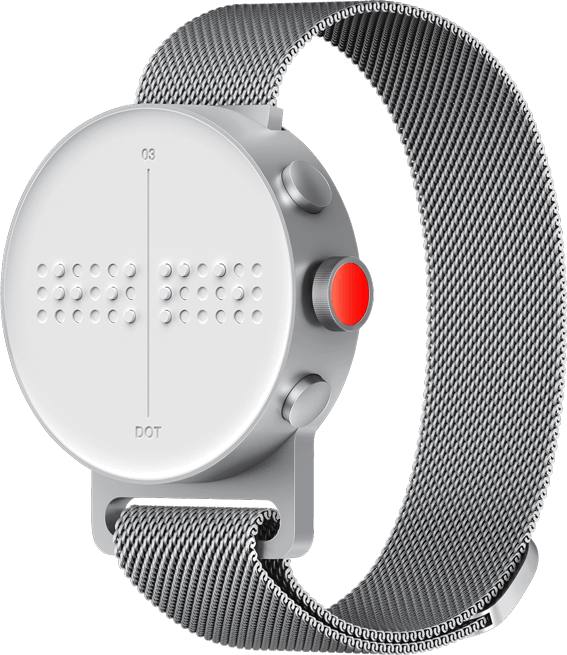 Watch Funtionality
A new sense of time. Enjoy every second.
The Dot Watch lets you experience time in a completely new way: without sound, just by yourself. It provides direct access to all the practical features you need so many times throughout each day: Time and Date, Alarm Clock, Timer and Stopwatch. It even tells you the time down to the second. Truly, a new sense of time.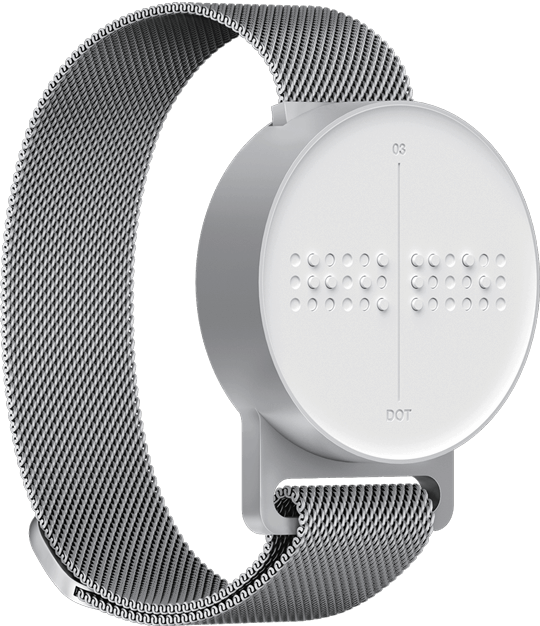 Managing Calls
Know who is calling. Pick up or decline.
Get ready for an amazing new experience: know who is calling without seeing it. When you receive a call on your smartphone, the Dot Watch vibrates and displays the name of the caller. Your friend? Pick up with a big smile on your face. Your boss, on the weekend? Decline with the tap of a button and call back later.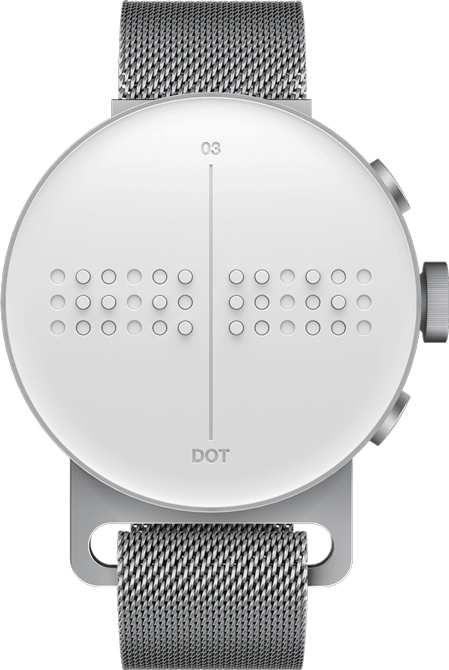 Messaging
Get messages instantly. Read faster than ever.
Every text message you receive on the smartphone is instantly translated to Braille and forwarded to your Dot Watch. Read it fast and comfortably with the intuitive touch controls on the watch face and customizable Auto-Scroll. Directly save important messages to check again later.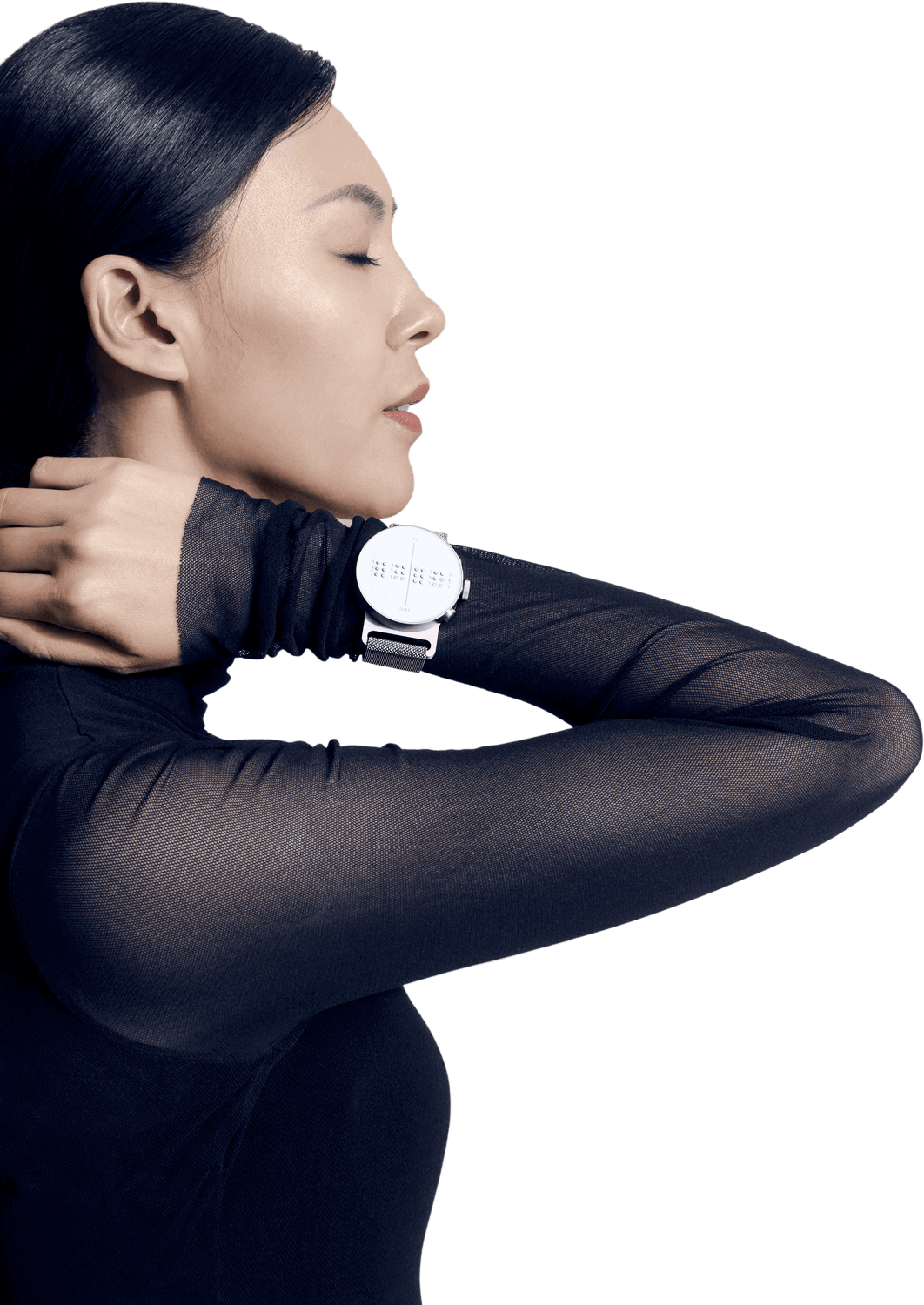 Organization
Stay relaxed. Everything is organized.
With the Dot Watch, you are prepared for the day, every day. Connect it to your calendar app to receive reminders for upcoming appointments. Automatic updates from your weather app in the morning allow you to adjust your wardrobe for a sunny day – and let you know in time when rain is on the horizon. Have a great day!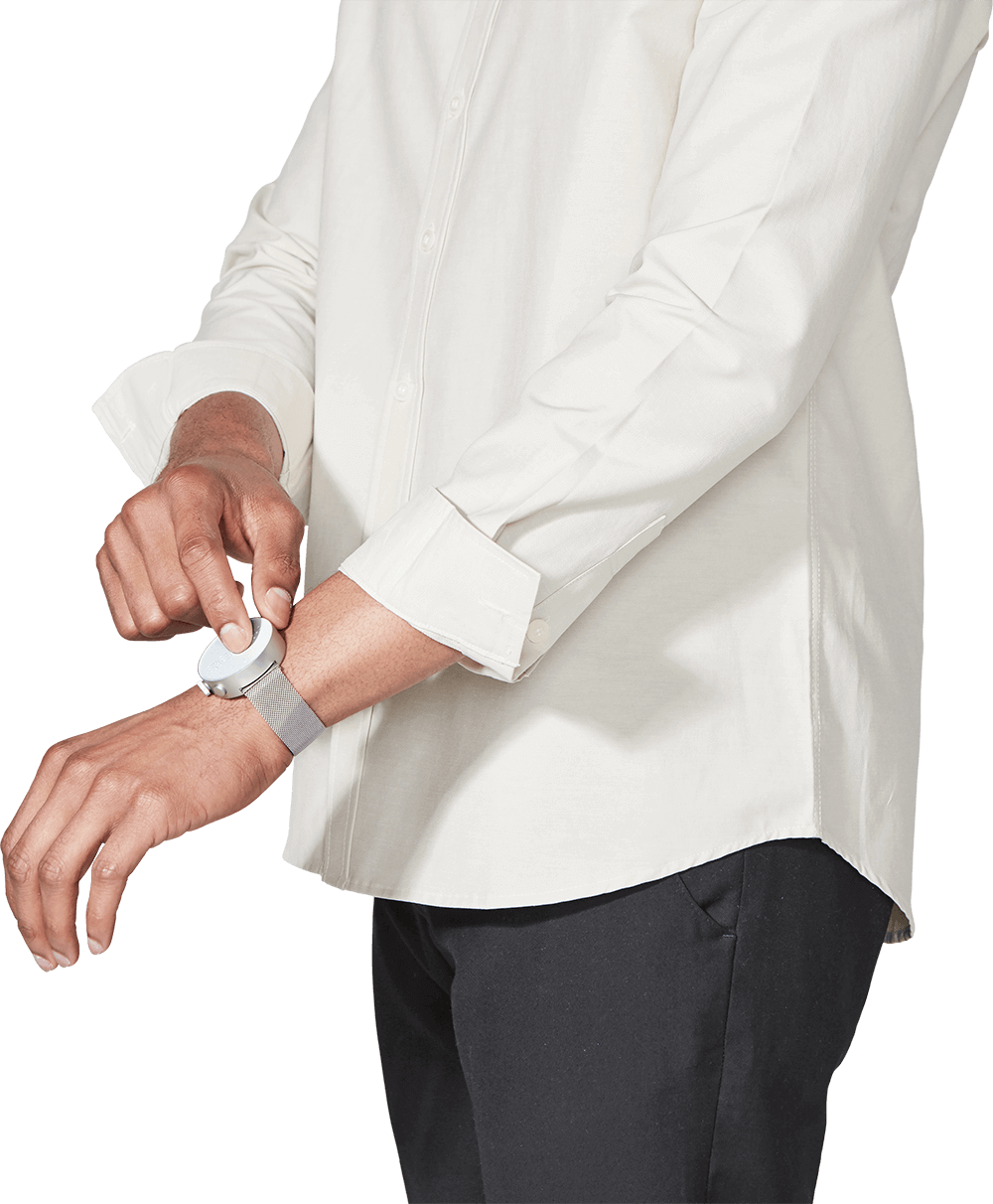 Social Networking
Always up to date, at your own pace.
Dot Watch can display notifications from any app you have on your smartphone, including social networking and news. Never miss a tweet, post or news story again. You can see these instantly or at intervals, as adjusted through your notification frequency. Stay connected to the world, at your own rhythm.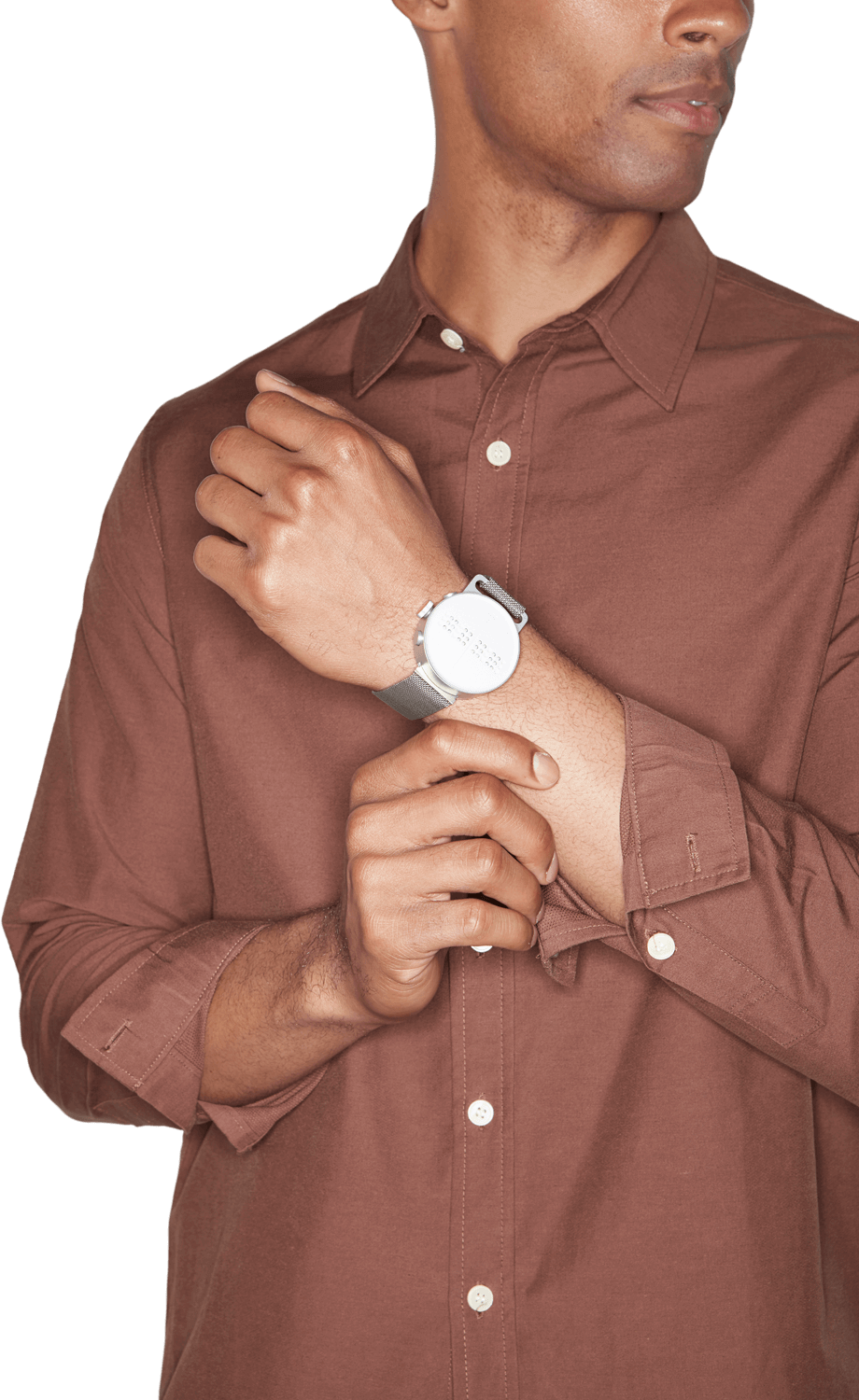 Mobility
By your side when you're on the go.
The Dot Watch is the perfect travel companion, on the daily commute as well as on vacation. Notifications from your metro or airline app tell you when the next train will arrive or if the gate for your flight has changed. Getting from A to B has never been so comfortable.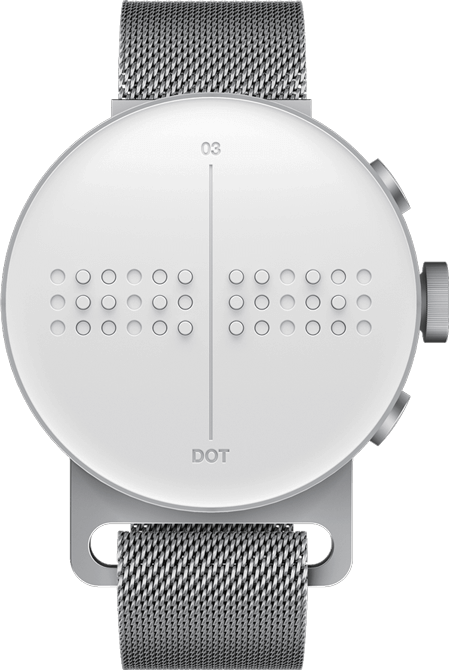 Learning Braille
Your new private teacher.
The Dot Watch unleashes it's full potential to those who can read Braille. But it's also the perfect device to get you started: The Dot Watch Braille learning program is a simple, intuitive and entertaining way to learn and practice Braille letters and words. Ready? Let's go!
Tactile Mode
No Braille? No Problem.
They believe every technology should be accessible to everybody. That's why the Dot Watch can be set to Tactile Mode, which works completely without knowledge of Braille: the time is simply displayed through the number of dots. A small idea with huge impact.
---
---

Design. Feel Beautiful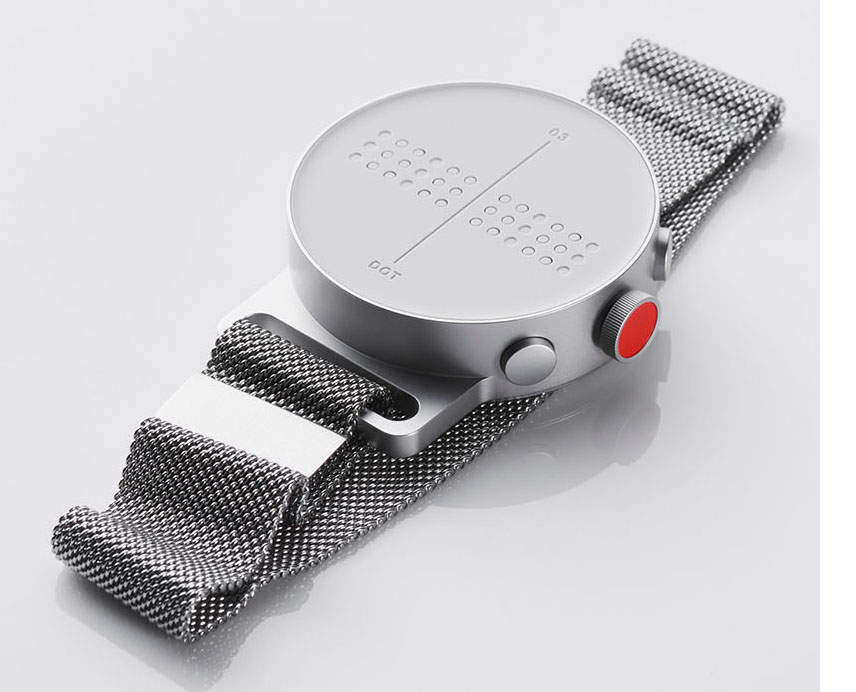 Elegance
Award-Winning design.
The Dot Watch has won many international design awards and is sold in art museums. What makes it special is the perfect balance of beauty and functionality. The timeless round shape and minimalistic silver Milanese wristband feel comfortable every day and go with every outfit.