•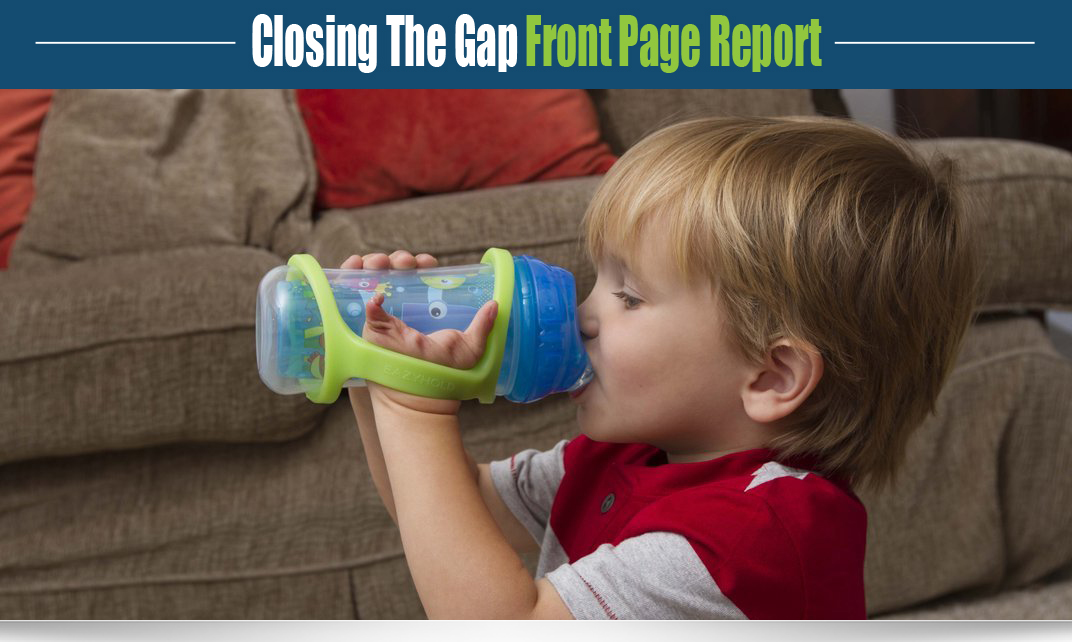 The Only Universal Cuff for All Ages
Accomplish daily living activities independently despite physical conditions or disabilities impacting grip strength. Our universal cuff comes in multiple sizes, for infants to seniors, to help get a better grip on small to large objects.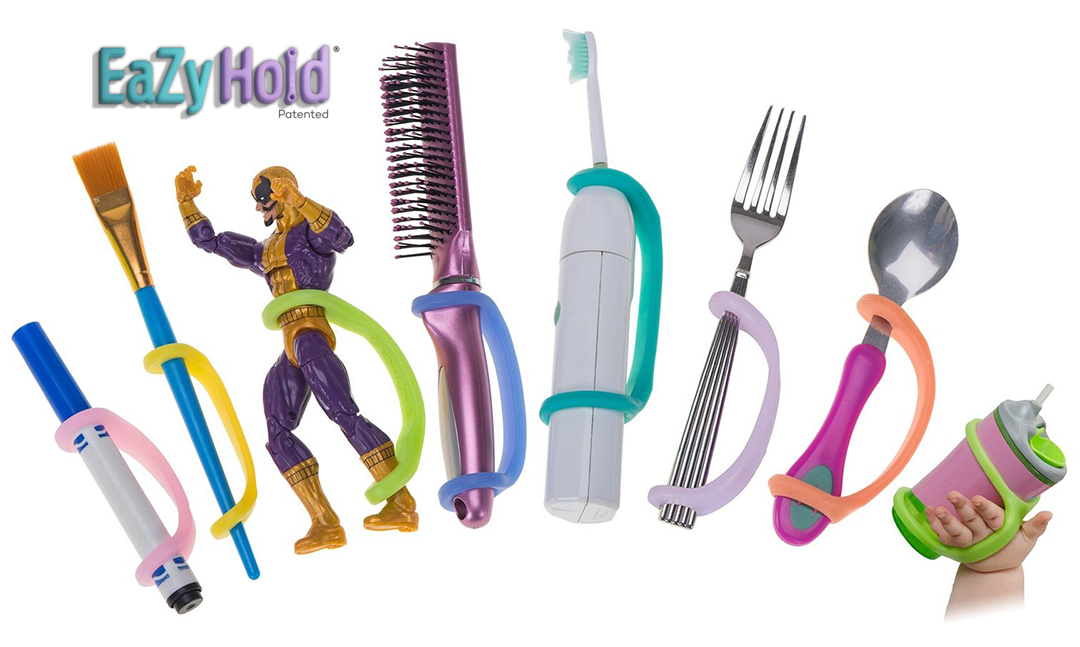 EazyHold Universal Cuff: Adaptable, Hygienic and Comfortable
The patented EazyHold design gives children and adults the ability to hold onto tons of items with ease. EazyHold straps are made of soft, flexible food-grade silicone, hypoallergenic and latex free. Wash them in the dishwasher or clean with disinfectant wipes. These silicone cuffs can be sanitized at temperatures up to 500 degrees and won't degrade.
Gain Independence with ADLs
These flexible universal cuffs attach securely to enable a comfortable grip on eating utensils, writing implements, sippy cups, gait trainers, toys and more!
---
For Occupational Therapist – Occupational Therapy Tools for Hands and Limbs
Helping patients to find the appropriate adaptive equipment options for daily living activities is what Occupational Therapists do best. The goal is to improve the patient's quality of life, and enable them to return to being independent in their daily lifestyle.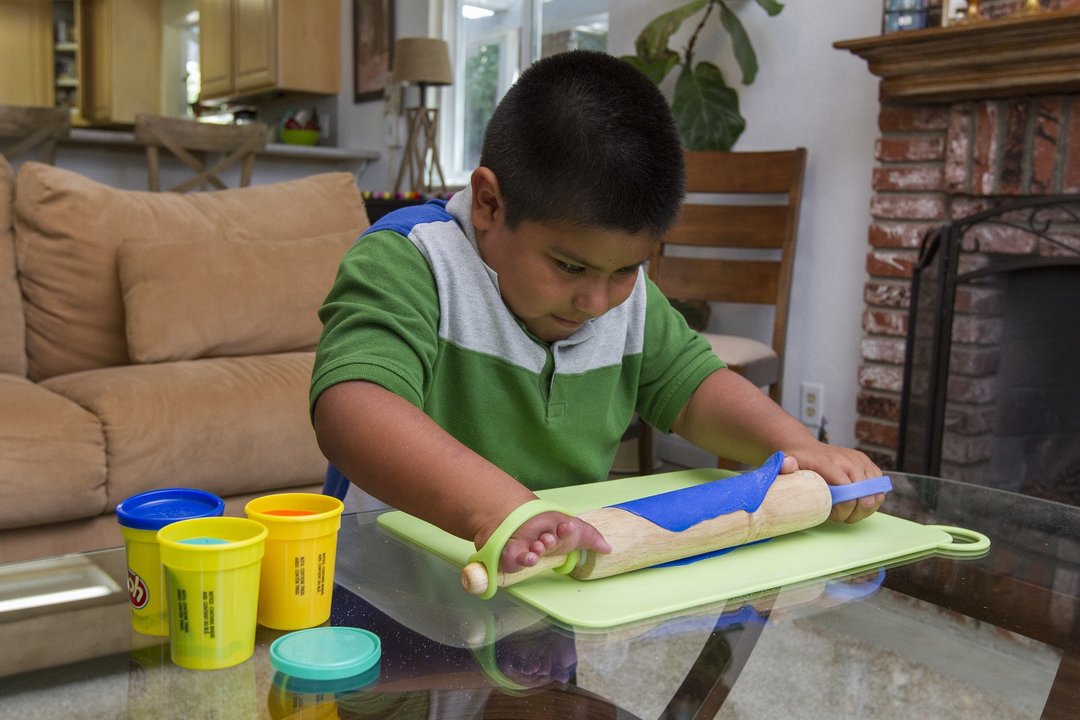 While there are many types of OT adaptive equipment on the market, there are no other ready-made, comfortable and super hygienic grip aids for infants and adults like our occupational therapy tools for hands or limbs. Unlike some homemade adaptive ideas which put a foam roller between hand and tool and prevents you from feeling the object, EazyHold puts the tool in hand against the skin, for greater sensory perception and control. You can feel the texture, shape and size of the object. The cold of a fork, or the warmth of a wooden spoon. The vibrating beat of a drumstick or a violins bow on strings. The brush stroke on canvas, the pen on paper. Feel the pressure necessary for delicate shaving or brushing teeth.
And for hospitals and therapy centers where hygiene and infection control is of primary importance there is no comparison between our super hygienic EazyHold or homemade adaptive equipment which can be unsanitary and spread germs.
More Productive Outpatient Therapy Sessions
By providing EazyHolds to take home, your clients can continue to progress independently with fine and gross motor skills at home or work. As therapists, you can help parents to continue their child's therapy in school, at playtime, and home. With the EazyHold Therapy Package, your facility will be prepared for all of the different kinds of ADLs your clients would like to participate in and accomplish.
Their simple one piece silicone band is an innovative alternative to the quad cuff, U cuff, universal cuff with a D ring and other adaptive eating utensils.
Superior to Homemade Adaptive Equipment for Occupational Therapy:
Thousands of occupational therapists have been empowered with the tools for any therapy session needs with the Therapist/Teacher 7 Pack. The EazyHold therapy package has an assortment of adaptive cuffs sized to fit a variety of objects and hands or limbs.
---
For Hospitals and Care Facilities and Specific Conditions
Hospitals and Care facilities require a wide-ranging set of resources to help patients regain, improve, or maintain function. Assistive devices and grip aids will help further enhance inpatients' and outpatients' rehabilitation and ability to work towards independence at home, school or work.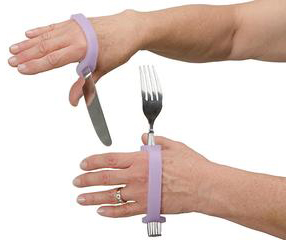 For Use and Re-Use in Hospitals and Care Facilities
When choosing adaptive aids for institutional use, preventing bacterial infections and the spread of germs and cross-contamination is a top priority and necessity. EazyHold can be completely sanitized and does not harbor bacteria, making it the FIRST universal cuff that can be used and reused in care facilities.
EazyHold pre-made grip aids are invaluable to assist with fine and gross motor skills, muscle strengthening, balance, coordination, gait, eating, and vision.
Made of hypoallergenic, latex-free food grade silicone, it adapts to help you hold most anything. The 100% silicone cuff can be passed from patient to patient and object to object with confidence, because it so easy to sterilize in the dishwasher or autoclave.
For use adapting to home rehab equipment
Modify tools in the kitchen
Gym and exercise equipment
Mobility device adaptable
Grooming and self-care in wet environments
Adapting remotes and styluses
CONDITIONS:
Spinal Cord Injuries
When Kerry, one of the designers of EazyHold, volunteered in assisting OTs at Northridge Hospitals' Spinal Cord Rehabilitation Center, she helped patients relearn to eat, paint, groom, and perform other activities of daily living. "The OTs would make cuffs on the fly for each of their client's individual needs because the ready-made fabric universal cuffs were not sanitary to distribute for use. They would use materials they had handy, like tape, rubber bands, popsicle sticks, ace bandages, and velcro to make a quick adaptive cuff. But they also would become wet or dirty, and impossible to keep clean. For this reason, EazyHold is the only hygienic option."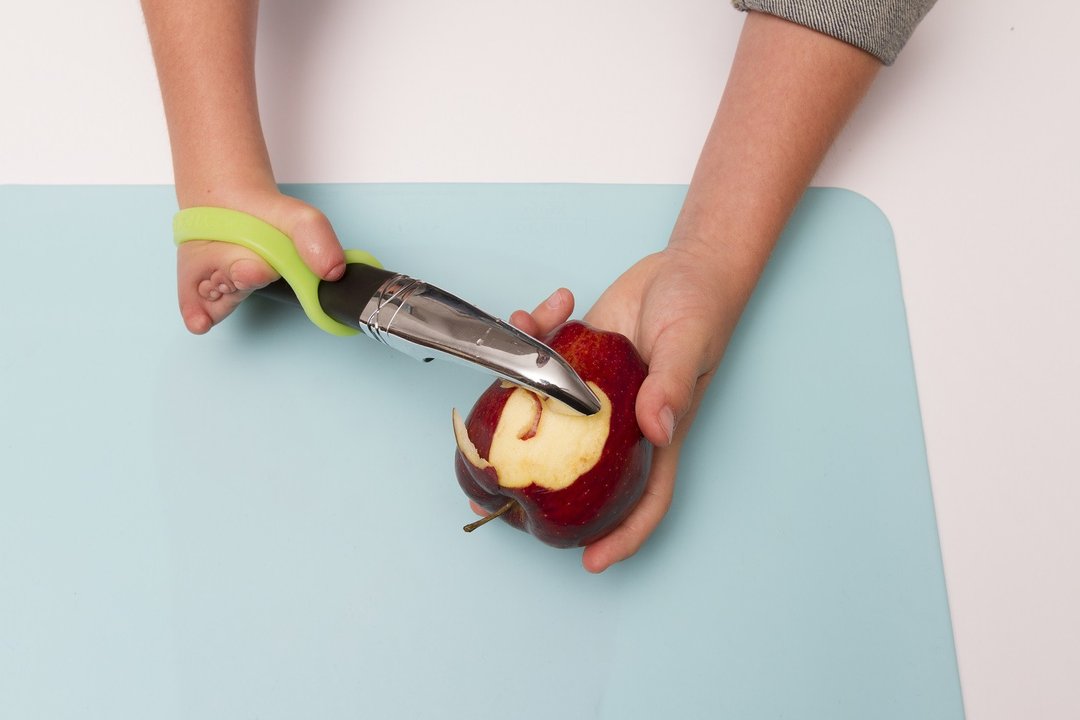 Cerebral palsy
CP can affect a persons' body movement, muscle tone, muscle control, coordination, reflexes, posture, and balance. 
How can a child or adult who is unable to grasp a utensil to self-feed with a spoon, or drink from a cup or bottle benefit from the EazyHold grip assist? Our universal cuff is a simple and useful solution to help maintain control and grasp. Because the EazyHold allows the utensil to be placed directly against the palm of the hand, this allows for greater sensory perception and a much quicker learning curve than traditional cuffs.
Spontaneous and independent use of many toys is also difficult for many children and adults with cerebral palsy. The toys often require more grip than some infants and children may possess. Because playing is an important part of intellectual, social, perceptual, and physical development, growth in these areas may be limited when the child cannot actively play. Fortunately, toys can be adapted to make them more accessible to children with physical disabilities.
EazyHold can help to assist the child with independent use of play materials such as dolls and action figures, writing and art supplies, musical instruments, and for the very young, teethers and even a stuffed animal for self-soothing can be held securely and comfortably. EazyHold also has the added benefit of putting the toy or tool directly in the child's hand for greater sensory perception.
Adapting toys with EazyHold can be applied to other items as well, such as cell phones, remotes, environmental controls, and household items to make them easier to use. Making an educational environment more accessible gives children with physical disabilities greater control of their surroundings and the opportunity to expand their learning experiences.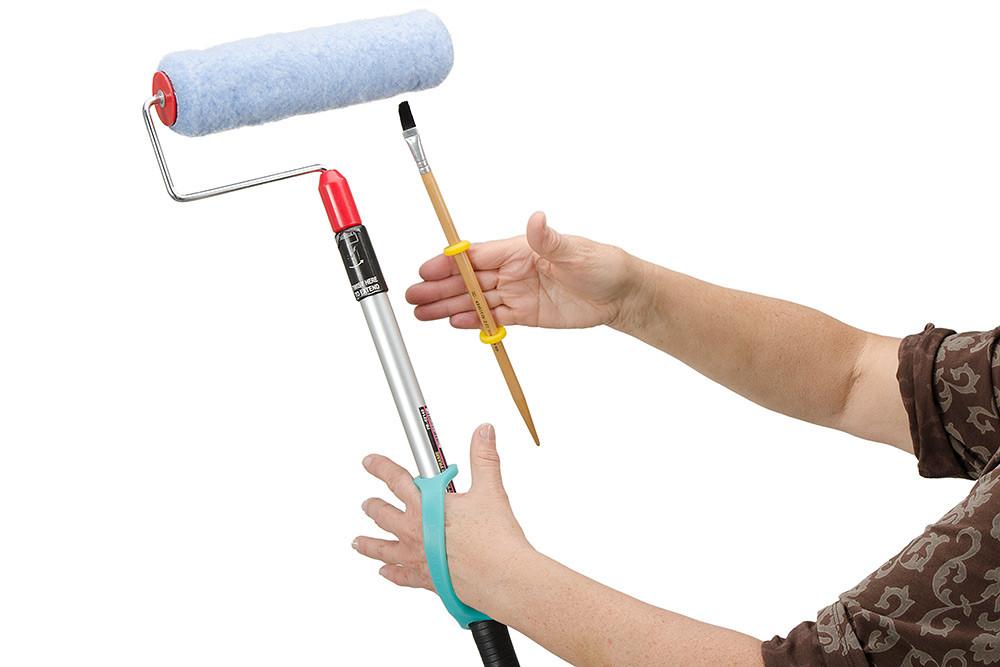 Rheumatoid Arthritis, Osteoarthritis, and Juvenile Arthritis
Arthritis is the most common cause of disability in the USA with more than 20 million individuals who have severe limitations in function on a daily basis. Many adults will experience Osteoarthritis or Rheumatoid Arthritis, and children Pediatric Arthritis at some point in their lifetime. Arthritis can make it very difficult to be physically active. Decreased mobility due to daily wear and tear, fatigue, or muscle strains caused by forceful movements against stiff and painful joints, can make it very difficult, or impossible to remain active with out some kind of assistance.
Self-help devices can make daily living much easier on your joints and tendons and much more efficient for you. EazyHold can help keep tools and utensils in the best position for ease of use, provide leverage when needed, and allow you to do tasks which require a repetitive motion, ultimately putting less stress on joints.
Leisure activities can be more enjoyable through the use of assistive arthritis devices, such as holding tools and hoses for gardening, fishing poles, boat oars, cycling, and many other hobbies and sports.
EazyHold can also help keep tools and utensils in the best position for ease of use and provide leverage when needed. The cuff allows you to easily perform tasks which require repetitive motion, and help combat repetitive strain injury (RSI), by putting less stress on finger joints. 
The adjustable cuff is a simple device that allows those with limited finger/hand dexterity and strength to hold and manipulate objects easily. The silicone strap adjusts to fit any hand comfortably and unlike other universal cuffs, it puts the tool directly against the palm for greater sensory perception and allowing for greater independence. 
Traumatic Brain Injury and Paraplegia.
The loss of hand and arm function is one of the most difficult-to-deal-with losses that children and adults with a traumatic brain injury or paraplegia will experience.  This is when a grip assist becomes an important tool for increasing independence and decreasing caregiver need. Understanding techniques to maintain self-care through the use of adaptive equipment like EazyHold universal cuffs becomes even more important to maintain arm and hand function and continue to enable purposeful movement through daily activities.
Many tools and utensils can be adapted by using the EazyHold to help maintain a level of independence with eating, grooming, using a stylus, playing musical instruments, working outside or at school and playing with toys.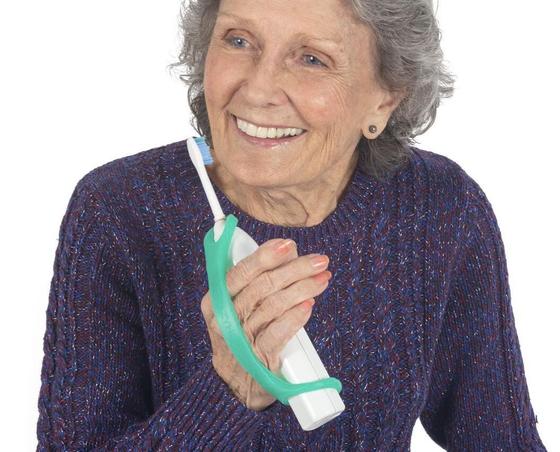 Stroke
After a stroke, each person will have different recovery time and need for care. Moving around and performing normal daily tasks like dressing and feeding may be harder after a stroke. Muscles on one side of the body may be weaker or may not move at all. It may involve only part of the arm or leg or the whole side of the body. It will be important to keep all of the muscles as strong as possible and stay as physically active as possible by accomplishing as many daily living tasks as possible independently.
EazyHold can help with activities such as cooking or eating, bathing or showering, moving around the home with a cane or walker, grooming, writing and using a computer, working in the garden, creating art and many more activities.
For those who have experienced a stroke, EazyHold can be used on the impaired hand or limb for large motor skills and to help stabilize objects, like securing a piece of food with a fork against a plate, while the non-impacted hand/arm can perform the small motor skills like cutting the food. Or securing a brush on the weakened hand and using the stronger hand to run objects across it for cleaning items like vegetables, or dishes, or in the case of grooming, brushing teeth or dentures. This allows the weaker/ impaired arm to continue to improve and maintain muscle mass and mobility for increasing Independence.
Rett Syndrome
Rett syndrome is a disorder of the nervous system that leads to developmental problems in children, especially in the areas of hand use, and it occurs almost always in girls. It begins early, soon after birth, or late, beyond 18 months of age, sometimes as late as 3 or 4 years old.
Girls with Rett Syndrome will experience a loss of hand functioning. Not only do girls with Rett lose hand function, but they also may have near constant, repetitive hand movements that they have no control over and purposeful movement is limited. Parents have found that EazyHold helps their child to hold onto a comfort toy or doll for self-play, a spoon for self-feeding, or a cup for drinking, allowing some desperately needed independence for the child and the caregiver. 
---
Special Education Teachers and Schools
Universal Cuff for Disabilities and Special Needs
Special Education Teachers understand the importance of providing low tech, inexpensive, assistive technologies that are accessible and supportive of all of the students, right from the start.
Helping your students to thrive and flourish in the fundamentals of art, music, writing, and play is what an educator does best. Maximizing your own time and productivity becomes even more important when students have individual or special needs that require more one on one time.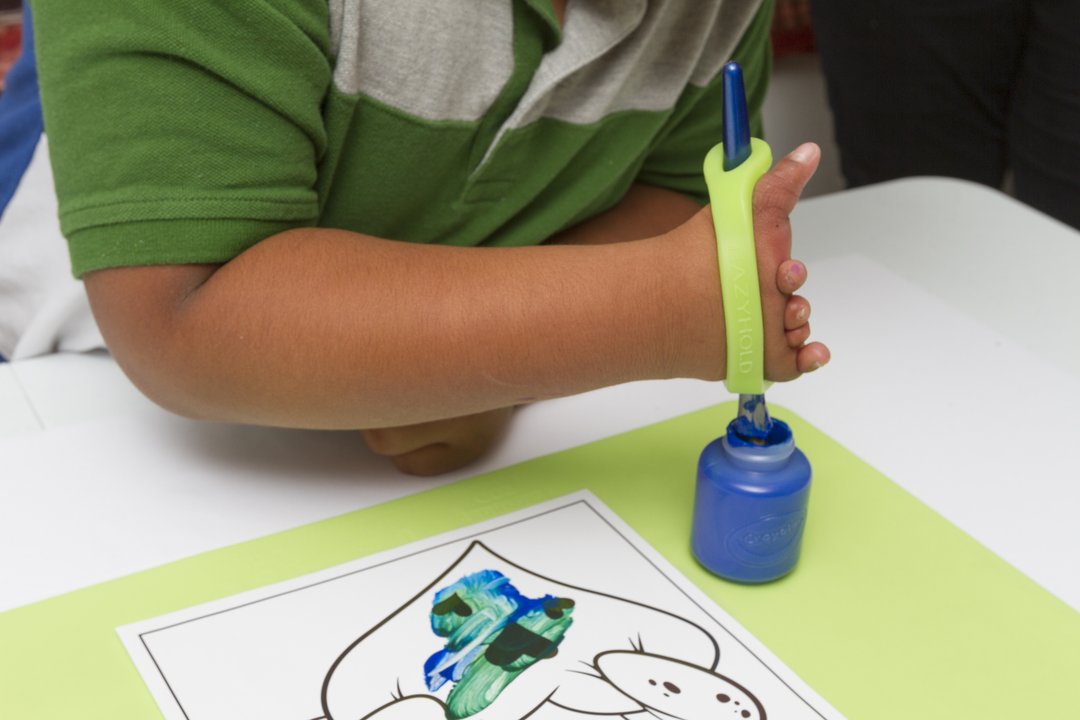 No more hand over hand assistance necessary.
One-on-one individual assistance is not always possible for teachers in a classroom with many students. That's when having ready access to adaptable grip aids will enable you to provide help for several children simultaneously while fostering each child's independent spirit.
Your students with special needs can be set on task with one student painting, another writing and still another playing a musical instrument, without your hand-over-hand assistance. Students can progress at their own pace while the educator's reach and scope of work are maximized.
Providing an inclusive learning environment
All learning environments should be inclusive, accessible and supportive of every single child. The concept of inclusion means that children with disabilities have the right to learn in typical classrooms, using the same curriculum, toys, and implements as their peers. The goal is to adapt existing classroom materials so that they can be easily made accessible for all students.
Adapts existing classroom implements
Allows students to work at own pace
Colorful for visual stimulation
Can be used and reused by multiple students
Easily wiped clean or dishwashable
More independent play and engagement
A common refrain of teachers is "Too many students and not enough help!" When one on one assistance for each individual student is not always possible, our assortment of silicone straps allows you to supervise several children independently. One can be painting, another drawing, and still another playing a musical instrument without individual hand-over-hand assistance. EazyHold will allow students to progress at their own pace, and maximize the educator's valuable time in the classroom.
Play Engagement Behavior
Children grow and learn through play. Assistive Technology devices such as toy adapting cuffs serve a vital role in providing successful play opportunities for children with disabilities. AT supports allow children to control and actively explore their worlds by reducing and/or removing barriers to play.
What is Inclusion and why is it important in the Classroom?
All learning environments should be accessible and supportive of every single child. The concept of inclusion means that children with disabilities have the right to learn in typical classrooms, using the same curriculum, toys, and implements as their peers. The goal is to adapt existing classroom materials so that they can be easily made accessible for all students. It's important for special ed teachers to provide technologies for schools that are accessible and supportive of all of the students in the school, right from the start.
Color defined for easy recognition
Assist several students at once
Will not harbor or spread bacteria
Adapts existing classroom objects
Puts the tool in students hands against the skin.
Can be used and reused
On the Playground
Movement through play drives learning in children. EazyHold provides that pathway for exploration. Children grow and learn through play. Assistive Technology devices that adapt toys and sports equipment serve a vital role in providing successful play opportunities for children with disabilities.
The EazyHold universal cuff allows children to control and actively explore their worlds by reducing and/or removing barriers to play and leveling the playing field for children with special needs.
Use our soft silicone cuffs on baseball bats, cheerleader pom-poms, golf clubs, hockey sticks, bicycle pedals/handles, squash and tennis racquets, archery, rowing, cricket, badminton, table tennis and more.
IDEA and The Role of Assistive Technology in Special Education
The Individuals with Disabilities Education Act (IDEA) requires schools to provide children with disabilities the services and accommodations for each child's unique needs, including Assistive Tech. Despite the name, these devices are not always high-tech. Low-tech devices such as EazyHold can improve function in children with both learning and physical disabilities, with a very little learning curve. Often the simplest things can make a huge difference to the student with individual needs.
---
For Parents of Children with Disabilities and Special Needs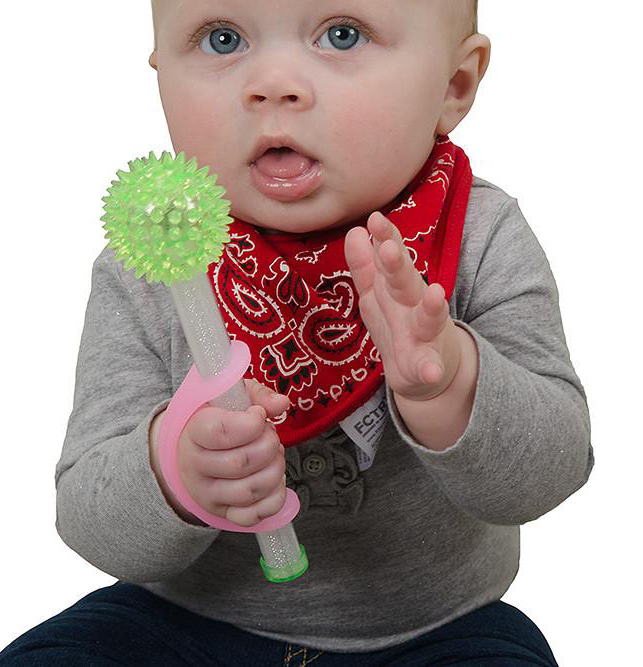 For Little Hands.
Parents who have children with disabilities have the same expectations as any other parent. Conditions which limit a child's ability to be actively engaged in playing and learning can cause delays in physical, cognitive, communication, social and emotional development. Yet until now, there have been no small utensil cuffs for infants and children. To develop their skills, children need adaptive equipment for grooming, and universal cuffs for self-feeding and eating to make objects easier to handle. Choosing a fun-colored, soft and comfortable cuff is far more inclusive and inviting to use if it does not look like a medical device but rather a part of the object, a band, toy or simple handle.
For children who love water play and activities that involve wet environments, our aids adapt easily because they can get wet and will not slip. Wet toothbrushes, forks, kitchen implements, baby bottles, sippy cups, tennis rackets, baseball bats, bike handlebars even boat oars will comfortably stay put on hand or limb.
The first infant universal cuff 
No learning curve necessary
Adapts existing Items at home
Low tech and inexpensive
Non-slip in wet environments
Fun colors for more inclusion
Specific ways to can help your children to adapt and thrive.
Children with disabilities are children first. Like all kids, they need the opportunity to make choices and do for themselves within the limit of their abilities. This means that eating, drinking, and grooming may take a little more time for some, but doing these daily living activities by themselves helps children build self-confidence and increases independence.
The future success of infants and toddlers with disabilities depends on the development of life skills; to self-soothe, self-feed, play with toys, go to school and participate in art and sports. All important markers and milestones in a child's life.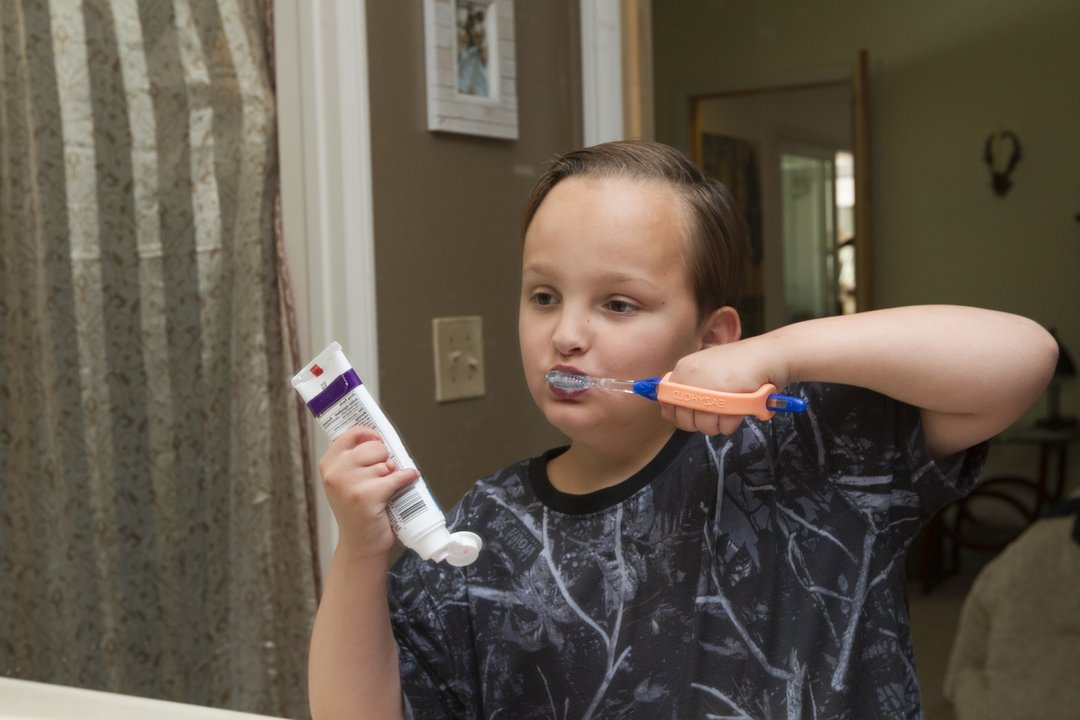 How can parents significantly help their children with disabilities to develop their skills and prepare them to do more, achieve more, and fully participate in all activities?
• Choose inclusive aids that are inviting, colorful and ergonomically designed to enhance the toy or tool without visually appearing to be a medical device.
• Use aids that adapt easily to wet environments, which will encourage good personal hygiene habits, and allow for outdoor activities including water play.
• Consider low tech assistive technology over expensive 3-D or robotic arms/hands which can be cumbersome, visually intrusive, and hard to access.
• Provide tools that multi-task; to aid grasping, holding, pushing or lifting for gross and fine motor disabilities.
• Incorporate objects that are multi-sensory; make sounds, are stimulating, and have a visual interest that is age appropriate.
Assistive technology like EazyHold can help children with a disabilities develop these important skills within meaningful life activities. Giving your child the ability to grasp an object, focus their energy on the task at hand, and for the length of time it takes to use it.
Click here for more information on EazyHold