•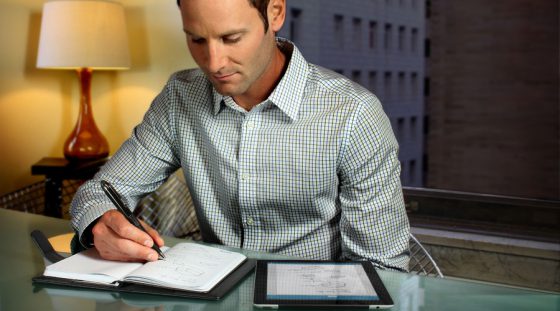 Echo smartpens
Smart For School
Focus on learning in class rather than just taking notes. With an Echo smartpen, you can write less and listen more – knowing your smartpen will capture everything.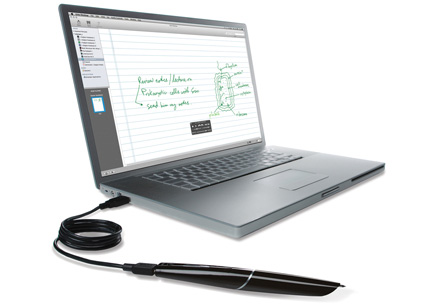 Echo smartpens let you record words, diagrams, scribbles, symbols and audio – syncing everything you hear to what you wrote. Just tap on your notes and your smartpen will play back your professor's explanation – word for word. Transfer your notes to your computer so you can search, organize and share.
With the Echo smartpen, you'll never miss a word again.
Record and Play Back
Record everything you write, hear or say. Replay your meetings or lectures simply by tapping on your notes.
Save, Search and Organize
Transfer your notes and audio to your computer via USB cable and Echo Desktop will save everything for fast, easy access to what's important.
Send and Share
Easily share your notes and audio from Echo Desktop as a standard PDF or audio files.
Never Miss A Word™
Record and play back everything you write and hear. Then, using a USB cable, transfer your notes and audio to your computer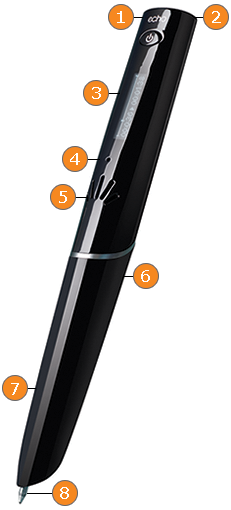 1 Micro-USB Connector
Transfers notes and audio to your computer and recharges your smartpen using a USB connection.
2 Audio Jack
Standard 3.5mm jack fits your own earphones or the Livescribe 3–D Premium Recording Headset to enable binaural recording.
3 OLED Display
High–contrast OLED display.
4 Microphone
Capture your meetings or lectures with crisp clear sound.
5 Built-in Speaker
Built–in speaker produces rich, full sound to play back your recorded audio.
6 Memory Storage
2GB model holds 200 hours of audio.
7 Ergonomic Grip
The ergnomic grip design provides comfort during long meetings and lectures.
8 Replaceable Ink Tip
Simply remove the ink cartridge by pulling it out with your fingertips. Insert a new cartridge until it clicks into place.
Custom Notebooks

Custom Notebooks make it simple to be more productive. Collect notes on the same subject, project or class into a single Custom Notebook so that everything is in one neat, tidy place.
Handwriting Search

In Echo Desktop, search is powered by market-leading handwriting recognition that makes it a snap to find the notes you need instantly, regardless of whether you wrote them days, weeks and even months ago.
Easy Sharing

Email or export notes that can be shared with classmates, colleagues, clients or whoever else needs to see them.
You can also share pencasts as standard PDF's that include the linked audio. Recipients can relive your meetings and lectures through Echo Desktop, by using the Livescribe Player or Livescribe+, our free iOS app.
Playing Back Pencast
Echo Desktop can be used to review your pencasts as well as any pencasts that have been shared with you. If you're away from your laptop or desktop, you can also play back pencasts using the Livescribe Player through your browser. If you have
an iOS device, you can also play your pencasts in the Livescribe+ app.
---
Livescribe 3 Smartpen
For The Perfect Professional
Day in and day out, you work hard to exchange a lot of crucial information while building professional relationships with clients, partners and colleagues.
Because the Livescribe 3 smartpen captures everything you write and hear, you can focus on engaging with your colleagues and customers during meetings rather than frantically scribbling notes.