•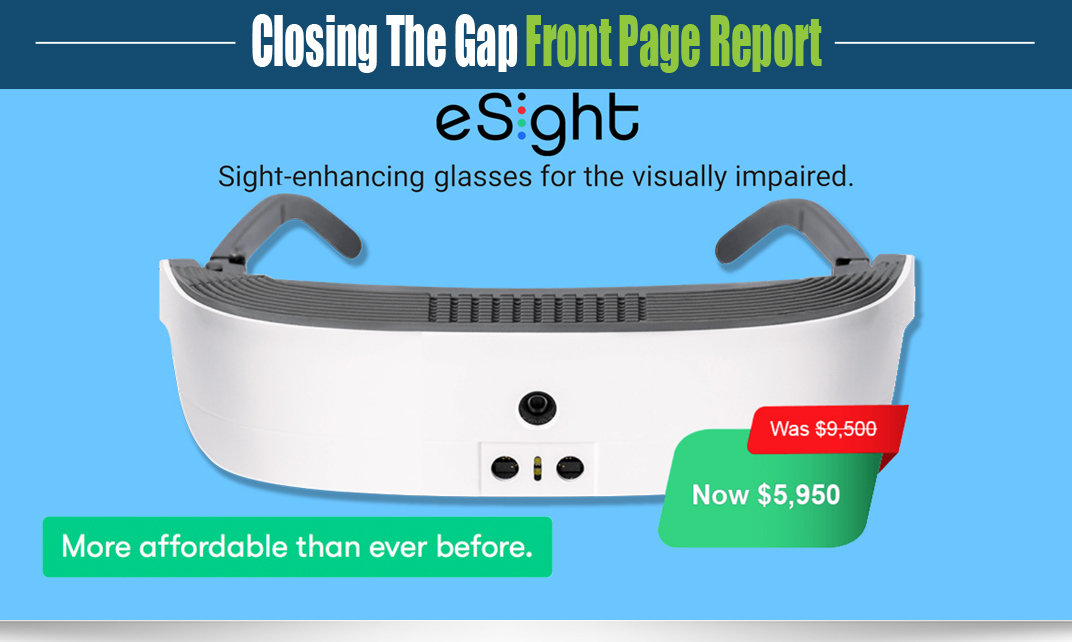 New Price, New Possibilities
An investment with possibility as far as the eye can see.
Thanks to tremendous growth, eSight is excited to announce that eSight 3 is now available for $5950 USD! Now at a lower price than ever before.
The Future. Seen Clearly.
eSight helps those with a visual impairment see the world – and change it, too.
Far beyond the limits of traditional assistive devices, eSight electronically restores sight for the visually impaired – including those who are legally blind – allowing them to participate in virtually any Activity of Daily Living while remaining completely mobile.
Many Conditions, One Solution eSight restores sight for the overwhelming majority of individuals living with low vision.
‍
eSight users commonly live with:
Macular Degeneration
Stargardt's Disease
Diabetic Retinopathy
Glaucoma
Retinitis Pigmentosa (RP)
Retinal Detachment
Ocular Albinism
Cataracts
Optic Nerve Hypoplasia (ONH)
Optic Neuropathy
Optic Atrophy
Coloboma
Cone-Rode Dystrophy
Retinopathy of Prematurity (ROP)
Nystagmus
Uveitis
Leber Congenital Amaurosis
Aniridia
How Does it Work? In collaboration with the visually impaired, world-class engineers set out to develop an entirely new kind of electronic eyewear – lightweight, versatile, and capable of enabling the low vision wearer in a format as straightforward as a normal pair of glasses.
In the front, a high-definition camera transmits video with undetectable delay to two displays located directly in front of the eyes. The footage is then enhanced by a purpose-built algorithm designed specifically for the visually impaired, with a handheld optical trackpad allowing the user to refine the image further through a full suite of zoom, contrast and focus controls.
Better Sight for a Brighter Future
See Instantly

For many low vision individuals, the impact eSight is immediate. This is why a direct and personal experience with eSight is vital, and often the only way to believe it.

See What Matters

eSight enables low vision individuals to engage with virtually all Activities of Daily Living, giving them the independence to work, study, travel, shop, care for themselves, and connect with family and friends.

See Everywhere

A patented Bioptic Tilt preserves peripheral vision while enhancing central vision, offering unrivaled safety and mobility in a device of its kind.

See Precisely

A 21.5 MP sensor with 24x Zoom, HDMI input for screen streaming, OCR for easier reading, freeze frame functionality and control of contrast and focus empowers eSight to make the most of any visual environment.
Shaping Thousands of Lives, Worldwide
In over forty countries, eSight has helped thousands of visually impaired and legally blind individuals regain access to all of the activities they once enjoyed and, in many cases, see friends and loved ones for the very first time.
Click here for more information.