•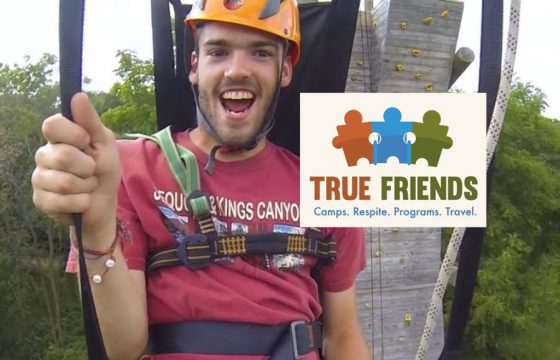 Their Story
Camp Courage and Camp Friendship are names that have been around for decades. Through the years, Camp Eden Wood, Camp Courage North and Camp New Hope have been added. We are now working together as True Friends, a non-profit organization focused on this mission: Providing life-changing experiences that enhance independence and self-esteem for children and adults with disabilities.
They are camp and so much more
Their programs and services include summer and winter camp, day camp, respite, therapy riding, travel and team building. They serve individuals with physical, developmental and learning disabilities. Through partnering with other organizations, they also host a wide variety of health and education camps. With five Minnesota camps and a Twin Cities office in Plymouth, we serve nearly 4,000 children and adults with disabilities each year.
Their name: Why True Friends?
Many people with disabilities don't have a wide circle of friends. We see the outcomes at camp … true friendships between campers, staff and volunteers.
They envision a world where experiences and adventures are open to individuals of all abilities. Friends are good, True Friends are better.
Their vision:
A world where experiences and adventures are open to individuals of all abilities.
Thier mission:
Provide life-changing experiences that enhance independence and self-esteem for children and adults with disabilities.
True Friends is a 501 (c)(3) nonprofit organization that provides camp and respite experiences to children and adults with a variety of disabilities, along with their family and friends. Our array of services include programs for:
Developmentally disabled, such as individuals with Down Syndrome or autism
Physically disabled, such as individuals with cerebral palsy or seizure disorder
Learning disabled, such as individuals with ADD/ADHD or non-verbal learning disabilities
Building community:
We partner with various community organizations that support individuals with disabilities. We collaborate with social workers to broaden options available to their clientele. We also work with schools to increase diversity and cultural awareness, helping students better understand the value of contributions of all people.
What makes them unique:
True Friends is committed to providing quality services to all our customers. This includes the individuals who utilize our services, their families, friends, social workers and residential providers.
They have five decades of camp experience and serve about 4,000 children and adults annually, maintaining our commitment and advocacy for people with disabilities.
They are accredited by the American Camping Association, following its requirements for certification.
They are licensed by the Minnesota Department of Health and the Minnesota Department of Human Services following their guidelines for licensing.
Great staff means great experiences:
Staff plays a vital role in our camper's lives. They recruit and hire a team of caring, talented and enthusiastic counselors.
Their program staff completes a comprehensive training program including innovative activities, communication techniques, teaching and redirection strategies. They also receive training in medical and behavioral interventions.
In addition to providing a fun and safe camp experience, they strive to teach our campers new skills they can utilize when they leave camp.
All staff and volunteers must pass a background check and a careful interview process.
The ratio of staff/volunteers to participants ranges between 1:1 and 1:8, depending on each participant's needs.
Camp Courage – Opened in 1955 serving campers with physical disabilities such as polio, cerebral palsy, muscular dystrophy, as well as other congenital and acquired disabilities. To make camp worthwhile experience, children with disabilities had to participate, be challenged, and have opportunities to learn new skills that they could use in their daily lives. The original camp location is now called Lakeside at Camp Courage. In 1966, a new campus was added to serve children with communication disorders. Children with speech, hearing and language impairments were now able have a summer experience that included speech therapy and education. This site, originally called Speech and Hearing camp, is now called Woodland at Camp Courage.
Camp Friendship – In 1964, a group of parents with Arc Minnesota converted a resort near Annandale into a resident camp for their children with developmental disabilities. They purchased the 100-year-old Beecher's Resort on Clearwater Lake and converted it into Camp Friendship. Although the camp was created to benefit the children, parents soon appreciated the respite they enjoyed while their children were at camp. Over the years, Camp Friendship evolved into Friendship Ventures, and programs and services grew well beyond the camp's boundaries. In the late 1980s respite programs and Ventures Travel were created. In 1986, Friendship Ventures, the parent company, became an independent, nonprofit organization.
Camp Eden Wood – In 1995, Friendship Ventures expanded its services in the Twin Cities area through the acquisition of Eden Wood Center in Eden Prairie. The original facility wa