•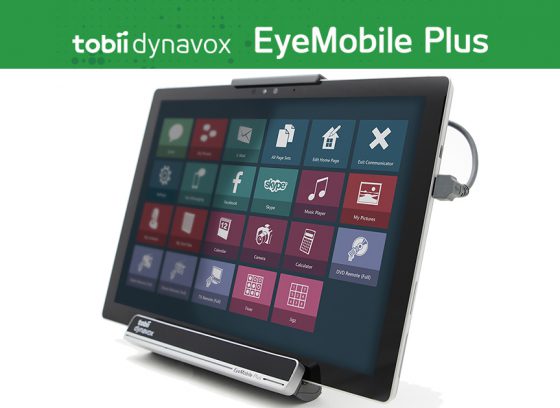 Tobii Dynavox EyeMobile Plus with Communicator 5 and Windows Control software
EyeMobile Plus provides individuals with physical and mobility challenges, such as spinal cord injuries or ALS, all the necessary tools to communicate effectively and empowers them to access hands-free mobile computing. With the EyeMobile Plus and included Windows Control software, users can navigate their computer, control and access apps, internet, music, e-books, social media, games and more using the natural movements of the eyes. When combined with optional Communicator 5 software, the EyeMobile Plus becomes an all-in-one bracket solution that turns Windows tablets into eye gaze-controlled Augmentative and Alternative Communication (AAC) devices.
EyeMobile Plus and the Power to be You
An all-in-one solution
The EyeMobile Plus combines the best in eye tracking, high quality speakers, speech recognition, switch access, and infrared (IR) control into one solution. All of those elements are seamlessly integrated in the bracket to adapt the sleek design of the Microsoft Surface Pro tablet.
Be heard clearly with speakers optimized for speech
The EyeMobile Plus features two powerful, outward facing speakers that provide the user with speech-optimized voice output. With this built-in speaker solution, you can engage with confidence knowing you will be heard, even from across the room.
Go further with worry-free battery performance
Say goodbye to battery life anxiety. With the battery configuration of the EyeMobile Plus, you no longer need to worry about unexpectedly losing power, computer access, or your ability to communicate. The EyeMobile Plus bracket can sustain itself with energy for 9+ hours and once exhausted, the bracket will use power from the tablet.
Modern design language
The design of the EyeMobile Plus bracket as well as the software inherits the latest trends in consumer electronics, matching it perfectly with the Microsoft Surface Pro tablet. The bracket is almost invisible from the front, so only the eye tracker stands out from the tablet.
The new Tobii advantage
Tobii is the global pioneer of eye tracking technology, with over 11 years of dedicated research, experience and innovation. Over the years, we have improved our technology and expertise to deliver the best results possible for you. This knowledge is built into all our eye trackers, including the Tobii Dynavox EyeMobile Plus – expertise you can rely on.
High precision and accuracy
The EyeMobile Plus, together with the zoom functionality of Windows Control, allows you to hit even the smallest targets on the screen, almost with pixel precision, again and again.
Head movement compensation
Move freely within the trackbox while maintaining superior precision and accuracy. Should you move outside of the trackbox, the EyeMobile Plus will quickly find your eyes again and continue to track them.
Largest trackbox
The trackbox, the imaginary volume within which you can move your head without losing accuracy, or interrupting the eye tracking session, is among the largest on the market. The large size gives you the freedom to s