The Giraffe Bottle Hands Free Drinking Bottle allows users with various abilities to stay hydrated. The system is designed to be flexible and easy to use; and is a great solution for wheelchairs, desks, beds, tables, and more. Combine the bottle with the Giraffe bottle holder, MoGo or ModularHose.com mounting system for additional awesomeness and flexibility. Available in various neck lengths from 9 inch/22cm to 36inch/92cm.
The Giraffe Bottle system starts out with a BPA free clear bottle that is easy to see if it needs refilling. The bottle also features markings in ml/oz for hydration monitoring and reporting. With the attached cap, the neck and tube can be removed and the bottle used as a standard drink bottle, put into the refrigerator, or available as a spare bottle ready to use.
The drinking tube is FDA NSF-51 and NSF-61 and can easily be removed to be cleaned or replaced. The system also features a check valve that prevents liquid from flowing back into the bottle so subsequent sips require less effort. Of course, the system features the famous ModularHose.com neck so that you can position, adjust, and move the neck where you need it.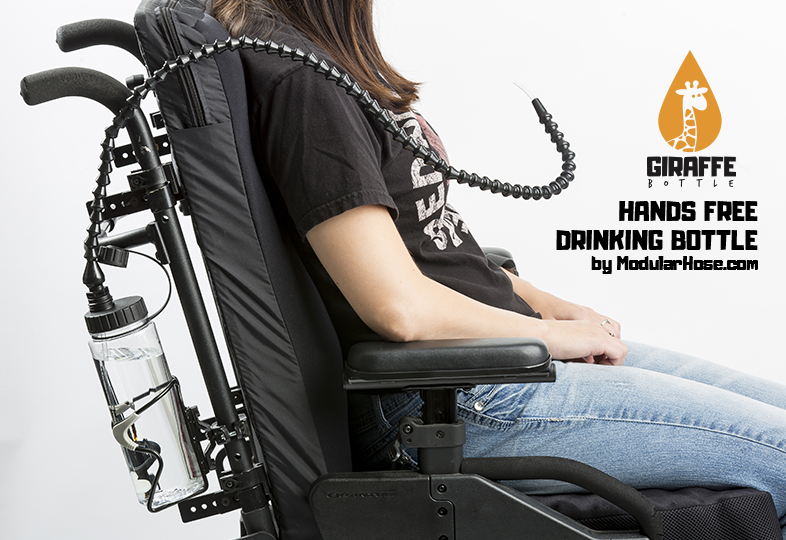 ModularHose.com
Address:
1108 Front St.
Lisle, IL 60532
United States
Phone: 630-922-5005