•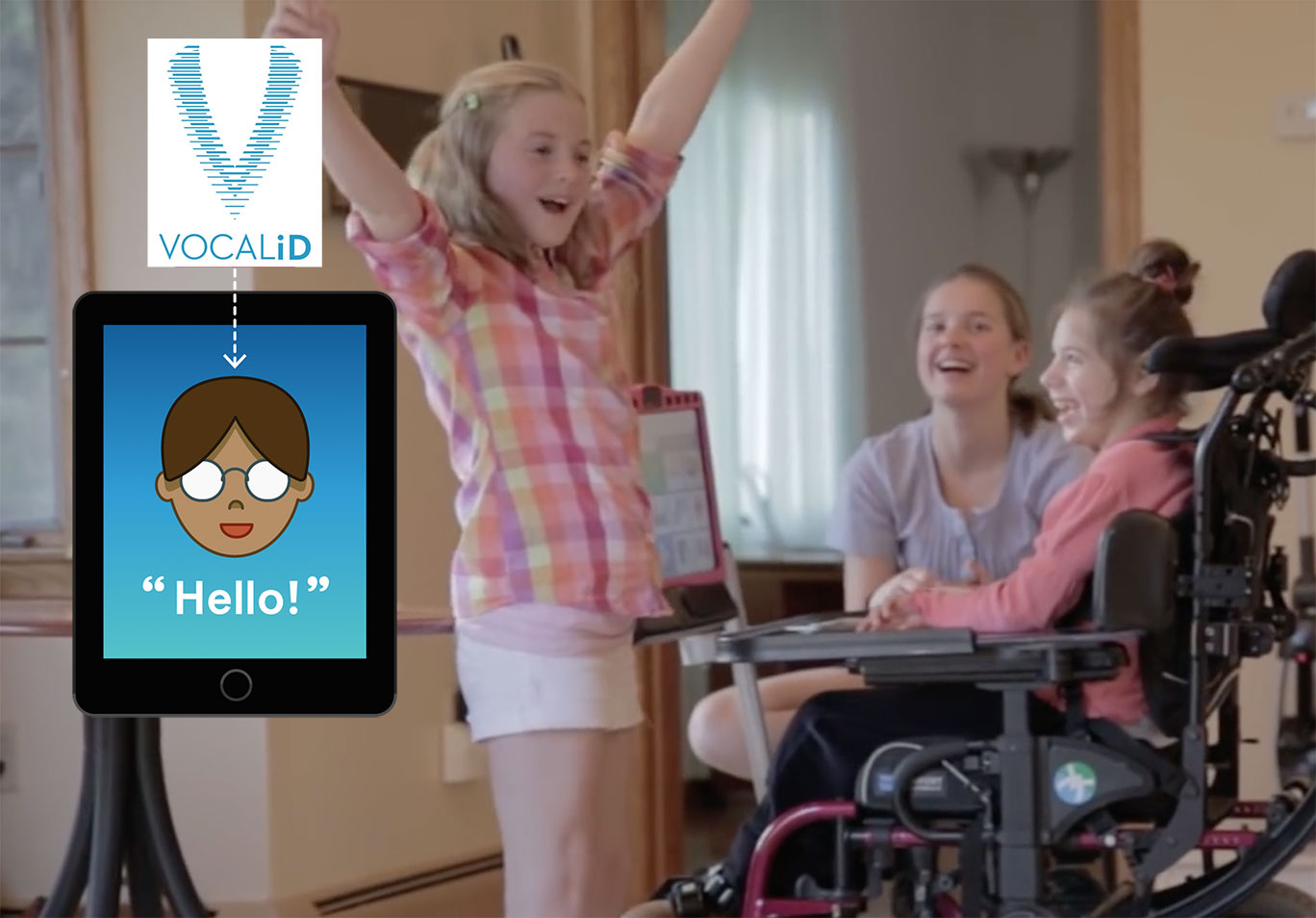 The first-ever personalized voices, unique to each individual, have arrived.
About
Over ten million people live with voicelessness. Much like Stephen Hawking, they rely on text-to-speech devices to express themselves. Yet, young or old, male or female, shy or outgoing — they all speak with similar voices.
Add to that the hundreds of millions who use generic sounding virtual assistants, GPS navigation and screen readers. Digital voices must VocaliD is the voice company that is bringing speaking machines to life. We leverage our voicebank and proprietary voice blending technology to create unique vocal persona for any device that turns text into speech.
VocaliD's custom voices are tailored to fit your unique identity. Speak through your own voice, no matter what.
Say goodbye to uniform voices.
Until now, the creation of synthetic voices began with auditioning a voice actor. They recorded speech in a professional studio for days or weeks. An army of engineers and linguists then spent three to four months laboring over the recordings to synthesize a voice.
Digital voices were expensive and generic — until now.
It's not just a speech generating device, it's your voice.
Millions of people rely on synthetic speech to communicate everyday. Yet, they're given a limited set of generic, robotic sounding voices. Voices that don't fit their body or personality.
They wouldn't dream of fitting a little girl with the prosthetic limb of a grown man — so, why then the same prosthetic voice?
BeSpoke by VocaliD empowers any text-to-speech application with a natural, unique personalized voice.
BeSpoke empowers people to speak as themselves.
A young girl should be able to sound less like Stephen Hawking, and more like her own age, gender and personality.
A spouse should be able to express his hopes, thoughts, and feelings to his loved one as himself.
A job candidate should be able to speak with her own voice to connect with potential employers and colleagues.
A parent should be able to hear their child speak in a voice they recognize as their child's own.
"That sounds great, but is a personalized custom voice really that important?"
Speaking in one's own voice shouldn't be a luxury — it's a right. Whether you use your natural speaking voice or you rely on assistive technology, a voice is more than just sound. It's a reflection of who you are.
"Aren't there already custom voice options available?"
Only VocaliD produces actual custom voices. Our voices are unique because they harness the recipient's very own vocalizations, which are then blended with recordings from a matched speech donor in our Human Voicebank.
"My family's ability to pay for a voice is limited. Why is the BeSpoke™ Voice priced that way?"
Their goal to create a product that is accessible to all regardless of their financial means. With a one-time voice purchase, they intend to support their users' capability to speak as themselves for the rest of their lives. BeSpoke™ Voices can grow and adapt as the recipient matures.
While prosthetic voices are not covered by insurance (yet), many of their pre-order clients have also used crowdfunding approaches, which serve to both bring communities together in support of an individual and raise awareness, and also to raise the funds necessary to build a custom VocaliD voice.
"I have XYZ Speech Generating Device/App. Will it even work on this?"
VocaliD™ voices are currently available on Windows devices, and will be compatible with speech-generating devices and consumer applications across platforms in the future — including Windows, iOS, and Android. We have established relationships with a number of the assistive communication device manufacturers (e.g. Tobii Dynavox, PRC, Speak For Yourself, etc.) and are continuing to forge others.
Click here for more information.