•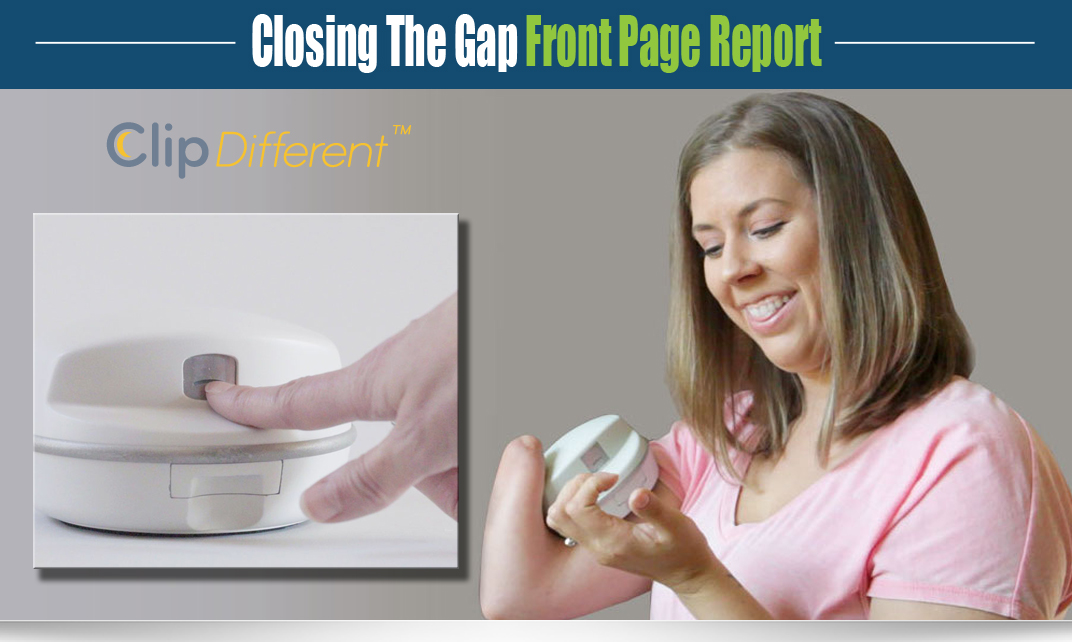 An Effortless Manicure in Under a Minute.
The ClipDifferent Pro is a revolutionary, first-of-its kind, automatic fingernail clipper that safely trims fingernails with the simple touch of a button.
Who's it For?
Put simply, the ClipDifferent Pro nail clipper is for a variety of people with a multitude of abilities, who by nature or choice, would like an easier way to clip their fingernails.
Perhaps you have Arthritis, MS or Parkinson's and fine motor dexterity is an everyday challenge. Or you might be one of our many great disabled veterans, someone with a congenital disability, or one of the untold amount of able-bodied people who really dislike the messy process of cutting their fingernails. Or maybe you're a family member or caregiver who knows what a little more independence might mean to your loved ones.
What is it?
The ClipDifferent Pro is a patent-pending, carefully engineered fingernail clipper that transforms this repetitive "task" into an easy experience. The safe fingernail slot prevents skin from coming into contact with the trimming mechanism (even those with full vision loss can use it safely). In addition, it catches the nail clippings in a drawer, eliminating the mess of this routine task. It's also compact (3″ x 5″) and contains a rechargeable battery that can last months between charges.
Features & Benefits
Effortless

Clips nails in seconds with a simple touch of a button

Safe

Precisely engineered for fingernails

Gentle

Fingernails are left smooth with no need to file

No Mess

Nail clippings are captured in an easy-to-empty drawer

Rechargeable

A quick charge is good for multiple nail clippings

Non-Slip

Rubberized base rests securely on any level surface

Portable

Weighs only 14 ounces and measures 3″ x 5″

Built-to-Last

The ClipDifferent Pro is the result of expert engineering
How it works:
The ClipDifferent Pro utilizes a high-capacity, rechargeable battery to power a finely-tuned, patent-pending trimming blade to create the most seamless fingernail clipping experience you've ever had. You simply turn it on and insert as much (or as little) of your fingernail you want trimmed into the fingernail slot. The blade then automatically trims your nail to the desired length. It's so precise and gentle, you can use it to trim the tiniest sliver of a nail. The nail trimmings are then captured in the handy, no-mess nail drawer.
It is quiet, durable, and weighs less than a bottle of water. The large power button is easy to find and operate. The finger rest allows those with vision or dexterity challenges to easily find and use the nail slot.
It was designed to look and operate simply, efficiently, and elegantly, but contains countless hours of designing, engineering, testing, and re-engineering to deliver an easy-to-use product experience that's going to change how you clip fingernails.
Directions
(Click Here for the full ClipDifferent Pro User Manual)
Place ClipDifferent Pro on a flat, stable surface
Press Power Switch to ON
Insert the tip of the fingernail to the desired length you'd like to be trimmed
Turn finger slightly to round off the rest of the nail edge to ensure a smooth, snag-free finish
Empty nail clippings from the drawer
Could it get any easier?? 
Click here for more information.