•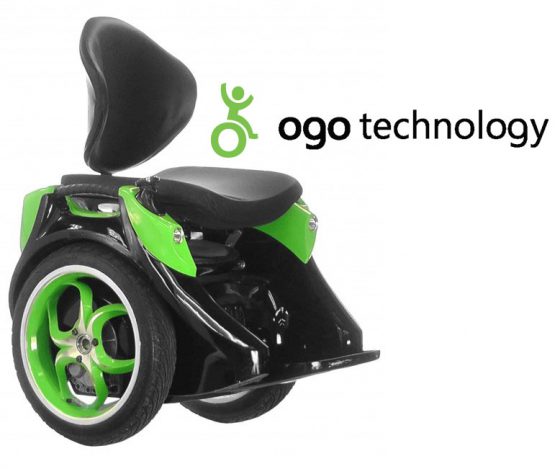 The Ogo… A new take on personal transportation. An intuitive hands free control system, for freedom of movement and maximum independence! What is the Ogo? The Ogo is your passport into an exciting new world of mobility, freedom and independence. Experience cutting edge technology and innovation at its best. The Ogo is a fully integrated system. It is… the Ogo! Ogo is the only personal transportation system that fully integrates a unique dynamic seat control system with the best of self balancing technology. It is not an add on kit. The Dynamic Seat Control system (DSC), not only moves with your body –  making it intuitive to use, but allows you to do so…completely hands free!  Add a lot of Kiwi ingenuity, and we have created something new, exciting and very cool. When you are on the Ogo you are using your core or upper body to move, turn and stay in balance – something that has Occupational Therapists very excited. The user is able to move by simply leaning in the direction they want to travel. By changing to our all-terrain wheels, the Ogo becomes an off road monster that can go just about anywhere. Able to tackle soft sand, gravel, rough terrain and inclines, the Ogo is smaller, lighter and faster than most other powered mobility devices. It is the ultimate machine for accessibility and fun.
Unique features
Three steering options – Hands free, seat steer or joystick. Joystick and other controls can be positoned on the left or right side of the body
Automatic self leveling stabilising feet
Easy clean impact resistant hi-density polyethylene body
Built in lights
Storage compartment
Easy transferring to get on and off.  No bulky, dangerous central steering column
Foldaway footrest with a choice of height adjustments
Adjustable seat height and positioning
USB charging port for phones
Multi functional holders for accessories. For example, cup holder, fishing rods, umbrellas, tray.

Weather resistant – not submersible though
What can I use Ogo for?
Ogo is a personal mobility device that has many uses. It is designed to be used for where ever pedestrians can access. It can be used as a primary or secondary wheelchair, medical aid, a toy, a piece of sports and recreational equipment,  a general means of personal mobility for those who prefer not to walk.  For folks with and without disabilities. Use  it indoors, outdoors, work, and play. Ogo levels the playing field. Some will want to replace mobility scooters, golf carts, or use Ogo for city or park tours. Ogo is ideal for the beach, off road/ farms, formed mountain bike tracks and sports venues. We have folks wanting to use it as a platform and tactical device for football, tennis, basketball, fencing, field athletics, archery, hunting, fishing – the possibilities are almost endless. Ogo is designed to be used wherever a pedestrian has access, with some limitations-for example stairs, escalators, extremely rough or slippery terrain. Some countries or jurisdictions have restrictions on where such devices can be used. It is the buyers responsibility to check their jurisdiction's regulations. The bottom line is freedom, independence and coolness.
Available colours
For the first production run the Ogo is available in five colour options- Green, Blue, Orange, Purple and Black. After our first run, the Ogo will be colour customizable.
 Weight restrictions
Presently Ogo supports weight up to 110kg. Further development continues for the Ogo to suit a wider range of people – including children and those of a heavier build.
 Speed restrictions
One of the key attractions is that Ogo will travel up to 20 kph /12 mph. But some countries do have restrictions.It is the buyers responsibility to check their jurisdiction's regulations and advise them.  They will factory set the speed according to your specific jurisdiction requirements. For example; in Australia speed limited to 10kph; in the United Kingdom it is limited to 4mph/6.5 kph.
 Safety measures
Whilst the Ogo has the best safety and redundancy features of any self balancing device, users will need to be competent using the Ogo before going into public areas (at least 60 minutes practice recommended).
They recommend users wear safety helmets and any other protection they consider appropriate.
Users should always use the Ogo responsibly, within their competency and always be mindful of the safety of others. For example, to travel at pedestrian pace when among pedestrians. Ogo has in built safety features that will shut it down. For example Ogo will come to a stop if it comes up against a high kerb or obstruction that it is unable to traverse  -meaning that it is very unlikely to tip backwards. They do not accept responsibility for users safety if Ogo is used irresponsibly or for anything other than it's purpose. What do family members and professionals think of Ogo? Ogo is not just about the users. Family and friends of those who have trialed the Ogo love it too. They have told us that their homes are a happier and healthier environment – that Ogo means more freedom and independence for them and increased opportunities to get back into activities they had given up – walking the bush trails, sports, rediscovering the beaches and parks, shopping. Just participating in life with their partners. "Grabbing life by the wheels". Caregivers tell us that they are not required to be in constant attendance, there is less strain on their own bodies having to manage manual wheelchairs or hefting heavy powered chairs. Occupational therapists and other professionals love Ogo because it requires upper body movement – exercises core muscles. There is less wear and tear on shoulders and arms, assists functionality of internal organs. The increased freedom and independence, also assists mental and spiritual well being often resulting in a more positive outlook which aids recovery or therapy.