•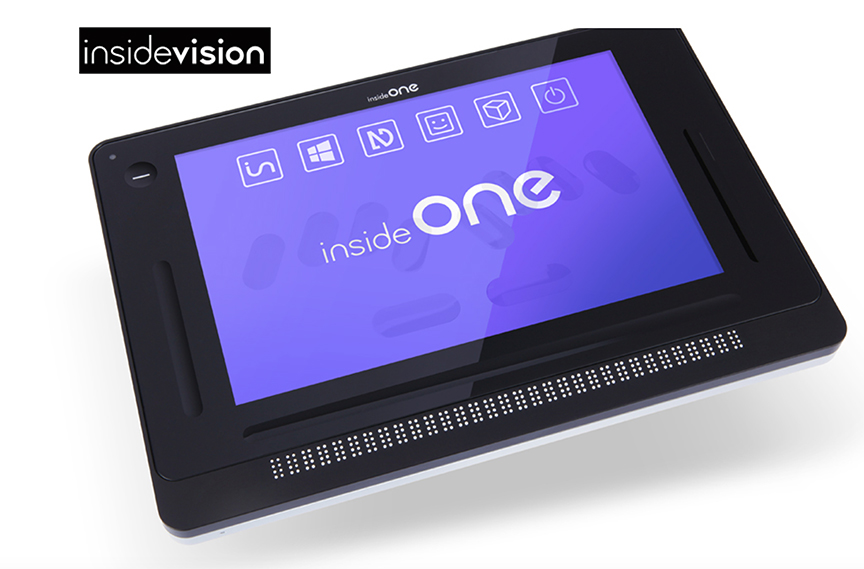 Blind and tactile what a paradox! Doubting our hands would be incredible.

Who if not non-sight people are more hypersensitive to the sense of touch.
A new tactile language brought into the Braille world. Everything turns more intuitive, quicker, more fluent. Sight and non-sight together, a world in common for obvious interaction.
They brought out insideONE to exploit to the fulleach of your ideas.
A braille tablet that does not demand to be viewed, but that is seen…
To communicate, exchange, share with all of us. No matter whether you can see or not as long as you don't find yourself limited to Braille read. Interest is not your province but let your ability display your capabilities.
A product imagined to remedy the visual deficiency, that can be used by all of us, bridging the visible and invisible world gap. 
We lead our lives in the same surroundings, in homes, schools, offices, we wish to learn, create, play and work everyone together An opening to facilitate the expression of our inner life. Usefulness both with simplicity. A bi-acurate tablet available at every turn of your life.
Autonomy within exchange.
No need to be a braille expert, the insideONE tablet offers an unprecedented access between sight and non-sight. It can be shifted between environments allowing us to work and discuss on the same document in a data-processing world over which we both have control.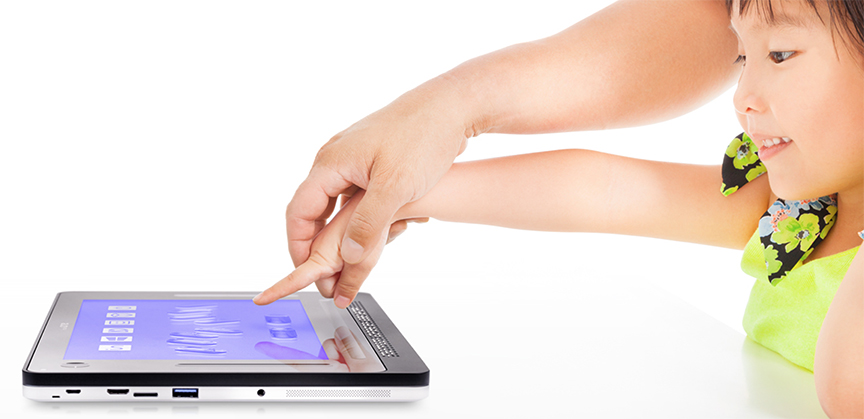 A brother, sister, friend or colleague, sight or non-sight can come into your file, read it, add to it or anything else. Multiplatforms combined with various transferable keyboards are there to assist you. To exchange means partial acceptance of the difference.
InsideONE, your own choice, not anybody else… Yours is a will to retain your freedom and lookout on to the digital world.
A design in phase with the time…
No matter where you are, drinking coffee in a café or working in an office, you won't resist the wish to take it with you everywhere always.
InsideONE looks like nothing else. Your eyes and hands are both attracted by its unique design so simple and pure. An object not a handicap, a visible product that gives you visibility. To share, to live, your identity is revealed to the world, insideONE brings out your abilities.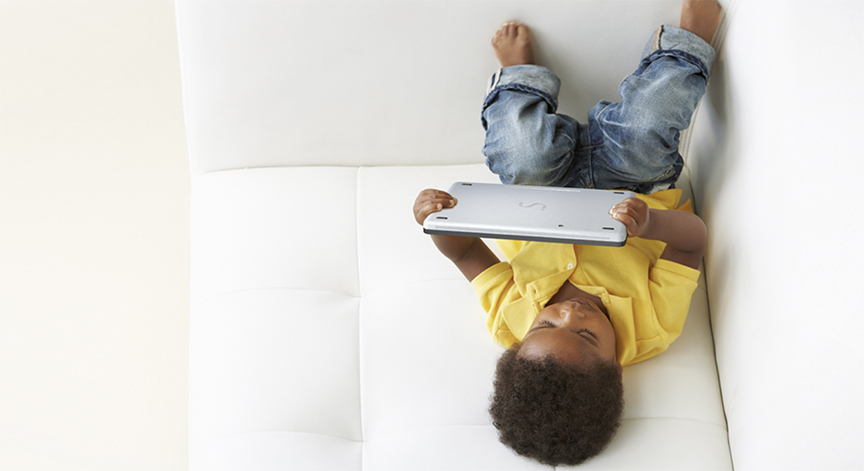 Quality is evidence.
Built of the best materials its self-coloured case made of aluminum alloy is machined to one tenth of a mm, yielding an exceptionally precise part with a smooth finish. An hyperresistant tactile glass made up of Gorilla Glass, twice as strong, as any other type of glass, the utmost for shock and scratch strength plus water-repellant treatment to confer an even better feed. We employ noble and recyclable material, to prescrive the environment.
Carefully selected components guarantee optimum durability, whilst preserving their technology. A perfect match between practice and performance.
Designing one's wish.
No bigger than a sheet of paper, the ideal size to slip into your bag. Wherever you are insideONE is the partner of your activities. An object not for concealment suited to your lifestyle. Braille was a need before, now it combines usefulness with pleasure. To need it does not forbid longing for it.
You grasp it through touching, your glance is your feel, insideONE a shared vision.
Don't bother any longer about performance…
Speed and power are no more a problem. The quad-core Intel processor delivers the very latest performances and this with optimal consumption. Top of the range architecture allows for all possibilities. The 10.1 inch full HD screen plus the 12.3 inch matrix, never seen before on a tablet, enlarges sensing all the way to the product edge.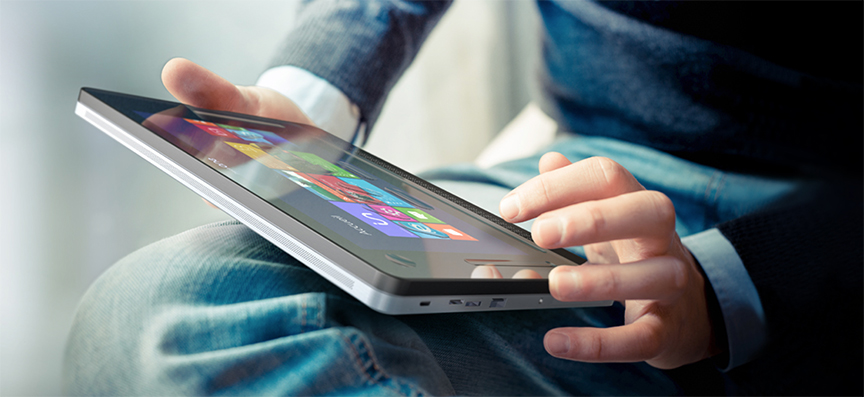 InsideONE was conceived to follow you in every circumstance, whether personal or professional, on the move or settled down, a technology for your daily existence.
Designed for connection.
Your contents easily transferred and transmitted to all your peripherals. InsideONE includes HDMI, USB 3, mini-USB ports, an in-out audio plug, an internal microphone, a micro SD card reader and embedded speakers offer Dolby stereo. You wish to listen to music, to project images on to your HD TV via the minidisplay Port or to connect with an external monitor hard disk, a movable storage support… or any other equipment, there will always be a solution.
Dematerialized communication.
Wherever you are, connection to the wireless network is easily established. Capitalize on the wifi multiband connection equipping insideONE. Upload documents, navigate on the internet, share documents or chat with your friends… you remain always accessible. The usefulness of an interconnection with another product, the generation 4 Bluetooth will bring you the answer.
Versatility of an adopted technology.
To exploit to the full insideONE performance capabilities we have provided a high-capacity Li-Ion battery. A 128Go EMMC storage expandable to 384Go, reliables noiseless thru the Flash memory technology. Fitted with 2 automatic focus cameras, one of 5 megapixels in 1080 HD and the other of 2 megapixels frontal. Communicate with Skype or scan your documents with your preferred OCR. InsideONE is your eyes. With 32 braille characters to offer comfortable reading like a braille page, rediscover the feel of paper whilst enjoying automatic reading follow-up, moving to the next line. InsideONE the tablet as efficient as a desktop computer, without the noise in the absence of a fan but with extra reliability derived from its concept with no mobile parts.
Keyboard…s
Put your hand on the keyboard. InsideONE, an extraordinary range of possibilities for entirely new choices. Decide what you want to use, 8 points braille, 6 points braille, azerty, qwerty switching according to your actions. Multiprotocol keyboards in every language. Freedom of access and combination for all your applications; a vast reservoir in your hands, insideONE opens it for you.
For us technology is not the full answer, insideONE provides the rest.
An operating system, yours is the choice…
InsideONE operates under Windows 10, the best mix of insidevision ecosystem with all existing Screen-Readers. Cross-utilisation of dedicated applications and the Windows environment, a boundless selection to accede to your favorite applications. Highly diversified functions unrestricted use of your software packages. 
Simplicity in management.
InsideONE reconsidered ergonomics, all applications can be acceded through only 6 basic moves. Intuition enables evident, easy management. You are encouraged to share your experience thanks to combining multikeyboards, joining visual follow-up to voice synthesis both in the listening and reading modes. No discrimination between sight and non-sight, insideONE can be operated. To exchange, disseminate, consult or produce, as you wish is in the make-up of insideONE DNA, it is a tablet like any other tablet, but with a small extra that makes all the difference, you exchange now with the whole world.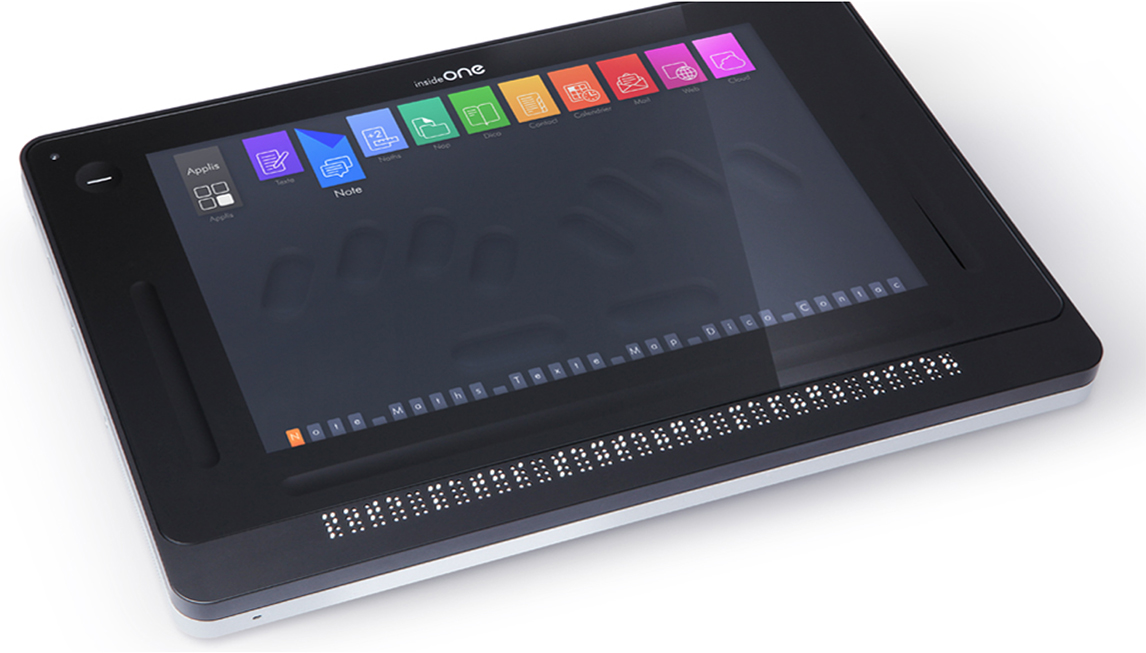 Home
Home is an insideONE ecosystem, a suite of higly performing dedicated applications. Software packages adjustable to your knowledge basis and style of use, no need to turn into a data-processing wizard when you want to navigate and operate insideONE. The Home suite does not only offer a family of softwares, but also a more customised type of experience when turning to the embedded multi-task navigator, allowing unrestrained shifting between environments.
Userfriendliness is further extended thru Home interface, because of easier access to your applications and line management linking fully the sight and non-sight worlds. All of your actions are instantaneously transcribed into braille and visual writing, and develop in step with your needs.

Production gains greatly in efficiency with Home, proposing functions and short-cuts for your recurrent actions. Such as opening, saving, modifying or a simple copy-paste. Organization and customisation of your hosting interface by pinning your favorite files or softwares is your own decision. InsideONE introduces a powerful toolkit whose ease of use yields direct access to your sources, whether under Home or Windows, and offers great flexibility. Your choice range is boundless to do on you please, the only limit to determine how far you wish to go.
A shared approach.
Your daily working environment is easily and efficiently under your control. Take advantage of the simple Home interface and benefit from Windows power. If you operate with Home ecosystem or under Windows, softwares selected can all be used indiscriminately. Both environments can be shifted or combined without restraint.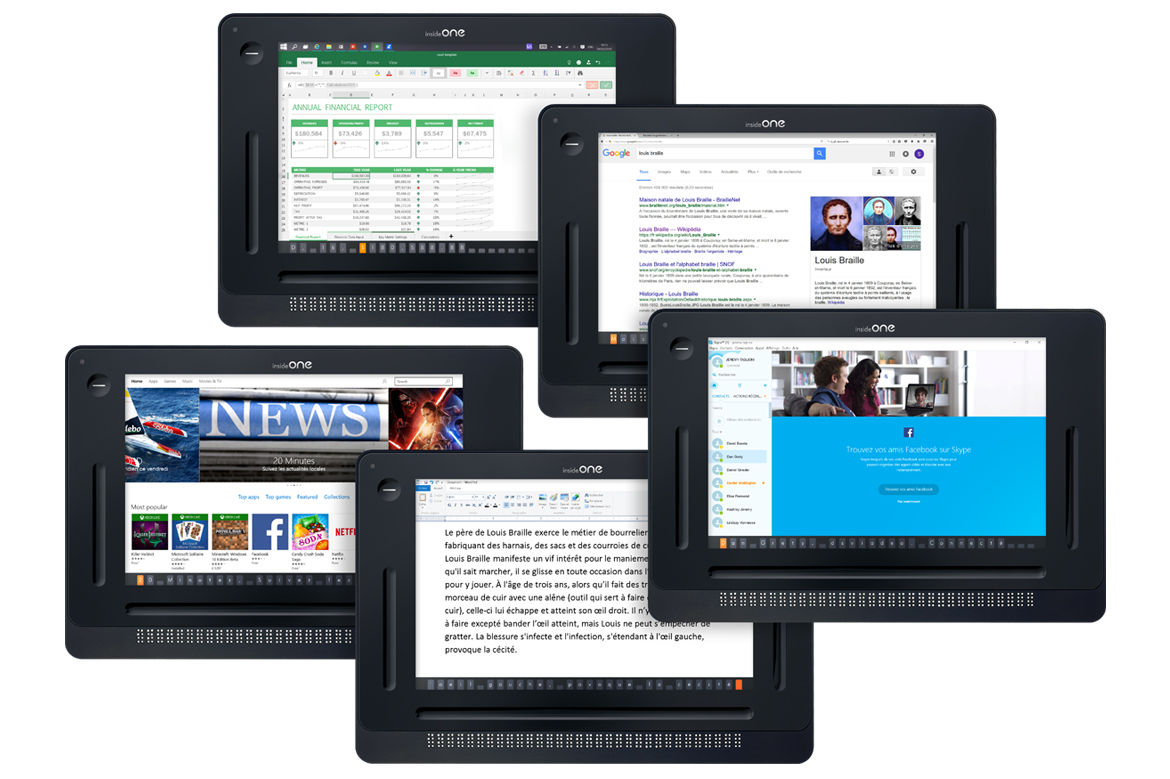 Pick the screen-reader that you prefer such as NVDA linked to your known applications. Install Microsoft Office, VLC, or Firefox and enjoy all the opportunities of InsideONE. Share your knowledge and experience within a global, usual environment, InsideONE joins the operating power of a PC computer embedded into a mobile tablet.
Everything becomes simpler with InsideONE

A special object in your everyday life…
A few simple gestures enable you to instantly express your ideas, keep your prior achievements and select your programs. Transfer of data, recovery of a source content, InsideONE was designed for an easy exchange. A tool to do as you like or simply the basic tasks, to learn, understand and share.
In private life…
InsideONE adjusts to your life pace, for work, creation or leisure, a simple obvious object. Should you wish to get in touch with your bank or an administration, or yet answer your mails InsideONE increases further your independence. At home or on holiday, communication will always be within your power. InsideONE, the tablet that goes everywhere with you. Letter-writing or document-sharing InsideONE can assist you, the screen either turned on or off without deterring from its functions. Available also when on the move, InsideONE is simultaneously a Braille display, a tactile object, a PC, a screen… and even more.
In your hands InsideONE preserves confidentiality and at the same time brings you an extraordinary perspective of the world of others.
Every hit of the keys improves your experience and reflects your vision.

At school or in college…
Teachers and students share in the search for knowledge to succeed in life.
In school or in university, maximum self-supporting, capability is a fundamental requirement. With InsideONE sight and non-sight can learn together, as you can implement unrestrictedly the softwares you are familiar with. Parents, teachers find it easier to monitor homework or make corrections as specific braille knowledge is no longer necessary.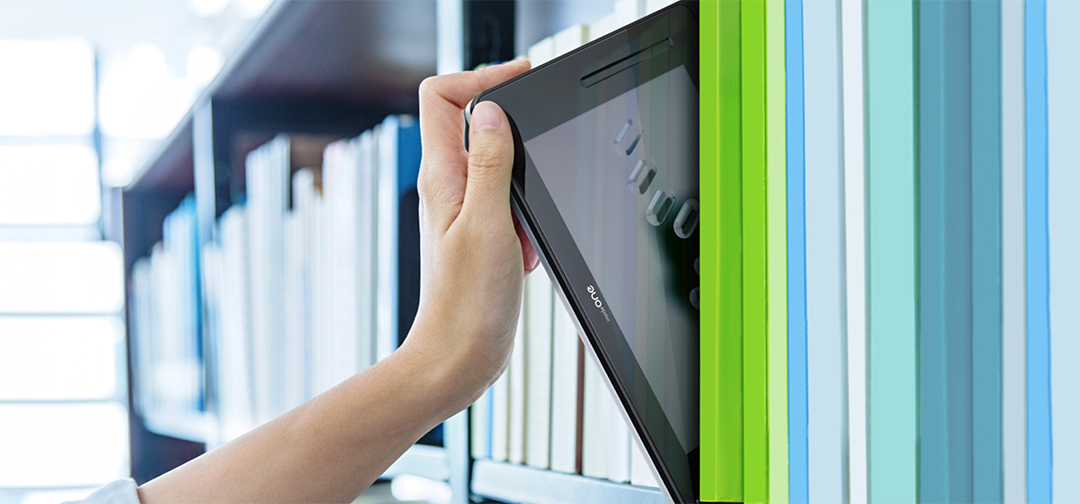 Teaching and learning methods have undergone a radical change thru InsideONE. Specialized staff or educators in schools have access to computer tools, without having to go thru a learning process opening out vast fields of new possibilities with a few gestures. InsideONE is a custom-built tool, incorporating supports best-fitted to the student level. Access to applications can be gradually parametized to fill the needs, the tool moves along with the student learning pace.
In special or standard schools everyone learns at his own rythm but sharing with his classmates, sight and non-sight. Read papers together, discuss known subjects, help out a friend with his english and ask him to assist you in Spanish, have your work reread before handing it over a search for a definition on internet. Just behave like the standard student with learns, shares and lives in the scholarly environment.
InsideONE the tool for teachers and learners.
Professional in business…
InsideONE a digital tool tailored to the business world, use the same computerized tools as your colleagues, demonstrate your qualifications and look on those of people around you, design and collaborate on joint projects within the company. Connect yourself to the company, intranet and exchange every type of files, Word, Excel, Mails… there are no limits.
Employee or employer when it comes to integration of a visual handicap inside the professional environment, it implies installing specific job positions. Rethinking the computerized environment, is an absolute must providing a braille display, a computer, a screen … InsideONE regroups everyone of these needed tools into a single product, one can get down to work quickly and be immediately performing, as special training is no longer necessary.

Windows 10 included in InsideONE and linked to its dedicated tactile ergonomic interface makes for simple navigation and access to all of the company's applications. Whether using a word-processor, a spreader or a specific software, you achieve a maximum productivity gain by easily acceding to short-cuts for your most often used applications. Just a few steps enable you to open save or switch applications. InsideONE was designed for collaborative work in a business environment.
No matter where you are, at work, in a meeting or travelling, keep your mind focused on the essentials, create and cooperate.
Your ideas are not invisible, neither is InsideONE, let's bring them to the fore!

Braille and tactile a choice for a great future.
Please click on "Settings" for subtitles in english for the video above!
For more information on the tactile braille tablet insideONE, please click here.