•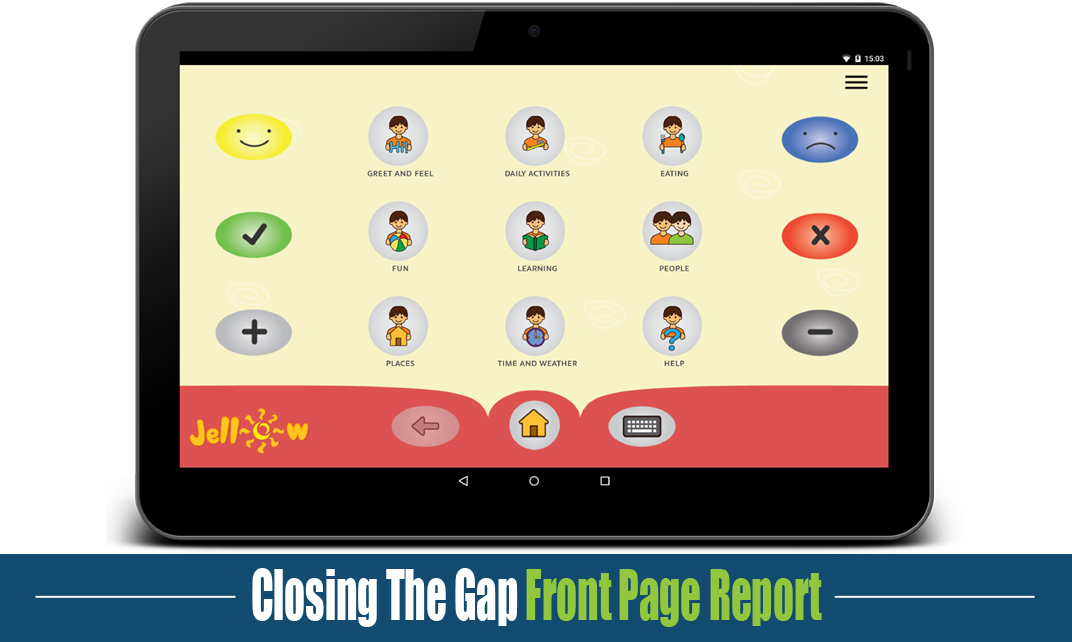 Jellow Communicator is a friendly Augmentative and Alternative Communication (AAC) solution that uses icons to aid communication in people learning to speak or with difficulty with speech and language.
Jellow is conceived and designed exclusively for children
Jellow is conceived and designed exclusively for children or early learners. The graphic icons and the phrases in simple language are specially designed to be child-friendly.
Jellow is very simple, intuitive and easy to use 
The easy-to-learn interface and visually appealing icons of Jellow make it is an ideal solution for beginner-level communicators. Jellow is very simple, intuitive and easy to use.
Jellow uses a novel Emotional Language Protocol (ELP) to communicate
A novel Emotional Language Protocol (ELP) was conceived in order to enhance the language ability of Jellow. ELP represents the 6 core expressive icons of the interface. Using these core buttons along with the central category buttons, the child can very easily communicate their likes, dislikes, and needs with others.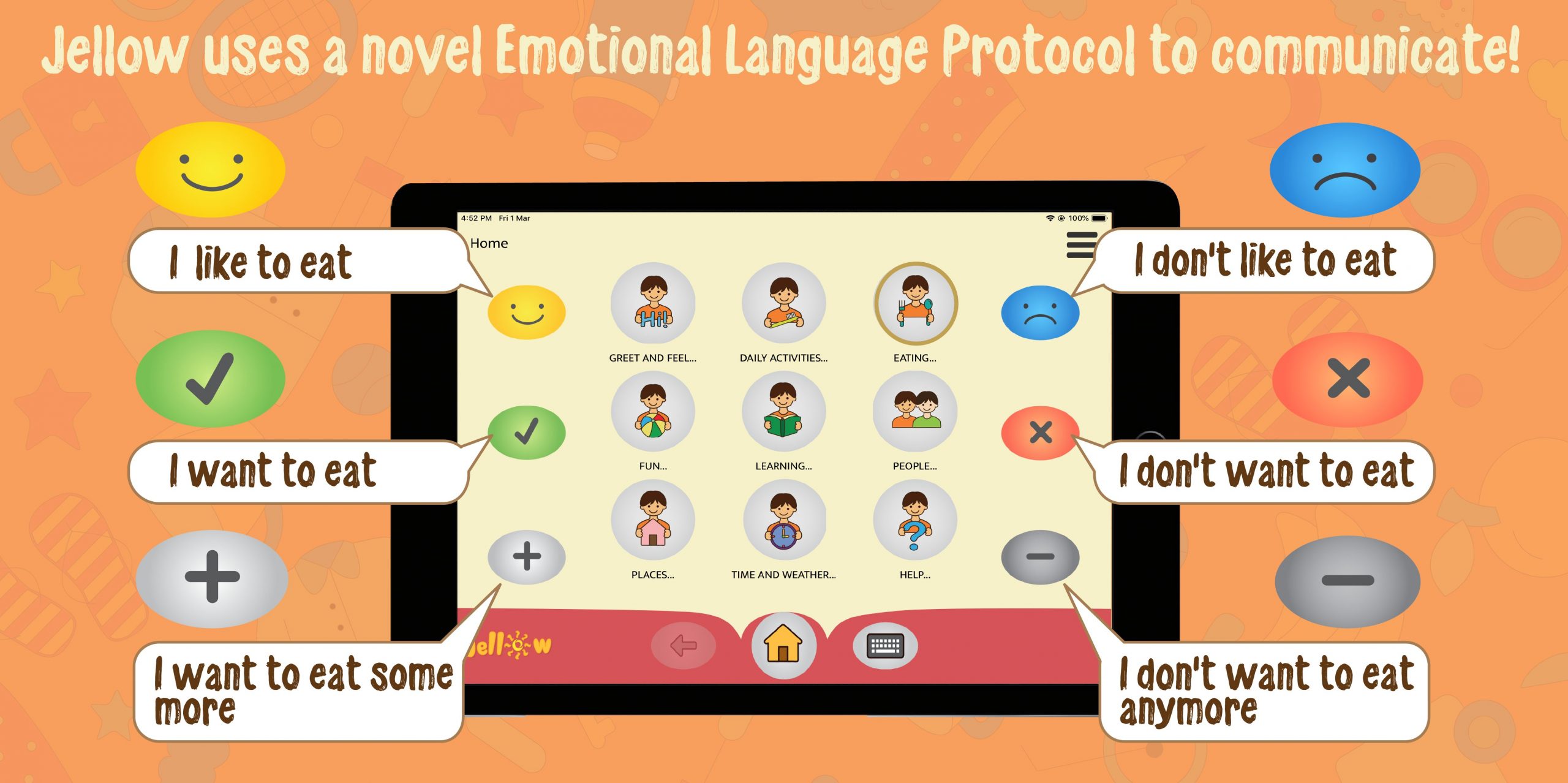 Jellow uses 1200 graphic icons and over 10,000 pre-made sentences 
Jellow has a collection of over 1200 graphic icons specially designed to be child-friendly that are easy to understand. In addition to this, Jellow has a vocabulary of over 10,000 pre-made sentences addressing your child's needs. These sentences cover most of the communication requirements of your child. These pre-made sentences make it easy for a child who cannot form accurate sentences, to communicate.
Jellow is designed iteratively with continuous feedback from its users 
The user-friendly interface along with the graphic icons and the vocabulary was designed iteratively over a period of 3 years with constant feedback from parents, speech therapists, teachers and children.
Jellow Communicator is customised to socio-cultural context

Jellow Communicator is designed to be relevant to the user's socio-cultural context. So depending on the language you choose, the relevant food, festivals and events gets loaded.
Jellow is being made available in several languages
Jellow Communicator application is available in English, Hindi, Marathi, Bengali, Tamil, French, Spanish and Deutsch (German).
Jellow is switch accessible
Jellow Communicator is Switch Accessible and is now compatible with external hardware switches for children with severe fine motor difficulties.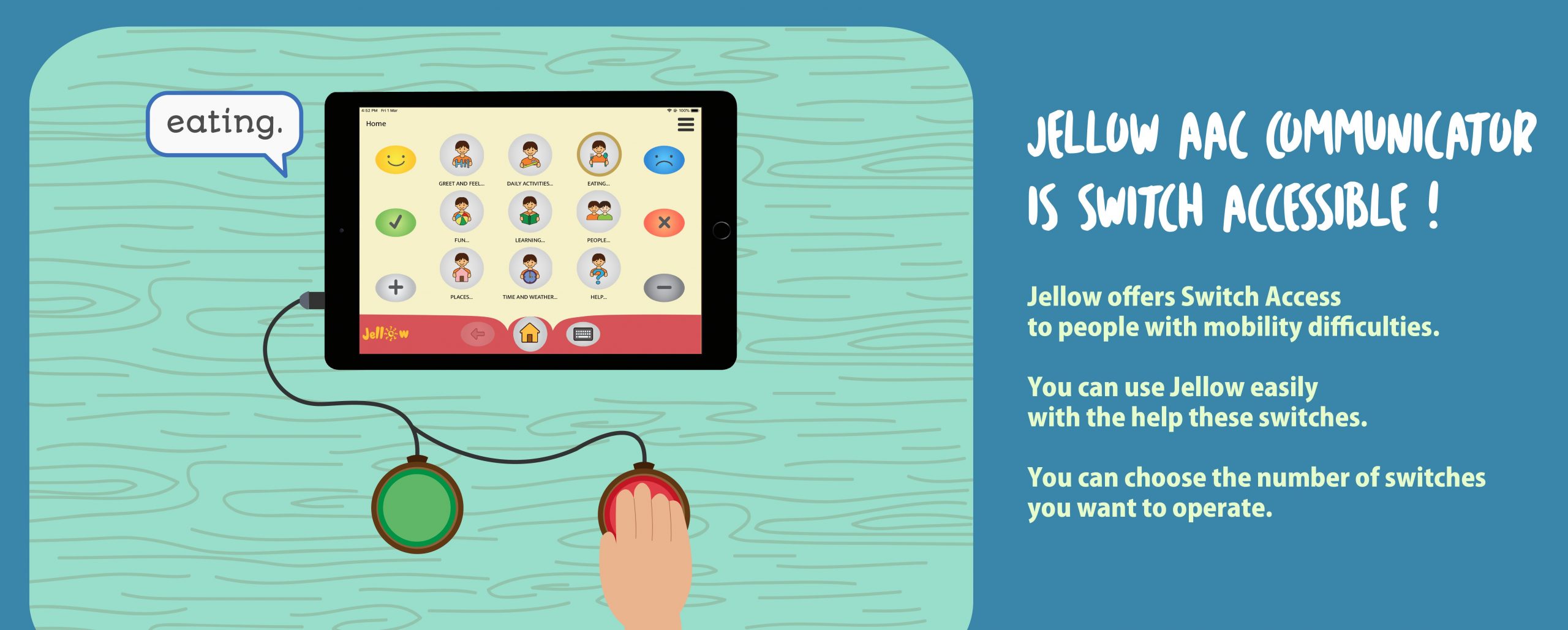 Jellow is available with several variations 
In addition to all the above features, Jellow is designed as a complete communication system conceived in the following variations to cater to the needs of users with a varying range of abilities
Jellow Book: Flash Cards, E-book/PDF Booklet
Jellow Desktop Application
Jellow Mobile/Tablet: Android aplication is available on Google Play store and iOS application is available on Apple app-store
Jellow Input Devices: Switch Access
Jellow Customized: Coming soon!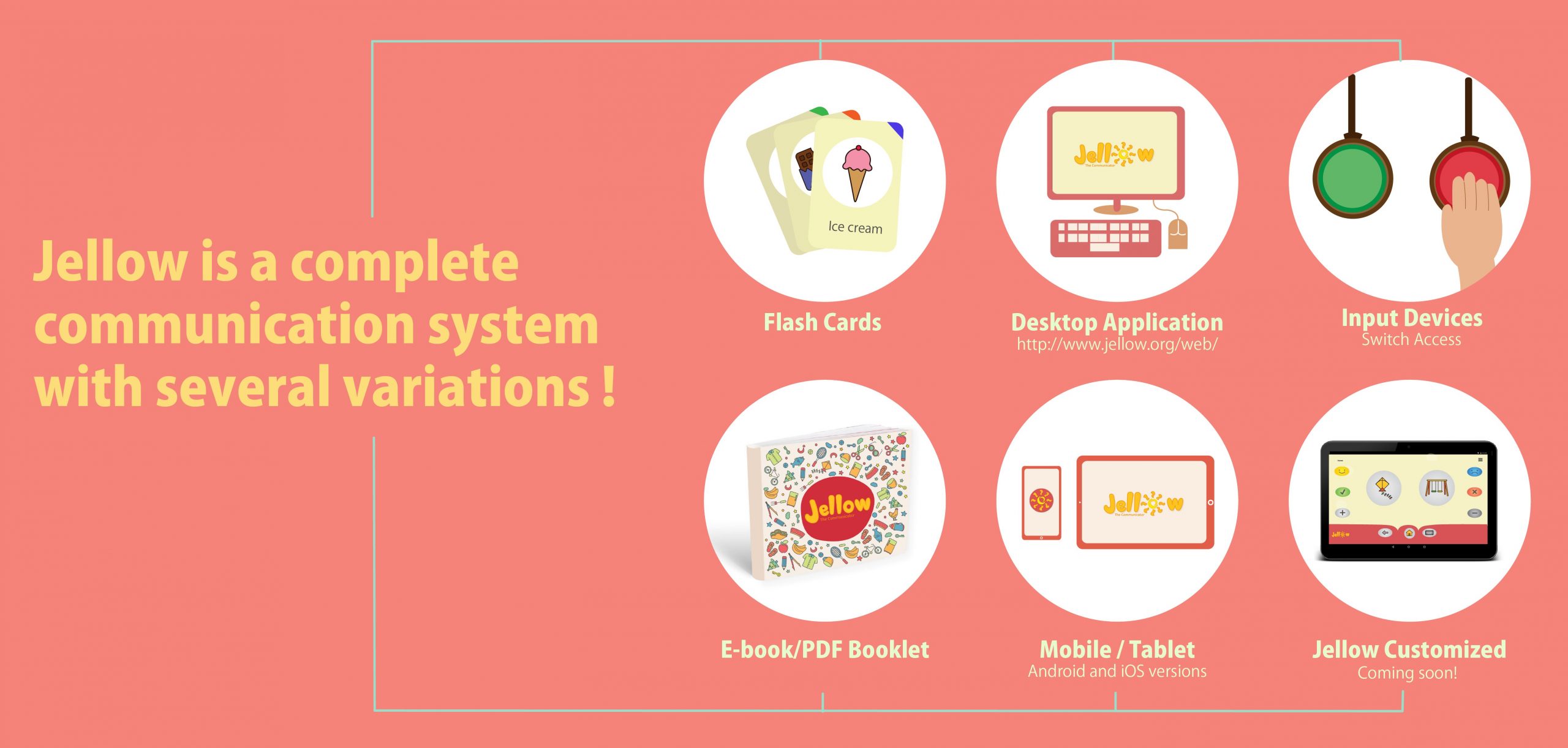 ---
Jellow is developed by researchers and designers at the IDC School of Design at the Indian Institute of Technology Bombay located in Mumbai, India. It has taken several years of research and many iterations to come out with this version of Jellow.
What's New: The new stable version Jellow 2.0.1 released.  [updated on 15th January 2020]
The new version has the following features:
1) Addition of new languages: Tamil, Spanish, German & French
2) Around 40 extra new regional icons in Spanish in the Breakfast, Lunch/Dinner, Snacks, Drinks subcategories.
3) 2 new icons, Play-doh, and Bubbles are added in the Indoor Games subcategory.
4) New setting values for "Number of icons per screen" i.e. 1 icon, 2 icons, 4 icons
5) A user can now search and jump directly to icons in the activity sequences.
6) Simplified switching between languages. (Simple 4 steps as discussed earlier to switch between languages)
7) Added support for external USB switches and links to video guides.
8) Language-specific introduction demo screens
9) Removed text-to-speech engine setup from Intro screens
10) The new setting screen for Accessibility
11) No user personal data from onwards will store on Firebase.
12) Registration page user will submit Child Name, Contact & Home Address
13) Issue fixed such as the user not able to register. And other issue fixes.