•
k3000 – The most comprehensive suite of supports for learners whose literacy skills are basic or below basic proficiency levels.
Provides access to your curricula with a powerful, multi sensory approach to learning built on innovative, research-based technology.
The ability to independently access any content, on any device, is an important skill for students with learning differences to develop. Their assistive technologies offer greater features that provide truly accessible learning and parity across devices, offering a simpler experience that engages students in learning.
When learners can address their own unique learning challenges they can build the skills and confidence to succeed academically. They can unlock their potential.
WHAT IS IT? 
With a combination of access and support, learners can make real academic progress.
K3000+firefly is educational technology that brings all pieces of the literacy puzzle together with one easy, proven solution to ensure instruction and learning become personal — and meaningful progress becomes possible. 
Check out specific features for reading, comprehension, writing, assignments and tests.
HOW DOES IT WORK? 
Students can access content and common literacy supports from any device or computer with internet access, then dive deeper with comprehensive literacy support installed directly to Mac and Windows computers. 
Access content on the web, your computer, or in print
Differentiate instruction with digital tools
Save content to class or student folders (no file storage limit)
Guide learners throughout the full learning process
Inform instructional decisions with centralized reporting
---
READ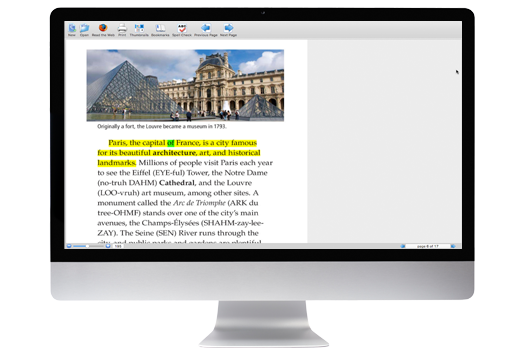 31 Natural Text-to-Speech voices
Text-to-Speech in over 18 languages and dialects
Customizable reading rate and presentation
Improve readability with OpenDyslexic font 
ABBYY FineReader® OCR—Document recognitition
Magnify text for learners with visual impairments
Keyboard shortcuts
Read text in Word, PDF, EPUB, RTF, Daisy, and on the Web
Read locked text with ImageReader in PDFs and images, exactly as they appear in the original
Access to over 1,800 classic literature texts
Create MP3/audio files and add to iTunes Playlist
---
COMPREHEND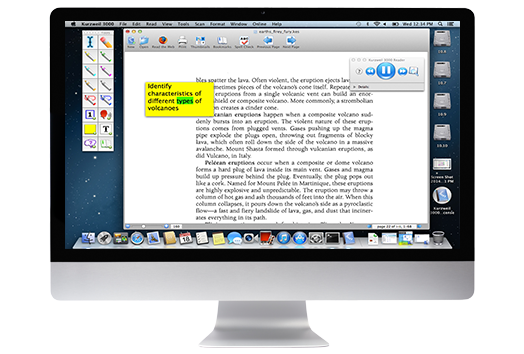 One-click access to American Heritage dictionaries®, (including College Writer's Dictionary), Widgit Picture Dictionary, and Talking dictionary
Expand word choices with the Synonym button 
Vocabulary study guides; English and bi-lingual
Engage learners with 5 different Note tools; including Sticky and Voice notes
Mark important place in text with Bookmark tools
Highlight key text structures with Multiple colored highlighters
Identify important information with red and blue Circle buttons
Create Study guides
Stay on task with research using Online reference tools within the software
Support active reading, note taking, and chapter summaries with templates
Translate words or full passages to 70+ languages
---
DEMONSTRATE: WRITING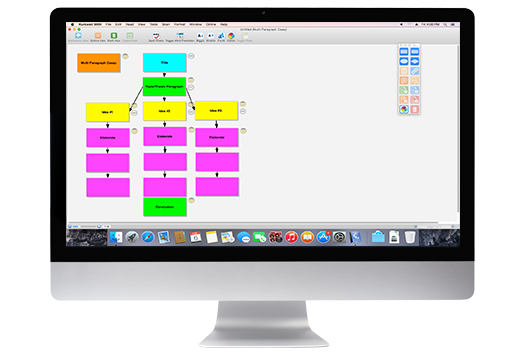 Writing Path facilitates writing from beginning to end
Map ideas with Brainstorms and Graphic Organizers
Start writing with template Outlines
Word prediction offers words based on frequency
Use Word lists to facilitate the use content specific words, including Tier 2 academic vocabulary and Language of Literature
Practice spelling and check spelling
Speak as typing helps learners self-regulate their writing
View outlines and drafts simultaneously with Split screen
Dictation available for text input via a microphone
---
DEMONSTRATE: TEST-TAKING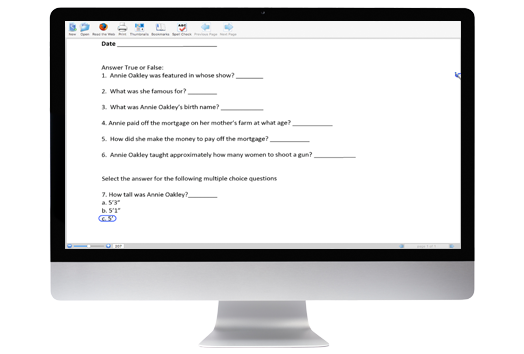 Lock features for a test or quiz
Password protect tests and other documents
Create assignments with fill-in-the-blank, essay, multiple choice, short answer, true/false
---