•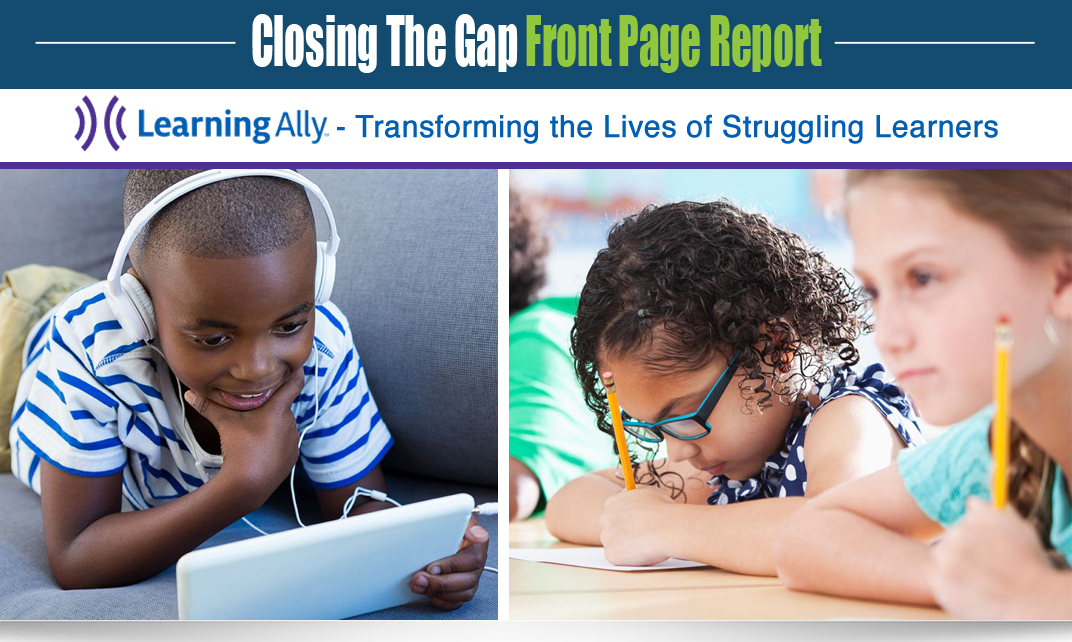 Today more than 30 million students struggle to read.
Learning Ally is a leading nonprofit education solutions organization that transforms the lives of struggling learners by delivering proven solutions that help students reach their potential.
What Drives Them
They believe all students should have equal opportunities to learn and succeed.
Today, students with learning differences have increased rates of depression, "at-risk" behaviors, a higher likelihood of dropping out and, ultimately, higher poverty rates. Without the right support, many of these students will needlessly struggle in school and will be poorly positioned for future success.
Learning Ally seeks to break this cycle of failure. They enable schools to support their struggling readers and build a strong foundation for independent, engaged learners who are empowered to achieve socially, emotionally and academically, regardless of their learning difference.
Turning Tears to Triumph!
Over the course of their history, Learning Ally has touched millions of lives. Before Learning Ally, many of these children were frustrated and lacked faith in their abilities. Now, with the help of Learning Ally, these students are equipped with the educational tools they need to overcome their learning differences, succeed in school, and believe in themselves and their future!
---
Why Human-Read Audiobooks?
For students with dyslexia and other learning differences that require reading intervention, leveled readers may not be enough. They help students learn to read, but they also limit their opportunities to acquire grade-level content. As a result, they often fall behind, become disengaged and lose interest in learning. Barbara Wilson explains how Learning Ally bridges the reading gap by providing equitable access to grade-level content in a format students can easily absorb.
Barbara Wilson explains why assistive technology in the form of audiobooks is important to developing vocabulary, reading and comprehension skills.
---
Learning Ally Audiobook Solution for Schools
Their solution provides struggling readers with equitable access to the books they want to read and the grade-level content they need to read. With the largest library of human-read audiobooks and a suite of educator tools and resources, students become engaged, independent learners.
Why Do 16,000 Schools Use Learning Ally for Struggling Readers?
The Learning Ally audiobook solution unleashes the opportunity for struggling readers with learning differences to achieve in school, and in life. Gaining access to the books they want to read and the books they need to read in an easy-to-absorb format can be a game changer.
Teachers experience pure joy watching students who have never before experienced reading success blossom, with improved grades, higher test scores and increased confidence and self-esteem.
Benefits of Learning Ally

High-quality, human-read audiobooks
The largest library of human-read audiobooks, including literature, popular fiction and curriculum-aligned titles giving every student equitable access to grade-level content. Highlighted text provides a multi-sensory reading experience that enables readers to easily absorb content.
Track students' reading progress
Educators can manage assignments, track student reading and provide student progress reports to parents and administrators with Learning Ally's data dashboards and progress-monitoring tools.

Teacher-focused tools and resources
Professional learning, resources and support, including customized launch plans and dedicated engagement managers, help your school seamlessly integrate the Learning Ally audiobook solution into the existing curriculum and/or intervention programs.

Student engagement programs
Year-round student success programs include games, prizes and national contests to further build engagement, ensuring students are motivated and reading with frequency.
How They Help Struggling Readers
Elementary School – Grades 3-5 
They build a foundation for learning by empowering students to read independently and gain self-confidence.
Access to largest audiobook library of popular books and standards-aligned titles.
Builds background knowledge, vocabulary and comprehension.
Middle School – Grades 6-8
They level the playing field by providing students equitable access to the content they need to keep up with their peers.
Access to middle school ELA titles, popular fiction and core curriculum content.
Builds vocabulary, comprehension and critical-thinking skills.
High School – Grades 9-12
They provide access to the core content that prepares students to graduate college and career ready.
Access to core materials help students better focus on and absorb what they read.
Builds stamina and ability to better manage heavy workloads.
Learning Ally Audiobooks in the Classroom:
Helping Students Learn and Succeed
Excite in Elementary School:
Kristy Mathieu and Learning Ally
---
Learning Ally Audiobooks Solution for Home
Eliminate the tears and stress your child with dyslexia experiences when reading or learning. With their human-read online audiobooks and expert support, your child can read independently, develop a love of learning, and reach their full potential. Accessing audiobooks online can bring about the change parents and guardians need to ensure success for their children.
Help for Struggling Readers Dyslexic Students Can Succeed
If your child is struggling to read and learn, remember, you are not alone. Many children learn, engage, and process information differently. As the experts in reading accommodations with audiobooks for kids, they have a proven solution to help children with learning differences thrive in school, and in life.
Learning Ally Works
Human-read audiobooks for kids can help improve focus and vocabulary
Access textbooks and titles children want to read with an audiobook subscription
Read independently with the best audiobook app and improve comprehension skills
Membership Benefits
Extensive Audiobook Library
Learning Ally has all the children's audiobooks that students want and need to read for school. Students can also access their textbooks, read by subject matter experts who bring a depth and perspective many students prefer
Parent Resources
They provide you with downloadable content, on-demand webinars, access to an audiobook library and a parent-to-parent support group to help you navigate through the challenges of a learning difference.
Reading Programs
Through their reading engagement activities, kids' audiobook offerings and competitive scholarship programs, they motivate and interact with your child regularly to help them stay on track and pursue their dreams.
Community
Their community is a safe space to ask questions, inquire about the newest dyslexia apps, share celebrations, get advice from professionals, and connect with parent members who are available to offer tips and words of encouragement.
How They Help
Elementary School – Grades 3-5
Build vocabulary, comprehension and background knowledge
Work independently to access content at students' cognitive ability
Build confidence and keep up with peers
Middle School – Grades 6-8
Focus, visualize and absorb content instead of struggling to decode
Enhance engagement and allow students to work alongside peers
Build vocabulary, comprehension and critical-thinking skills
High School – Grades 9-12
Absorb high volume of grade-level content with speed
Better manage heavy workloads, including course content and homework
Focus on mastering information rather than the mechanics of reading
What is it like to have dyslexia
Dr. Sally Shaywitz on dyslexia, assistive tech, and Learning Ally
---