•
The LEVO C3 Wheelchair Features the Best of Power Standing Technology
This is LEVO: The touch of a switch elevates you to a safe, comfortable standing position to interact with your active life. At work, in school or at home, LEVO standing wheelchairs, offer exactly what you need: Independence, Mobility, Support, Health and Quality.
Each wheelchair is designed from the experience of more than 40 years of research, development and client response. Levo is proud to offer wheelchairs that combine seating and standing positions matched to your unique biome- chanical dynamics with superior maneuverability, size, weight, aesthetics and adjustability. All models are reviewed and certified by internationally approved testing institutes.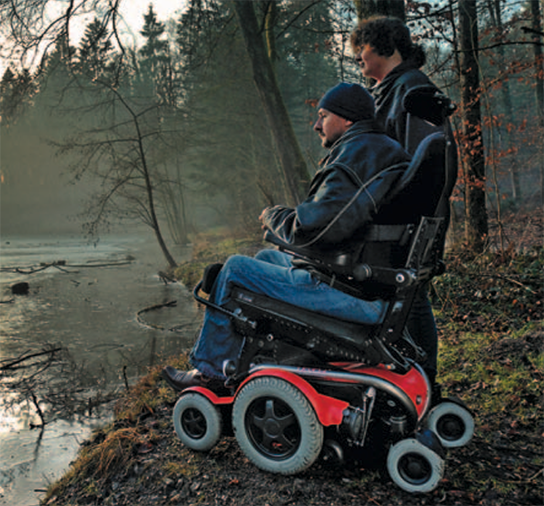 Active, traction, innovative – quality
The powered LEVO C 3 is compact, agile, easy to handle and extremely powerful – perfect for active people on the move. Are curbs part of your daily com- mute? With the LEVO C 3 drive system, that turns a maneuverable mid-wheel base into a powerful, climb- ing 4 wheel drive action base. For in the classroom at work or home, you also have the small turning radius and agile maneuverability of a mid-wheel base. The LEVO C 3 incorporates a new generation advancement in the famous LEVO low shearing standing systems. Incredibly smooth transition to standing including the automatic wheel base adjustment. Now you have a front
wheel drive base for unparalled driving stability and response in the standing position.
Mid-Wheel Drive, Low Shear Standing
The LEVO C3 has led the way in power standing wheelchairs for over a decade. This compact and agile mid-wheel drive power wheelchair allows you to stand effortlessly with a single electronic command. Featuring the latest generation of our Low Shear system, the transition from seated to standing is smooth and simple, allowing you to experience unparalleled stability and comfort while driving in the standing position.
C3 Features At a Glance:
Drive Capability in all Seated and Standing Positions
Maneuverable Mid Wheel Drive Enables a 54.61 cm (21.5 in.) Turning Radius
Whisper Quiet Motor and Actuators
Adjustable Seat Width/Length for a Full Range of Sizes From Child to Adult
A Multitude Health Benefits Due to More Frequent Standing
Multiple Accessories Including R-Net Drive, Bluetooth, Knee Supports and More
Simple – Simple, Customizable Controls
A single electronic command to the C3 allows you to rise effortlessly to a liberating standing posture. This command can originate from their standard joystick, optional joystick with color display, or from any of their available alternate control input devices. Choose which of these controls works best for you and they can custom-program the drive characteristics to meet your specific needs.
Equally simple is the ability of the C3 to transition smoothly to the standing position without the need for any complex programming to checkpoints. The seat, backrest and legrest simply work in concert to elevate the user in one continuous sequence of motion from any position. Our patented Low Shear system stands you comfortably with virtually no shear. All of the seating components remain where desired and do not migrate to new locations, resulting in reduced shear concerns and eliminating the need to readjust the body and clothing as you stand and sit back down.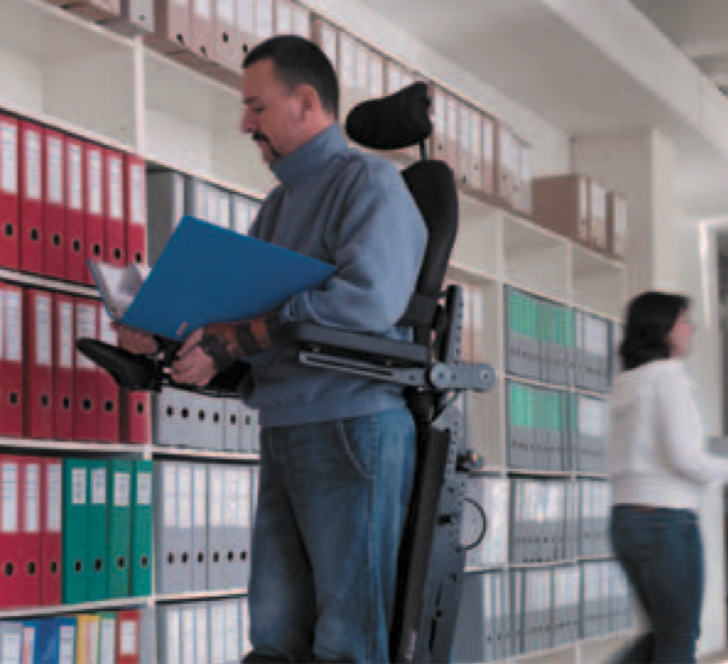 Straight – 90 Degree Upright Standing Angle
When fully extended in the LEVO C3, the user's ankles, knees, hips and shoulders are all in alignment, "straight as an arrow." Additionally, the seating system's tilt feature provides even greater functional benefit. When the system is vertical and tilted forward, it delivers a 90° standing angle perpendicular to the rolling surface. This further extends your reach and capabilities and provides you unprecedented access to your everyday environment in the workplace and at home.
Standing – Safe & Easy Seated to Standing
Standing is freedom–the freedom to interact eye to eye with family, friends and relatives anytime and on demand. Standing is the freedom to get vertical, stretch and take in the wonderful world that surrounds you, and, with the LEVO C3, now you can drive around as you do so. Standing means freedom and relief from chronic pains and illness associated with a compacted seated position. Go ahead: Make your stand in the LEVO C3.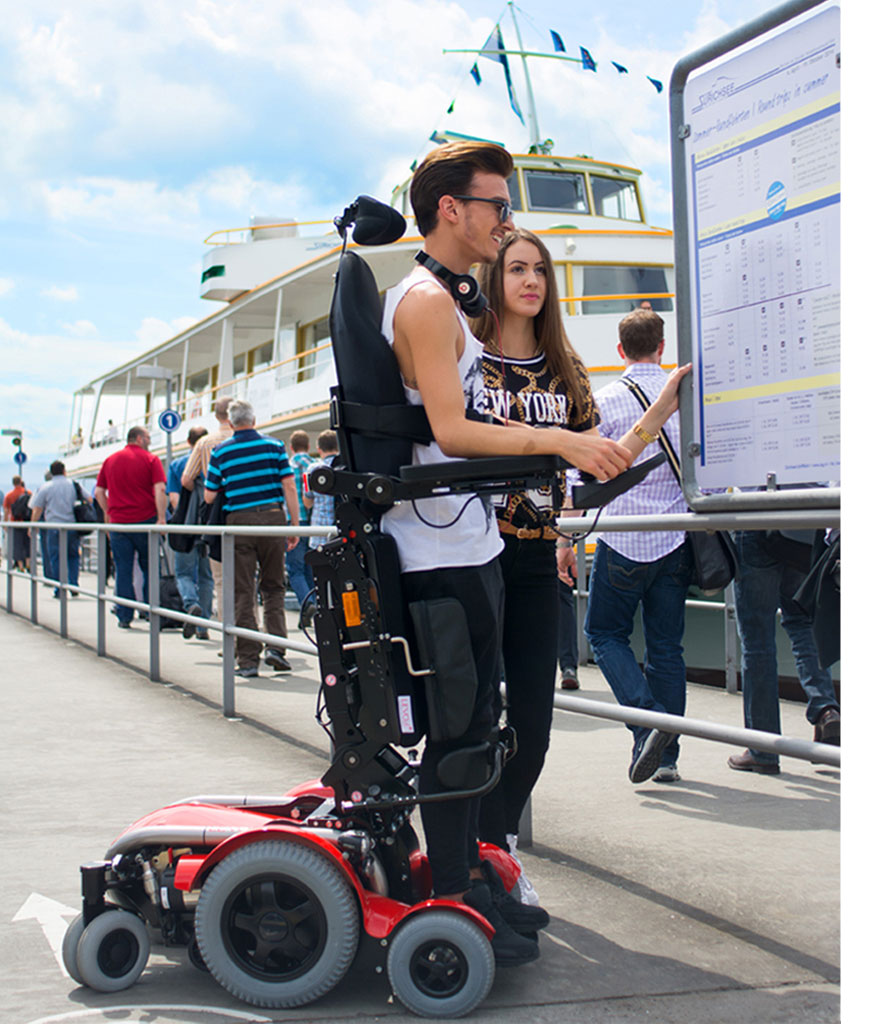 Experts in Standing
The C3's integrated design features technology enable you to have the best of both worlds – a compact and maneuverable standing wheelchair, that gets you where want be and get things done in style and comfort.
Drive Capability in all Seated and Standing Positions
Maneuverable Mid Wheel Drive Enables a 54.61 cm (21.5 in.) Turning Radius
Whisper Quiet Motor and Actuators
Adjustable Seat Width/Length for a Full Range of Sizes From Child to Adult
A Multitude Health Benefits Due to More Frequent Standing
Multiple Accessories Including R-Net Drive, Bluetooth, Knee Supports and More
Experience ALL the benefits that standing has to offer you:
Health Benefits – standing encourages normalized body function and reduces maladies associated with a more sedentary lifestyle
Psychological Benefits – positive self-esteem and interaction with peers
Functional Benefits – increases access to the environment at home and away
Vocational Benefits – allows individuals to return to the workplace