•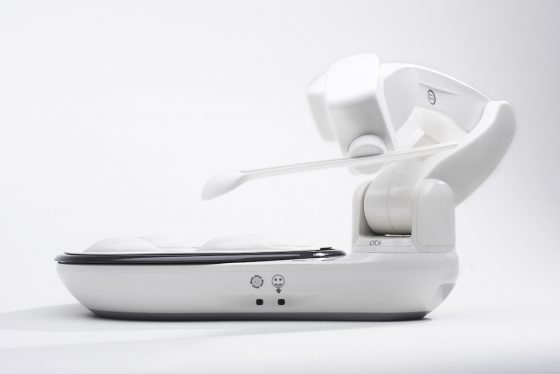 WHAT IS OBI?
Obi is a robotic companion blending cutting edge technology, elegant design, intuitive controls, and personality to deliver a fun and dignified dining experience.
IS OBI RIGHT FOR ME?
Obi delivers dining independence to nearly any individual lacking upper extremity motor control. These conditions include, but are not limited to:
ALS
Arthrogryposis
Cerebral Palsy
Multiple Sclerosis
Muscular Dystrophy
Parkinson's
Spinal Cord Injury
Traumatic Brain Injury
In order to operate Obi, the end user must be able to chew and swallow freely as well as have the cognitive capability to operate a simple device.

Accommodating
Guide the arm by hand
Thousands of delivery locations
Teach a new location in seconds
Intuitive
Two user controls:
Command food delivery
Choose among four food bowls

Safe
FDA compliant
Collision detection
Underwriter's Labs (UL) certified
Effective
Portion control
Food repositioning
Multi-directional food capture

Modern
Iconic design
Natural flowing form
Minimalist setup and operation
Refined
Personable gestures
Quiet and inconspicuous
Graceful, life-like motions
(Click on the LINE DOTS below)