•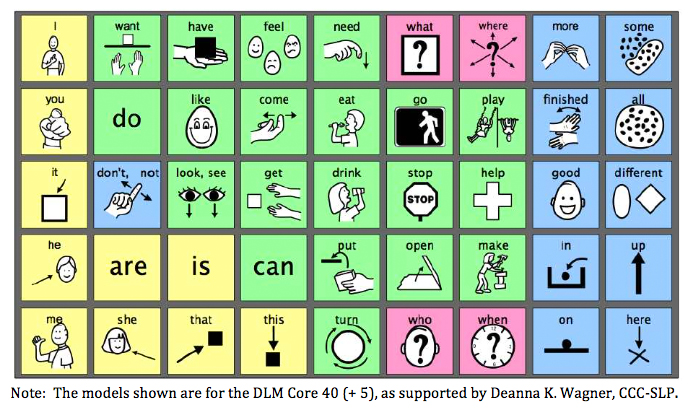 (The following post has been reposted with permission from Dr. Caroline Musselwhite.)
This post gives some simple ideas for:
• Adults who are beginners at modeling with AAC systems
• Students who are beginners at using AAC systems
• Students who are beginning communication circle partners
This was prepared for paras at a school in Brooklyn where I work, but I thought it might be helpful to others.
Please know that these sample "scripts" are NOT for:
– SLPs or teachers who work with many students who use AAC
– parents who have been trained in modeling (ex:  people who have attended wonderful PODD training sessions).
This is for people who are working with students who have language-rich systems and don't have a clue of where to start.  Hope it's helpful – let me know!
Model Core Language
About Caroline
Dr. Caroline Musselwhite is an assistive technology specialist with more than 30 years of experience working with children and adolescents with severe disabilities, in a variety of settings, including Head Start, developmental day programs and the public schools. She has also taught courses at several universities, including West Virginia University and Western Carolina University.
Dr. Musselwhite has authored a number of textbooks and "how-to" books on a range of topics, including Emergent Literacy Success, Communication Programming for Persons with Severe Handicaps, and Reading Activities Project for Older Students (R.A.P.S.). She has also authored a number of software programs (Write to Talk, Social Scripts) and books (Learning to Work) for youth with disabilities. She has presented thousands of workshops throughout the world and is a founding member of the Board of Directors for the International Society for Augmentative and Alternative Communication (ISAAC).