•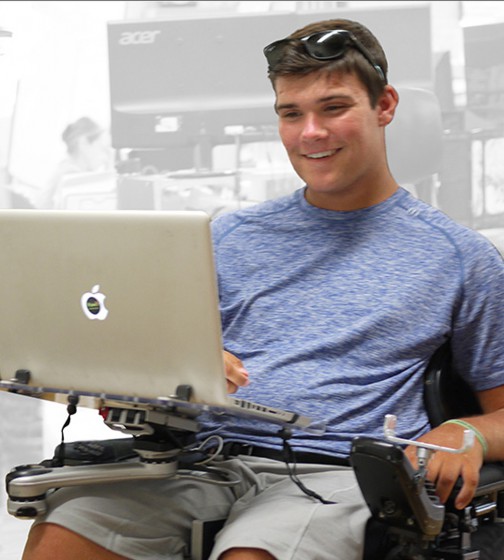 Many of you may already be familiar with Jack. After a 2011 hockey accident left him paralyzed, Jack made it his mission to help others by starting the Jack Jablonski BEL13VE in Miracles Foundation. This charitable organization supports spinal cord injury recovery research.
Recently, Jack began experiencing neck pain from using his laptop on his lap and he knew he needed a mounting solution before heading back to college. The Mount'n Mover delivered. Now his laptop is secured in a more optimal position for access and he can adjust the position whenever he wants to.
"After using the mount for just one week, my neck pain has been reduced immensely," said Jack. "Plus it has multiple uses – I also use it for eating and holding my phone."
"It's so nice to see him sitting upright instead of hunched over when he's on his laptop," said his mother Leslie. "It's a game changer for sure!"
What features in a mount help meet functional needs?
What to ask during an assessment:
Does the mounting system need to allow for daily adjustments for change in positioning, growth, fatigue; changes in the environment; and the ability to see and interact with others?
Can the mount be moved, independently, by the user?
Does the mount allow access to a variety of items, such as books, phones, keyboards, toys or hobbies?
Can it provide multiple operating positions without the use of tools?
Does it enable independent access to a communication device in all situations and environments at all times?
Can the device be moved out of the way (i.e., for transfers, eating, pulling up to a table) rather than removing it entirely, protecting the device from being vulnerable to damage and loss?
Does the mount provide consistent positioning with multiple lock positions for specific locations, providing easy set up for both the user and the caregiver?
Can the mount move from chair to bed, thus eliminating the need for two mounts?
The Mount'n Mover does all this and more! 
Learn more about Mount'n Mover.