•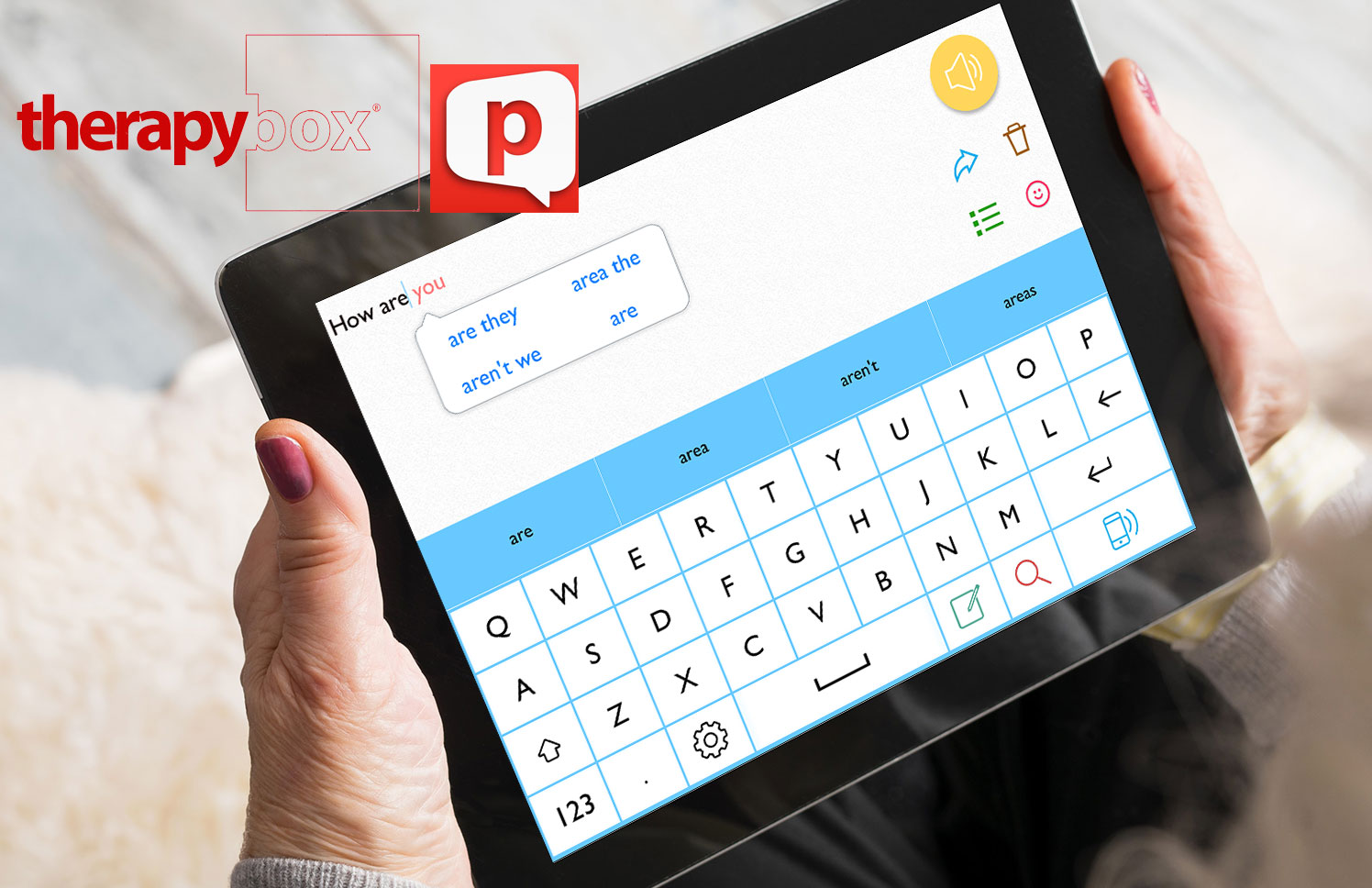 Multi award winning text based AAC. Designed to give a voice to someone who is unable to use their own.
Here's Tim's Story
"Since I was a child, I've always used some kind of AAC device to communicate. I've learned how to type with my toes before I could spell. Over the decades, I've had many devices. Some as large as a pizza box and other as small as a pocket calculator.. Both good and bad all at the same time. I never really adapted well to a dedicated AAC device mainly because they tend to do one specific function and that is text to speech. Communication is changing all the time through various means. It's not only face to face conversation, but email, social media and whatever else.
I was first introduced to Predictable at TASK (Team of Advocates for Special Kids) in Southern California. At first glance, Predictable looks very elementary, but it is one of the best apps that I'm currently using for everyday conversation with my family, friends, coworkers and my caregivers. Not only I can use text to speech, I can also email and post to social media within Predictable.
I can't wait for the future for Therapy Box and the new features for Predictable.
Thank you for an outstanding software that does more than communicate."
NEW PREDICTABLE 5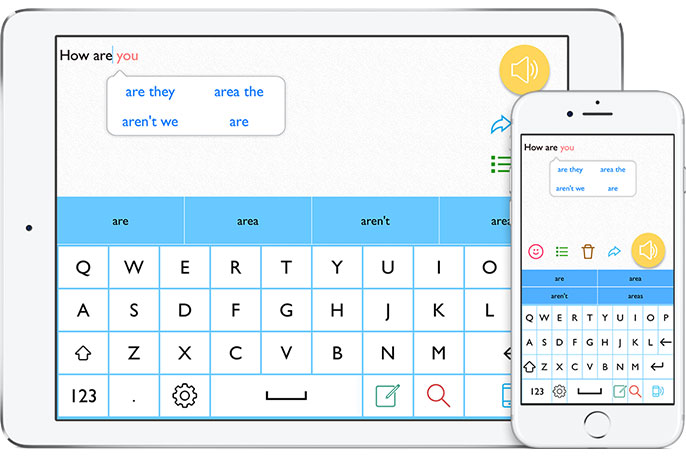 Word prediction
Predictable's self-learning word prediction helps you to quickly and acurately construct sentences. Display predictions through a bubble, a static strip above the keyboard, or both! Also choose from one or no-word prediction for faster sentence building.
Two Word | New Bubble | Intelligent prediction | Self learning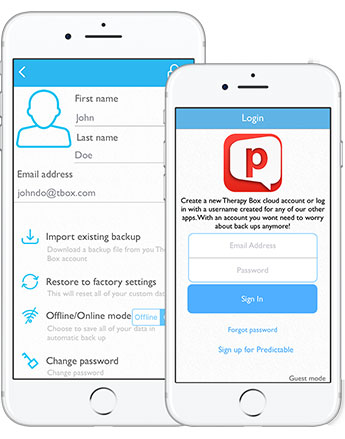 Backend support
All users can create a free login profile. The settings changes and new phrases saved on Predictable are automatically and securely sent to the cloud. The data is encrypted and can be transferred onto another device, giving users easy access to their personal settings and features, no matter which of their personal devices they are using. You will never need to backup again. 
Automatic Sync to the Cloud | Import existing back ups | Offline Mode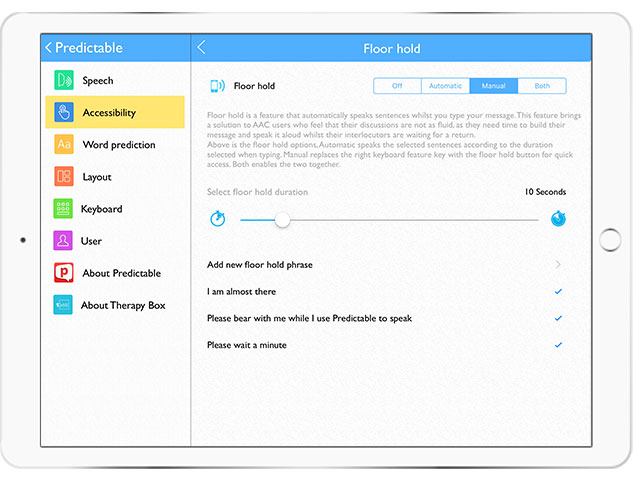 Floorhold
Floor hold is a feature that automatically speaks sentences whilst you type your message. This feature brings a solution to AAC users who need time to build their responses and want their listener to wait. Choose between Automatic or Manual or Both.
4 settings | Customisable Phrases | Time Selection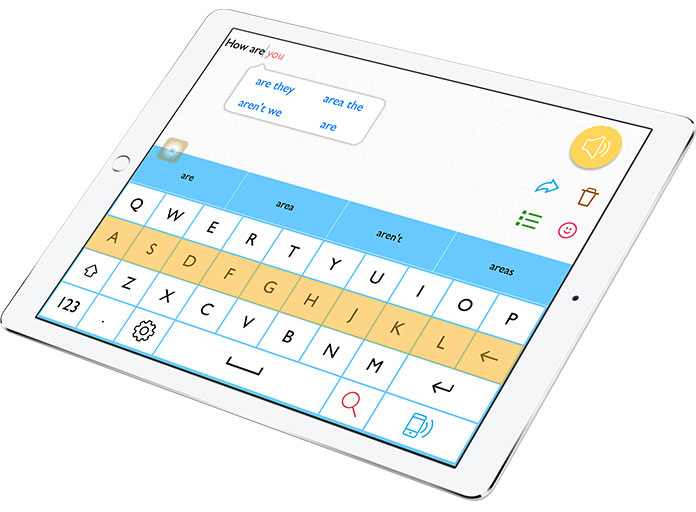 Automatic and step scanning
Automatic and step scanning with one and two switches.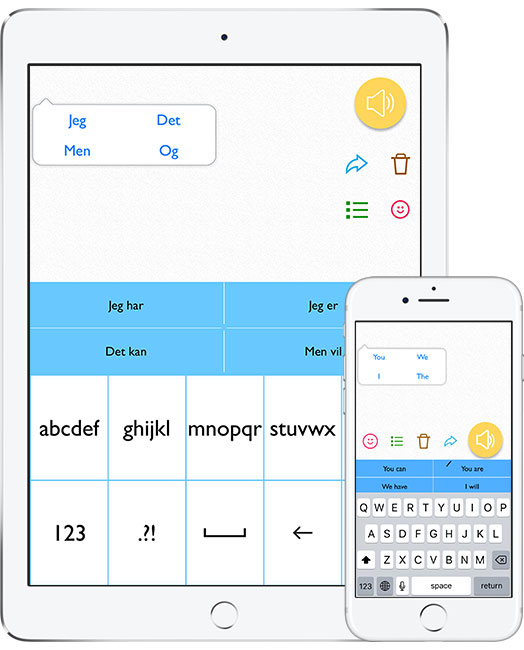 5 Different keyboards
5 different keyboards are available, including 10 Key for assistance with scanning and apple keyboard (keyboard extensions can also be used with Predictable by choosing this option).
High Frequency | 10 Key | Apple keyboard | Qwerty keyboard | ABC keyboard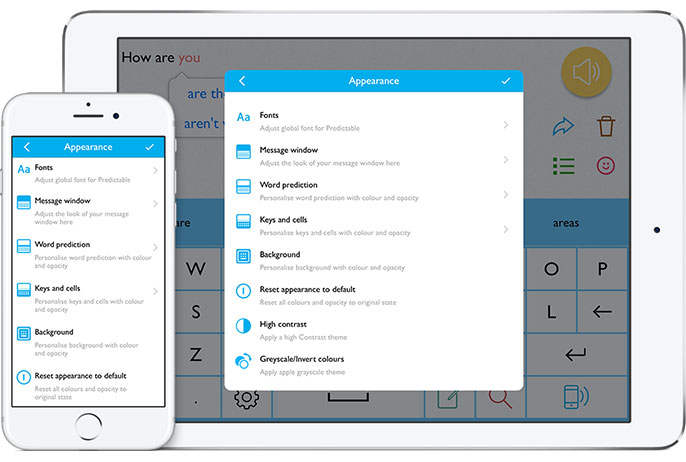 Customisable appearance
With more customisable appearance settings, a newly designed layout and a fresh User Interface, Predictable 5 looks and feels both modern and practical.
Refined layout | New colour scheme | Modern scheme | Fully customisable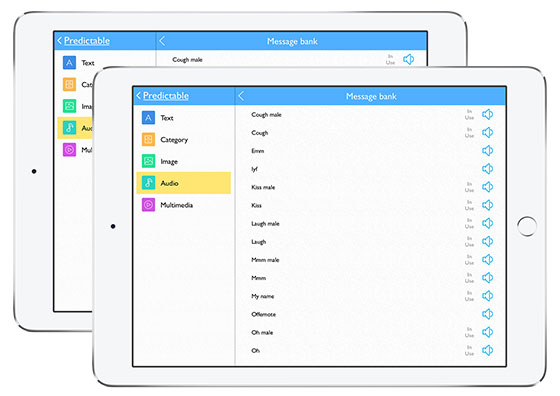 Message Banking
Using existing audio recording, or record a message bank in app. Audio files can then be used in Phrases and more; they can even be used for FloorHold and Emotes. New message banking alls the files to be added via the cloud login, just drag and drop them into your Predictable account to use.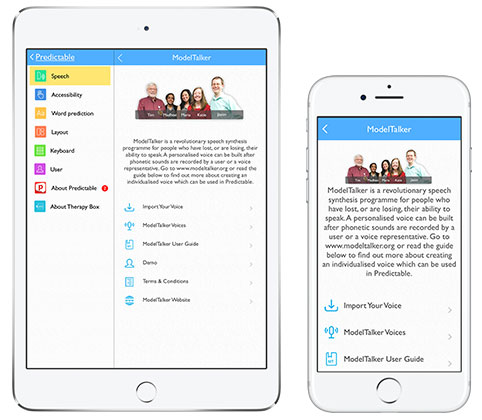 ModelTalker
Create your own speech profile using ModelTalker. By speaking a number of phrases with the ModelTalker program, you can have a login tat can be used with Predictable, simply add the detail in the app and the app will speak your voice.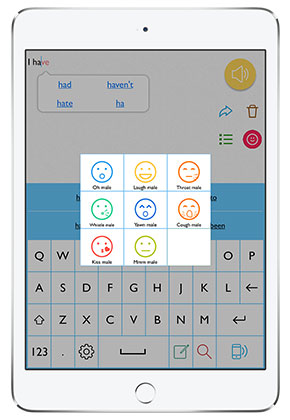 Emotes
Create your own personal list of quick emotions to speak when needed. They can contain spoken text or even personal audio sounds. The emotes list is synced in your Predictable account, so they will always be saved. Emotes can quickly be accessed from the message window to make quick emotions quick and easy.
Predictable Video
Want to see the app in action? Watch this video for a better idea of how our software can be used.