•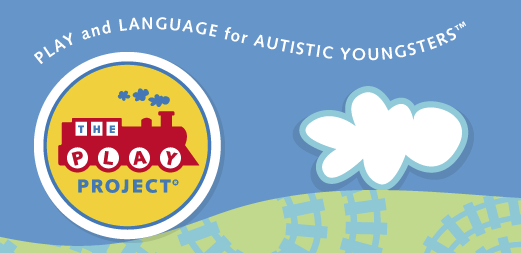 What is The PLAY Project?
The PLAY (Play and Language for Autistic Youngsters) Project is an evidence-based autism intervention developed by Richard Solomon, MD. The PLAY Project is devoted to helping parents develop a better connection with their child through play, and helping the child improve their language, development, behavior, and social skills. We watch parents develop a joyous relationship with their child because of the PLAY Project.
What qualifications and experience do PLAY Project Home Consultants have?
Certified PLAY Project Consultants earned this credential through intensive training and supervision. They are already experts in child development by coming from fields such as Occupational Therapy, Speech Language Pathology, Social Work, Early Intervention, Teachers & Special Educators, and Psychology.
In which settings can The PLAY Project be implemented?
There are typically three options for participating in The PLAY Project program. The first is the home visit, which is our gold-standard and preferred design (our research studies are based on this model). The second is the office or clinic visit and the third is a hybrid model. It is worth noting that The PLAY Project can also be implemented in school settings; however this design typically does not always incorporate parent training.
For their home visit design, most families receive one, 3-hour home visit every 4-6 weeks for a total of 10-12 visits per year. Each visit is followed by a video and written report that is delivered to the family between live sessions. For the office or clinic visit design, families typically meet their home consultant 2 to 4 times per month for 60-90 minute sessions. The frequency and duration of visits may vary from professional to professional and clinic to clinic. The key elements of PLAY Project visits are: video recording, coaching, modeling, & written feedback.
How does the PLAY Project help my child?
You are your child's first and best teacher and you know your child better than anyone else. PLAY Project is considered a parent-mediated autism intervention. The PLAY Project Consultant assesses your child's developmental and behavioral changes at each visit. The assessment is used to develop the child's individualized PLAY Plan: a set of techniques and activities designed to help your child reach these outcomes:
Increased caregiver/parent and child interaction
Increased social interaction of child with autism
Improved social-emotional development of child with autism
Improved autism-related diagnostic category/symptoms including behavioral compliance.
Certified PLAY Project Consultants are specialists in the fields of child development and autism spectrum disorders who are trained to educate, guide, and support you as you learn to nurture your child's social and emotional development, but they consider you, as parents and caregivers, to be the expert on your child.
How much does The PLAY Project cost?
Although the cost of PLAY Project services may vary slightly based on geographic location, one of their primary goals is to keep The PLAY Project affordable for families. Some agencies have scholarships and sliding scale pricing available. Others receive reimbursement for PLAY Project services through Medicaid or private insurance, and some Early Intervention and Community Health programs offer The PLAY Project at no charge to families; however, this varies greatly state by state and sometimes county by county. Please contact your local PLAY Project agency for pricing details. In many cases, the cost is as low as $3,000 per year per child.
Which children benefit most from The PLAY Project?
The PLAY Project is most effective for young children with ASD, 15 months to 6 years of age. The intervention has been successfully delivered to children over 6 years of age, however our research supports early intervention. The PLAY Project is also effective when working with children who have other special needs or developmental delays affecting language development or social skills. Professionals have also reported success in using PLAY Project methods and techniques when working with adults with developmental disabilities.
Why is The PLAY Project effective?
The PLAY Project is effective because each caregiver receives one-on-one training, coaching, and support based on their needs and the needs of their child with autism. At the start of the program, your Certified PLAY Project Consultant will create an individualized PLAY plan that includes:
Education on The PLAY Project principles and strategies
Assessment of your child's comfort zone, sensory motor profile, and Functional Developmental Levels
A list of recommended activities specific to your child's profile
Education on The PLAY Project methods, including practical tips on how to follow your child's lead and increase circles of communication
A list of recommended PLAY Project techniques specific to your child's profile
Video recording and analysis, including skilled observation and specific suggestions
Ongoing evaluation and updates of your child's individualized plan.
 Is PLAY Project the same as DIR/Floortime?
PLAY Project is an autism early intervention program that draws from a range of theories and approaches, one of the most prominent being the DIR (Developmental, Individualized, Relationship-based) framework. PLAY Project is supported by rigorous research, its own organization, and a network of certified professionals trained to fidelity in our systematic approach. The DIR/Floortime model was developed by noted child psychiatrist, Stanley Greenspan, MD. Go to: www.icdl.com and www.profectum.org for more information about DIR/Floortime.
Can I benefit from attending a PLAY Project workshop?
Yes, many parents who are receiving PLAY Project services and other parents of children with autism find their PLAY Project workshop to be helpful. Many attendees are professionals; however, parents report that the workshop gives them a strong overview of the PLAY Project principles, methods, and techniques. Parents also report enjoying the interaction with professionals at the workshop as professionals learn from the parent perspective. They offer a webinar that describes the workshop and includes a question and answer session so you can decided if the workshop is a good option for you.