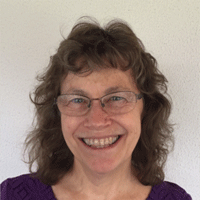 Linda Burkhart, B.S., Private Consultant, Assistive Technology Integration Specialist, Special Educator., Private Practice, Saint Johns, FL.
Linda Burkhart is an internationally known teacher and leader in the field of assistive technology, adaptive play, and augmentative communication for children who face severe challenges with more than 45 years experience in this field. She has developed numerous adapted materials and innovative strategies for teaching children to be active learners and to develop their abilities to be participate in life. Her specific areas or expertise include working with individuals with significant, multiple challenges, physical challenges, complex communication needs, cortical visual impairment, Rett Syndrome and Angelman Syndrome. She is the author of a number of books and software titles on topics of assistive technology and augmentative communication. Linda was a classroom teacher for fifteen years. Then for eight years, she worked as an Augmentative Communication and Assistive Technology Specialist for the Center for Technology in Education, a joint project between Johns Hopkins University and the Maryland State Department of Education. Currently, Linda works as a private consultant and technology integration specialist. She presents trainings and workshops nationally and internationally.
Financial Disclosures
No disclosures.
Workshops