Description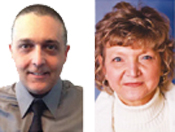 Are Chromebooks taking over your program and yet you still have the same (or growing) needs for accessibility tools? Do you know how to set the available built-in options in a Chromebook? How about sorting through the growing number of Access Extensions for the Chrome browser? What about physical access to Chromebooks through switches and other hardware options? Well, join Mike and Kelly and you will! During this bring-your-own, hands-on workshop, they will take you through the built-in options that are in Chromebooks and help you to organize the many features that are being added to use within tablets and computers running the Chrome browser. Get ready to share your favorites during several extension "smack downs"! Plenty to list and learn. Participants must bring their own Chrome-enabled device and know their password for active participation throughout the day!
Date and Time:
October 16, 2017
8:00 am – 4:30 pm
Presenter(s)
Presenter Information:
Mike Marotta, ATP, ATACP, is an Assistive Technology Specialist/President, Inclusive Technology Solutions, LLC, Brick, NJ and Kelly Fonner, M.S., is an Educational/Assistive Technology Consultant, Fonner Consulting, Lake Geneva, WI.