Description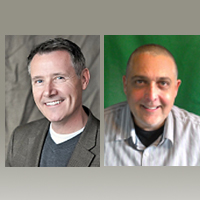 Assistive technology is lending a helping hand for people with disabilities daily. There are so many apps and technologies that support persons with disabilities to become better learners, communicate more efficiently and become more independent. Technology applications are becoming more ubiquitous and readily available for anyone to purchase, "off-the-shelf." Join this first-time offered session to explore current and future technology application trends that are addressing support for literacy, math, orientation and general independence for persons with disabilities, including wearables, digital assistants (Smart Speakers) and the worlds of Virtual Reality (VR), Augmented Reality (AR) and Mixed Reality (MR). Bring your own device to capture online resources to support collaboration of facilitators and attendees and to take back these resources and applications of technology for sharing.
Check Out Their Sneak Peek Video!
Date and Time:
September 24, 2018
8:00 am – 4:30 pm
Presenter(s)
Presenter Information:
Kirk Behnke, M.Ed., ATP, is an Education and Technology Specialist, Behnke Consulting, LLC, Meadowbrook, PA; Mike Marotta, ATP, is an ATP Specialist, Inclusive Technology Solutions, LLC, Brick, NJ.