Description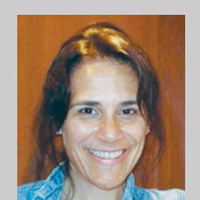 Writing is an unquestioned component of literacy development for students without disabilities. Now writing is finally on the radar for students with significant disabilities! Professionals are embracing "alternative pencils" – a way to write that doesn't require hand use. As beginning writers, these students are "scribbling" – a necessary step in writing development. How do we move beyond scribbling? It takes a range of components, such as: "alternative pencils," authentic writing activities, alphabet instruction, informative feedback, and informal assessment. This session targets emergent writers who are "scribbling" with the alphabet. Various "alternative pencils" will be described/demonstrated, including AAC devices and iPads. Come see sample goals and informal assessment methods, along with videos and writing samples. Highlights from early informal research will be shared. Participants will make five emergent writing supports and have access to a Dropbox link with extensive writing resources to use right away to move students beyond "scribble!"
Date and Time:
October 1, 2019
8:00 am – 4:30 pm
Learning Outcomes:
As a result of this workshop, participants will be able to:
1. Summarize the differences between the needs of emergent writers and conventional writers.
2. Review the stages of developmental spelling, from scribble to sound spelling.
3. Identify 4 alternative pencils and students who might benefit from each.
4. Describe 3 activities for supporting emergent writing using the full alphabet for a range of students with significant disabilities.
5. Review 3 ways of assessing students' writing before it is spelled correctly
6. Summarize 5 strategies for designing emergent literacy activities that target specific emergent writing concepts.
7. Identify 5 iPad apps to support each phase of writing, from scribbling to informative feedback.
Presenter(s)
Presenter Information:
Gretchen Hanser, Ph.D, MS, OTR/L, Director of Assistive Technology, Literacy Consultant, The International Academy of Hope, New York, NY; Caroline Musselwhite, M.Ed. CCC-SLP, AT Consultant, AAC Intervention, Litchfield Park, AZ; Karen Congram, B.Sc., B.Ed., Mom, Teacher, Learning for All Coach, Avon Maitland District School Board, Stratford, ON; Laurel Richardson Buell, M.S., OTR, OTR / AT Specialist, Assistive Technology Services, LLC, Mesa, AZ; Beth Waite-Lafever, B.S., M.A., CCC-SLP, SLP, AAC Specialist, AT Coach, , Martinsville, IN