•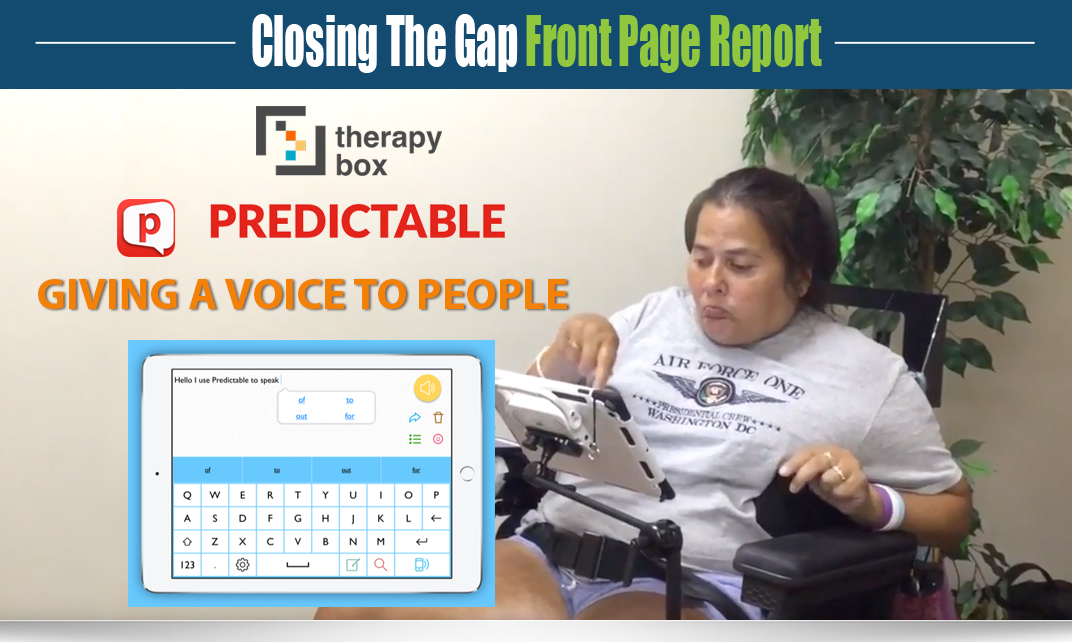 Predictable – Giving a Voice to People
Who's it for?
Predictable is designed for people who are literate but have lost the ability to speak possibly due to cerebral palsy, motor neurone disease, laryngectomy, stroke, apraxia or brain injury.
What do they do?
Start typing on Predictable and it will predict what you want to say and read out the sentence for you – it gives a voice to people who don't have one. Predictable is a multi-award winning app and the market leader in its category. It's also available in 10 different languages!
---
Head Tracking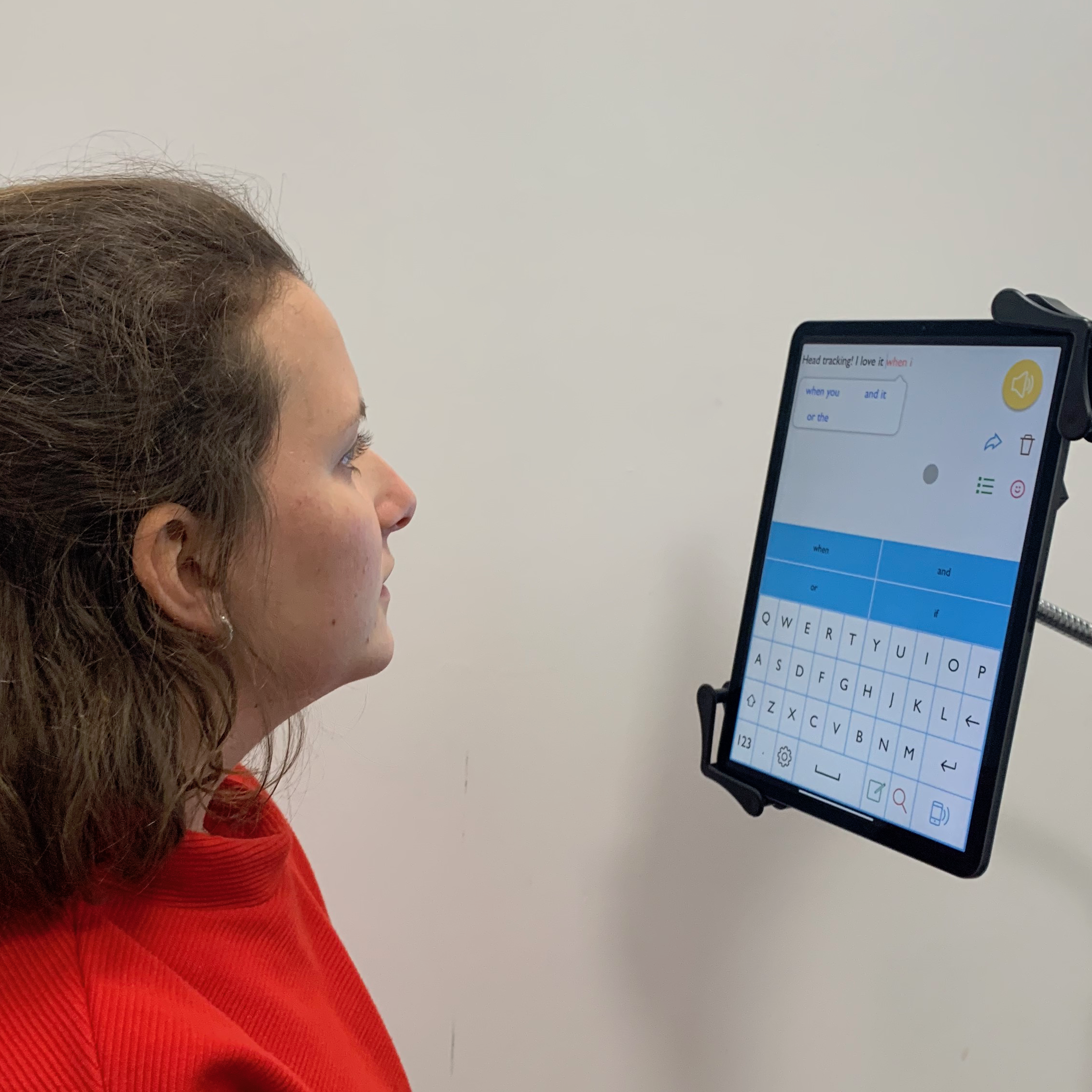 Use your head to control Predictable
Predictable now features head tracking which allows you to control the app with your head movements. It is easy and quick to set up and simple to use.
---
Advanced Word Prediction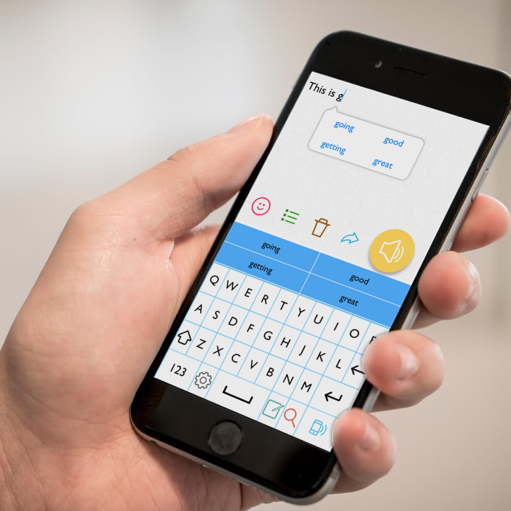 Type faster with advanced word prediction
Predictable learns how you speak and gets quicker and more accurate in predicting your sentences. These predictions are shown in a bubble above your text. They quickly become personalised based on the things you say – making constructing sentences faster and easier.
---
Use Your Own Voice

Record sentences to keep a part of your own voice
Predictable enables you to use your synthetic voice, which sounds just like you, to speak in everyday life. This service is made available through ModelTalker, a software developed by Nemours Speech Research Laboratory. This feature is great for people who are about to lose their voice and would like to savour a part of their identity.
---
My-Own-Voice

Use Acapela's my-own-voice to generate your personalised synthetic voice!
Acapela my-own-voice generates synthetic versions of users' voices through sophisticated software. Users can record a minimum of 350 sentences and up to 1500 sentences to generate the version of the voice they would like. The selected voice is then able to be downloaded and used within Predictable.
---
Quick Phrase Selection

Keep your favourite phrases within easy reach
Predictable's category section makes it easy for you to group and save phrases in categories which can be accessed quickly. You are able to save phrases, full sentences or even paragraphs and you can add your own message banked files to each sentence. The new layout in Predictable 5 enables you to set up phrases to be displayed in either a list or a grid format, depending on your personal preference; and we've added a phrase search button, which gives you extra quick access to your saved phrases and your recent speech history.
---
Avoid Interruptions

Create message to let people know you are still typing
Predictable can automatically speak prepared sentences while you type your message. This lets people know you're speaking and helps prevent interruptions. You can save as many of these messages as you like and Predictable will rotate through them so that you don't repeat yourself. They can also be played at the touch of a button.
---
Cloud Backup

Save your account setting in the cloud
You will never accidently lose your account settings as they are all backed up to the cloud. This also means that you can use your login details to quickly access your personalised account from any platform (including Android, iOS and Windows).
---
5 Keyboards

Choose the keyboard that suits you best
5 inbuilt keyboards are available, including one that splits the alphabet up into 10 keys, providing you with a large target area. As well as this, a huge range of external third party keyboards can be used including the popular SwiftKey keyboard and Phonics keyboard.
---
Use Predictable with Limited Mobility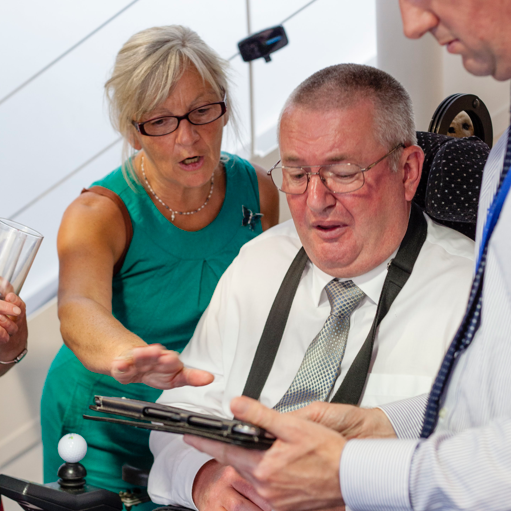 Type words either with a switch or by touching anywhere on the screen
You don't need to be able to use a keyboard to type out each word. Predictable can be controlled by a switch that enables you to easily scroll through all of the options on screen. Alternatively, you can also tap anywhere on the tablet screen when the section you want to click on is highlighted.