•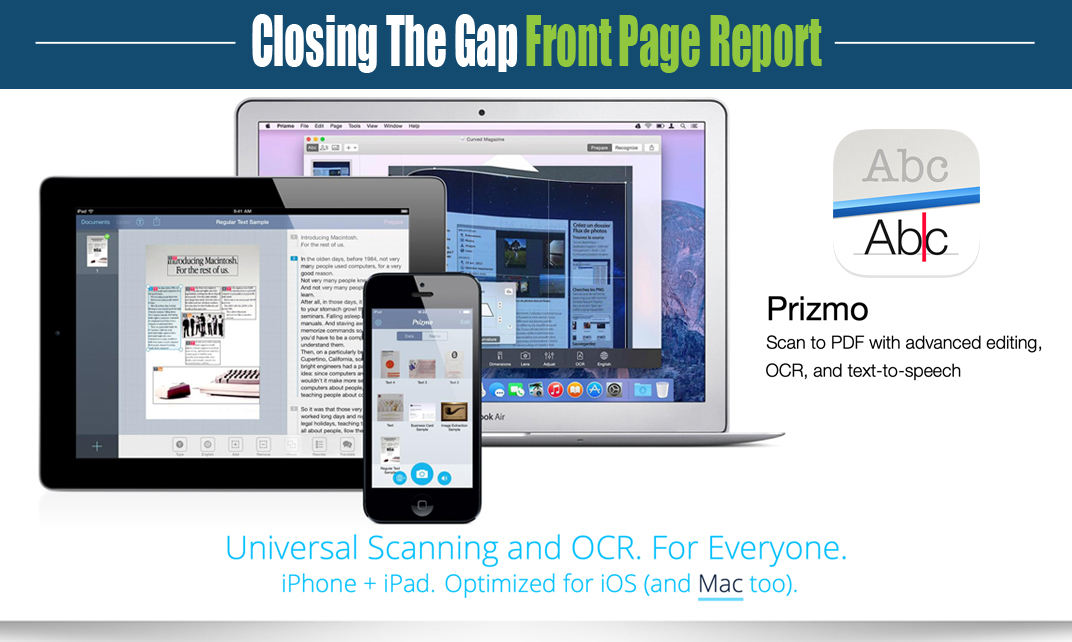 Prizmo
Scan to PDF with advanced editing, OCR, and text-to-speech
Optimized for latest iOS.
Prizmo 4 supports iOS latest features like Handoff, Extensions, and access to Documents (input / output).
Prizmo 4 supports Handoff and lets you seamlessly continue editing from one device to another. It currently works on iPhone and iPad, and it's coming soon to your Mac too!
Prizmo also offers a variety of extensions: Crop and Cleanup, Capture Text, and Read Text. Prizmo's "Crop and Cleanup" feature is available to iOS's Photos app as a photo-processing extension, allowing you to process document images directly in Photos app. This same feature is also made available to any other apps as an Action extension. "Capture Text" and "Read Text" lets you trigger useful Prizmo capabilities from other apps as well.
Finally, Prizmo 4 adds support for Documents: you can import images or export results to any cloud file systems installed on your iPhone or iPad (including iCloud Drive).

---
Universal Scanning Experience.
Want to scan text documents, process business cards or images using your iPhone or iPad? Prizmo does it all.
Take a picture, choose the document type, and use the powerful image cleaning and enhancement features (like cropping and perspective correction, text readability…) to improve the picture. Prizmo supports multipage documents, so that you can add as many pages as you want in a single document.
Last but not least, you can interact with the OCR engine like never before. Move or reshape a region and watch as OCR magically updates the text. Correct or edit the recognized text, then export the document. That simple!
iCloud. Work Anywhere, Anytime.
Start processing a document with your iPhone on the go, and finish the work on your Mac or iPad when you are back home.
Prizmo stores your work-in-progress documents in iCloud. Every change you make to a document is sent to iCloud, and is immediately made available to your other devices.
Your Prizmo documents are always with you, up to date on all your devices. When finished processing, export the text, PDF or image to any app or service.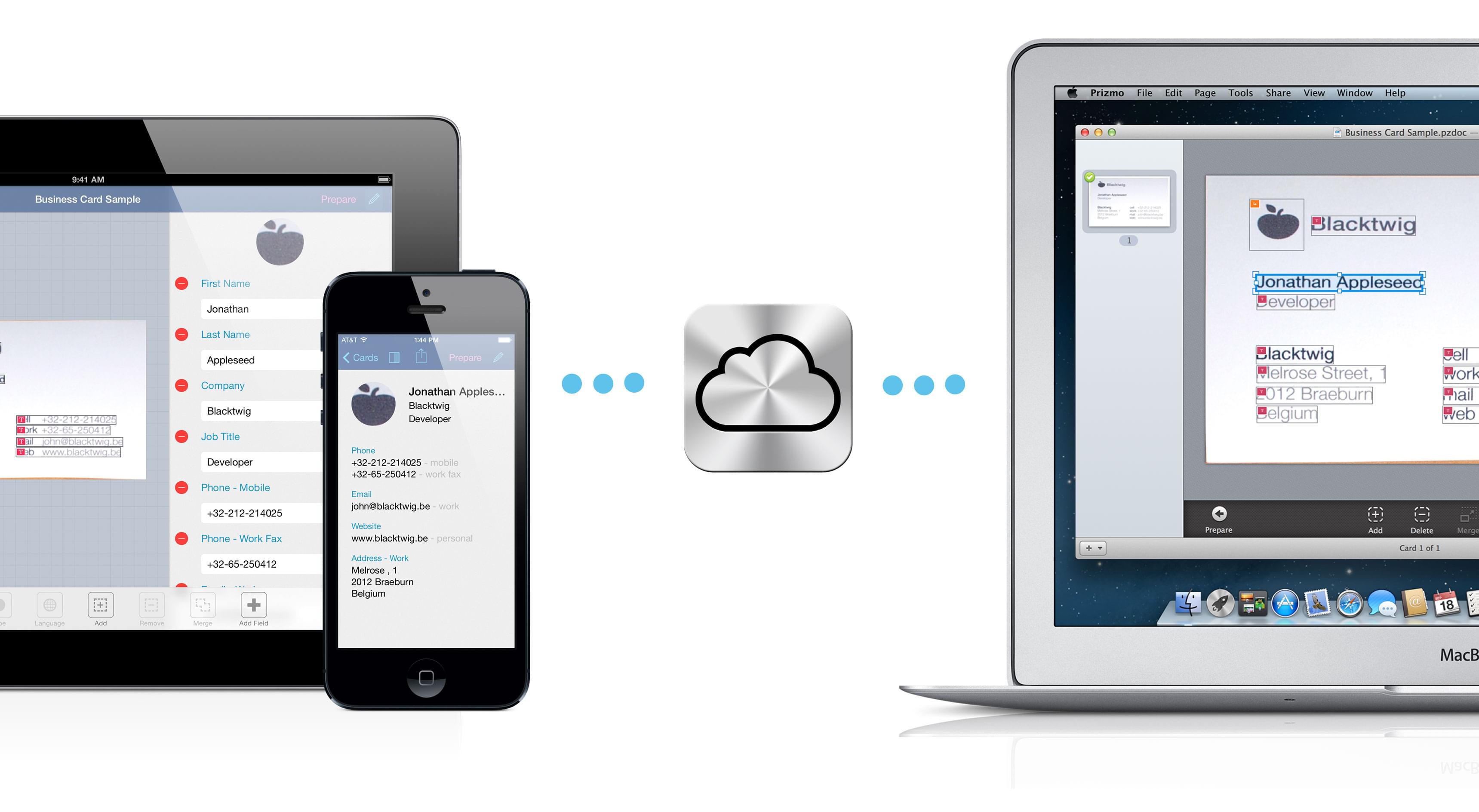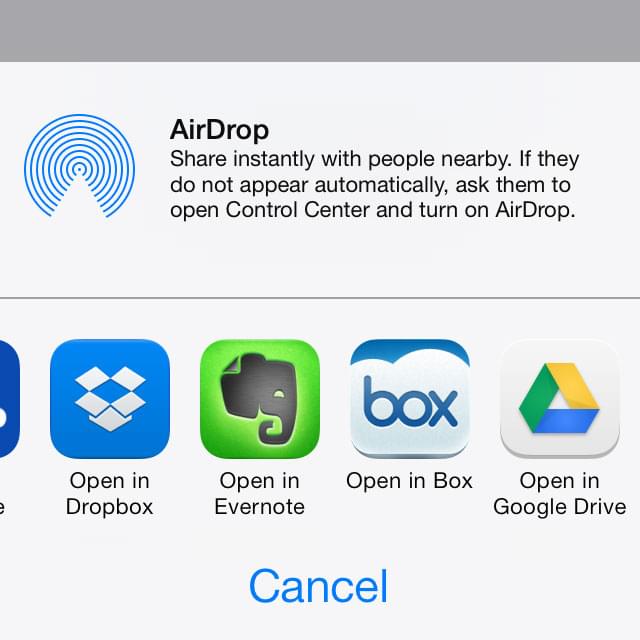 Perfect Team Player.
Do you rely on some other applications for storing, organizing and sharing documents? Once again, Prizmo can help you further increase your productivity. Send the resulting PDF to your colleague by email. Share it through Dropbox or Google Drive, save it to Evernote or Box… Or even share it with people nearby using AirDrop.
Or the other way around. Prizmo can be commanded by other apps to seamlessly integrate into your business workflow. OCR and speech synthesis features can both be commanded.
Prizmo includes state-of-the-art Optical Character Recognition (OCR). Easily recognize the text in 40+ languages:
10 high-performance built-in languages: English, French, German, Dutch, Italian, Spanish, Portuguese, Swedish, Danish, and Norwegian.
30+ optional languages (available as free in-app downloads): Afrikaans, Albanian, Basque, Belarusian, Bulgarian, Catalan, Croatian, Czech, Experanto, Estonian, Finnish, Galician, Hebrew, Hungarian, Icelandic, Indonesian, KLorean, Latin, Latvian, Lithuanian, Macedonian, Malay, Polish, Romanian, Russian, Serbian, Slovak, Slovenian, Swahili, Thai, Turkish, Ukrainian, and Vietnamese.
Prizmo not only understands many languages, it can speak many as well. 73 high-quality male and female voices are available in 21 languages (developed by the speech specialists of Acapela Group). You can buy them as in-app purchases.
Switching languages is only a matter of seconds thanks to the online translation service (41 languages supported). Never get lost in translation again!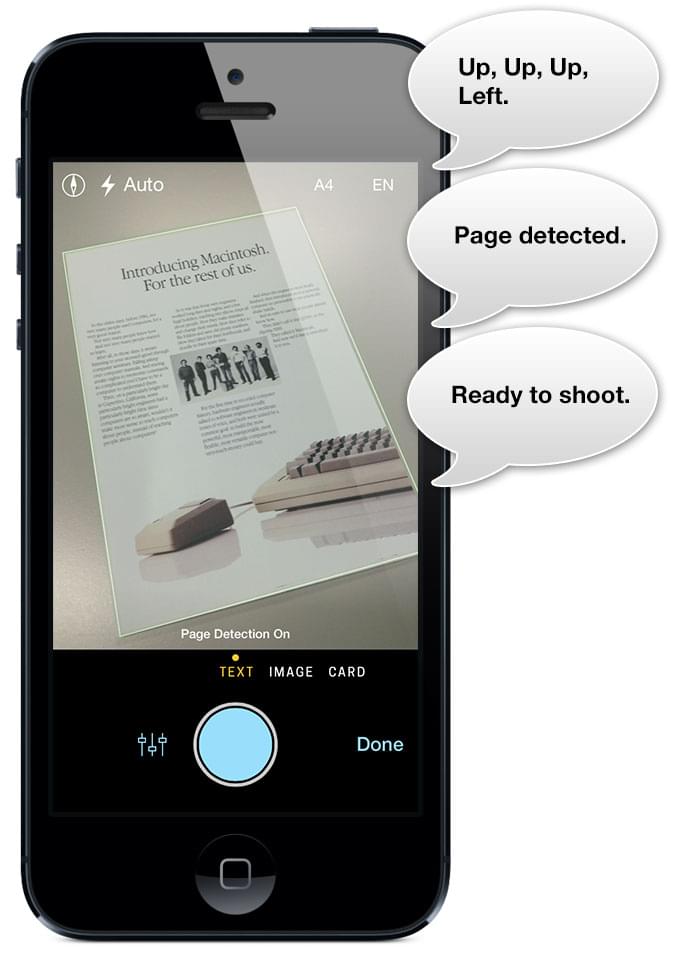 Prizmo will be Your Eyes…
…and you'll be all ears. Prizmo was designed from the ground up to be used by everyone. It fully supports VoiceOver. Also, voice guidance is available for visually-impaired users, to help position iPhone or iPad appropriately when taking document pictures. And text orientation can be automatically detected as well.
Once OCR has been performed, recognized text can be read out loud. Prizmo includes a voice reader with extensive controls: the speaking rate can be adjusted, and each word is highlighted as it is pronounced. Prizmo voice reader offers a selection of 36 regular voices, and 73 high-quality voices. Listen to voice samples available in the Voice Store, and choose the one you like best.