•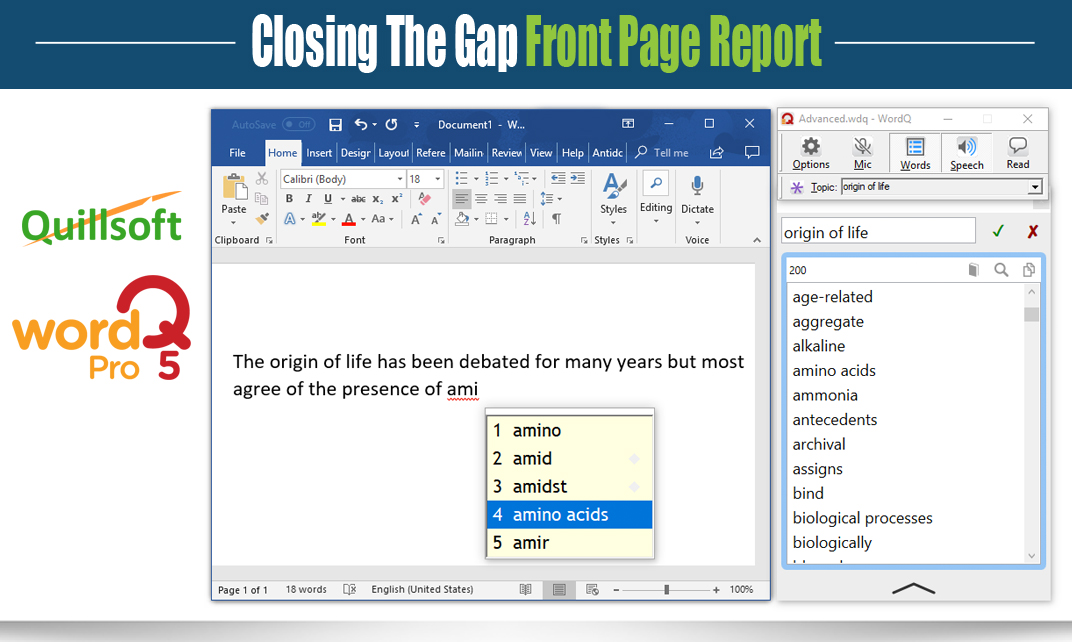 Express your ideas and relay your knowledge, at work or in a post-secondary environment, with confidence and clarity.
WordQ 5 Pro is a writing skill improvement and compensation tool that works on top of any Windows or MacOS application where you write, both online and offline. Both post-secondary students and professionals can benefit from using WordQ 5 Pro, including English Language Learners (ELL), Second Language Learners, and struggling writers. WordQ Pro helps you to create better quality written work with greater independence and ease with less stress. Intelligent word prediction suggests words appropriate for colleges, universities, and workplaces from a multidisciplinary 110,000-word vocabulary. Speed up writing and get help with spelling and grammar with as little as one or two keystrokes.
As you write, WordQ Pro learns your writing style and suggests words based on your writing history. There's no criticism and no pressure, so writing can be enjoyable.
WordQ 5 Pro now includes WordQ PDF, an application that allows users to open PDF documents for accessible reading and writing. In addition to general reading of a PDF document, WordQ PDF can be used to fill out forms, and complete any documentation that is provided in PDF format with the full functionality of WordQ working for you.
| | |
| --- | --- |
| Feature | Benefit |
| Advanced word prediction with a multi-disciplinary vocabulary of 110,000 linguistically aligned words and phrases; profanity and bias-free | Helps with spelling, grammar, and word flow as you write by suggesting words appropriate for colleges, universities and the workplace; averages less than 2 keystrokes to predict desired word |
| Works on top of applications; works offline | Supports you wherever you write |
| Simple user-interface – floating toolbar that can be hidden | Encourages daily use of WordQ Pro |
| Creative spelling prediction | Suggests words even when spelled creatively or missing parts |
| Contextual relevance | Word suggestions make sense in the writing context |
| High-quality speech | Hear what you write in a clear and pleasant voice to immediately capture mistakes Independently |
| Simple pronunciation speech editor | Improves pronunciation of unusual words |
| Abbreviation-expansion | Reduces typing effort for common phrases |
| Enhanced usage examples with parts-of-speech for close-sounding words | Easier to appropriately select among close-sounding word suggestions |
| Topical word prediction that lets you easily build your own relevant topic lists | Suggests words related to a specific topic that improves productivity |
| Proofreading Mode | Independently find mistakes and edit through a simple strategy |
| Siri Dictation supported on MacOS | Allows you to quickly write down your thoughts |
| Exam mode to turn off certain features for a set amount of time | Satisfies college/university testing requirements to ensure WordQ Pro does not offer unfair advantages and to prevent possible cheating |
| Speech feedback of any highlighted text | Also listen to websites, emails and instant messaging |
| Accessibility support | Full keyboard control and adjustable view options benefits various disabilities |
| Built-in Help | Provides immediate access to help information |