•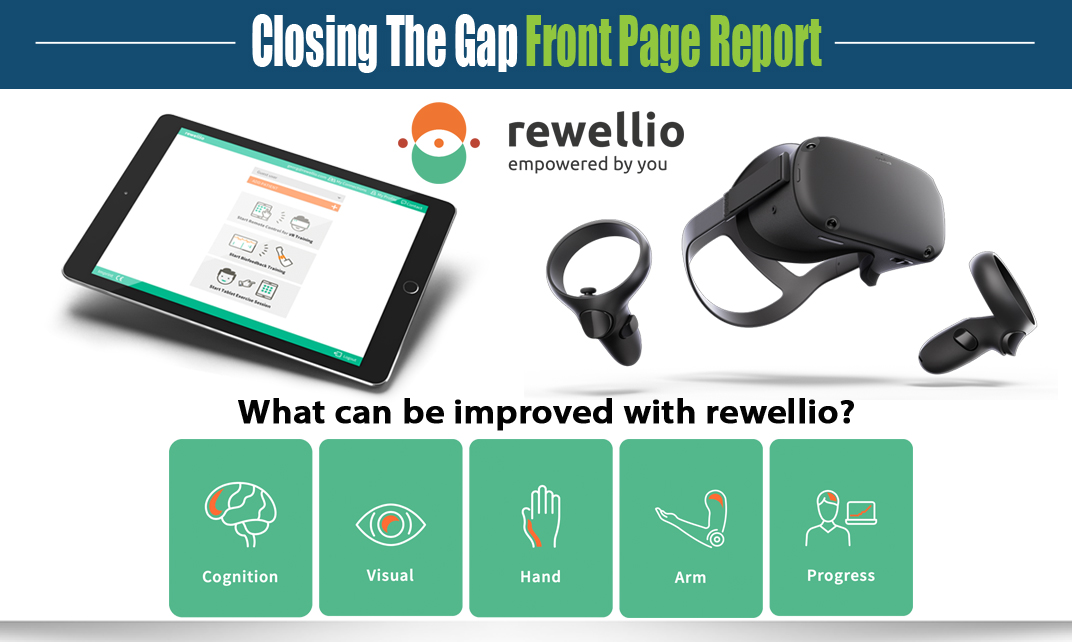 STROKE THERAPY REINVENTED – rewellio app
The rewellio tablet app is your basis and starting point for all of rewellio's stroke rehabilitation exercise modules. Download the pre-release version of the app for free now (limited time only).
Requirements:
Apple iPad: min. iOS 11
Other Tablets: min. Android 7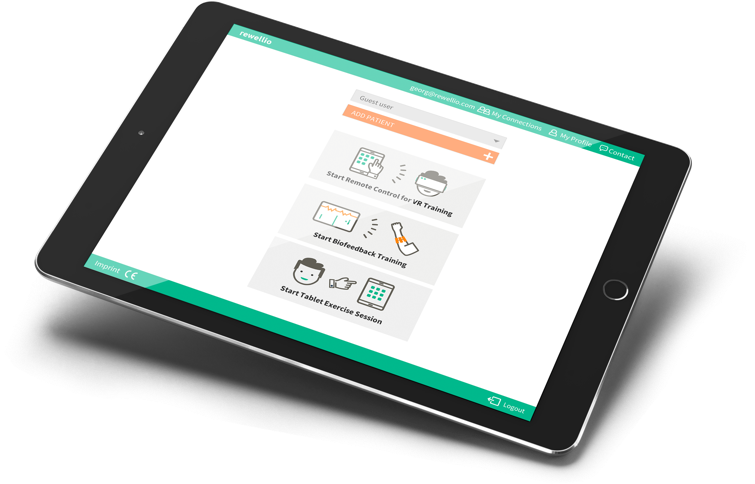 EXPLORE THE EXERCISE MODULES
With the rewellio tablet app alone, you get access to a number of exercises and modules addressing different medical indications as seen below. You may simply need one module or you may use them all – train only what's right for you.
NEW METHODS NEW POSSIBILITIES
Optional hardware 
The rewellio tablet app can be extended with some very unique and innovative exercises requiring additional hardware, and in the case of the virtual reality headset, an additional VR app also.
---

VISUAL ATTENTION 
This rewellio module was specifically designed to help people overcome their visual challenges after a stroke or a brain injury. If you have issues seeing objects on one side of the room or have a hard time detecting differences between two similar objects this module can help you to train your visual attention and orientation. Furthermore this module and training will help you to improve your attention span.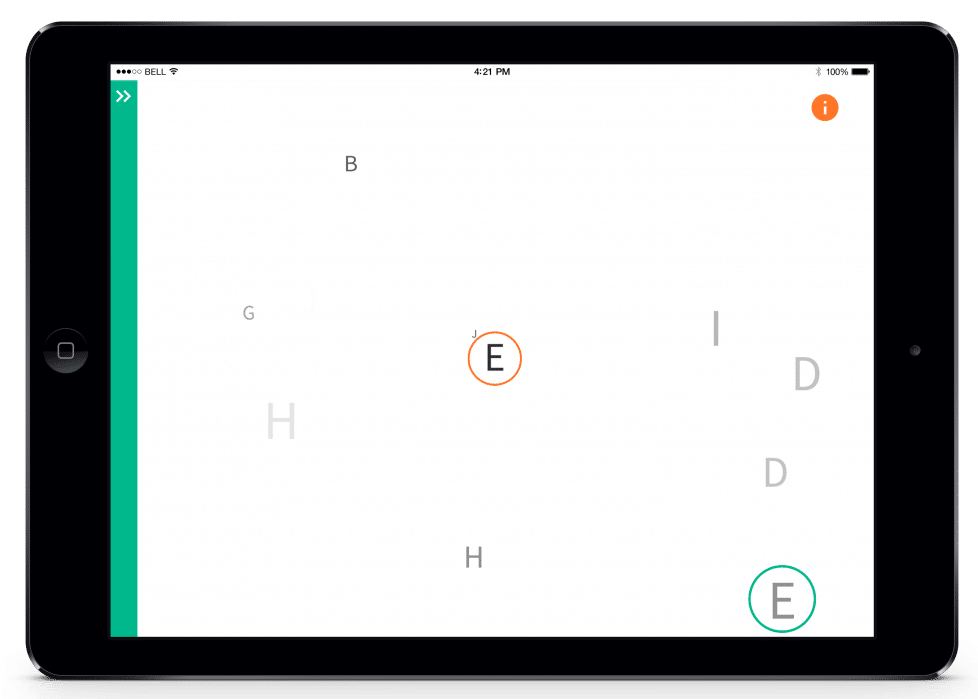 SAMPLE EXERCISES 
Visual Attention
Finding pairs and matching them by exploring the affected side of your vision trains your ability to absorb your surroundings and your visual attention.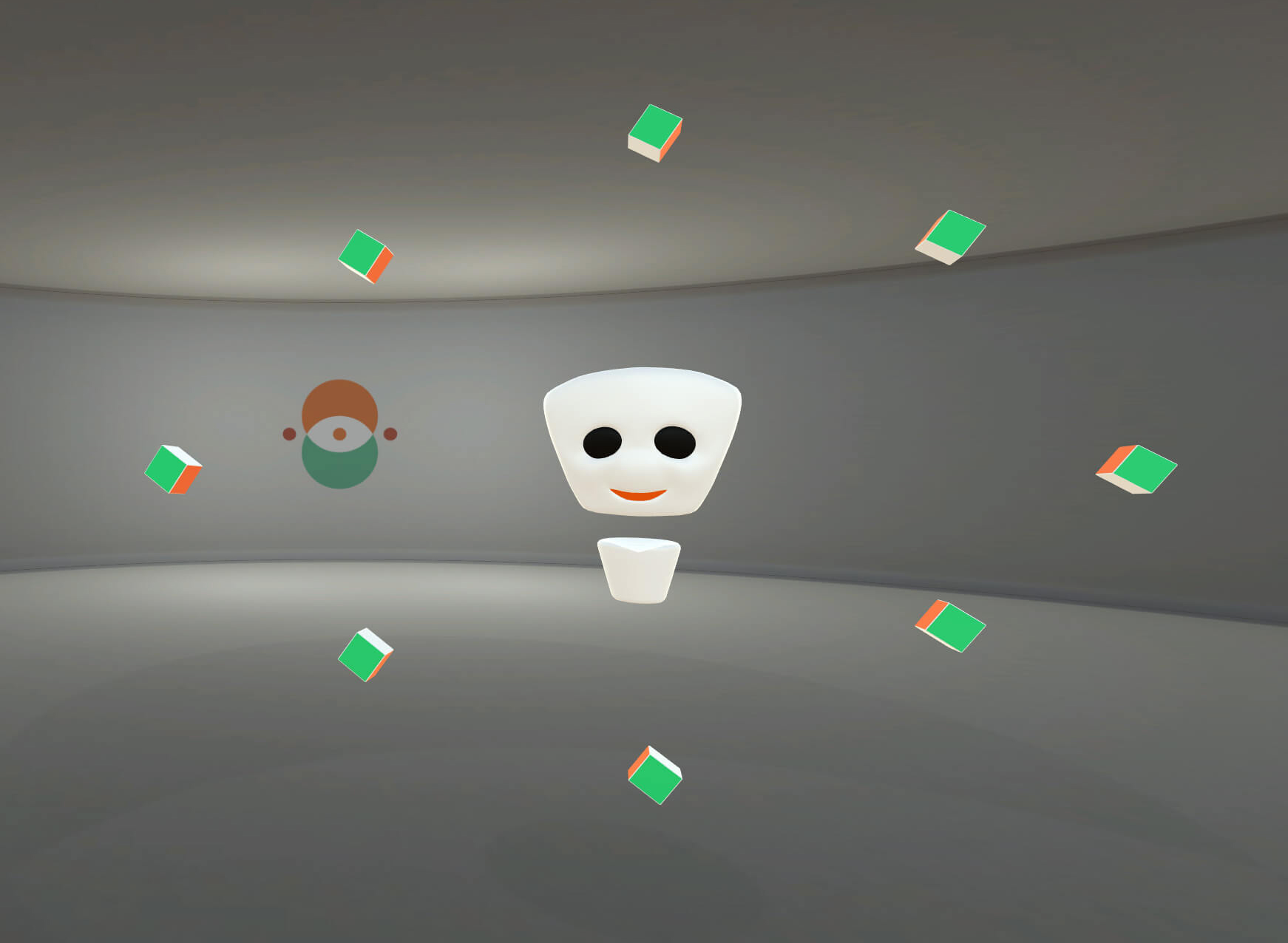 SAMPLE EXERCISES
Visual Attention VR
This exercise stimulates your vision with flying objects in your own three dimensional virtual reality space. As you steer through a series of dice by moving your head, this exercise trains your visual system while you can focus on the game and the next best personal high-score.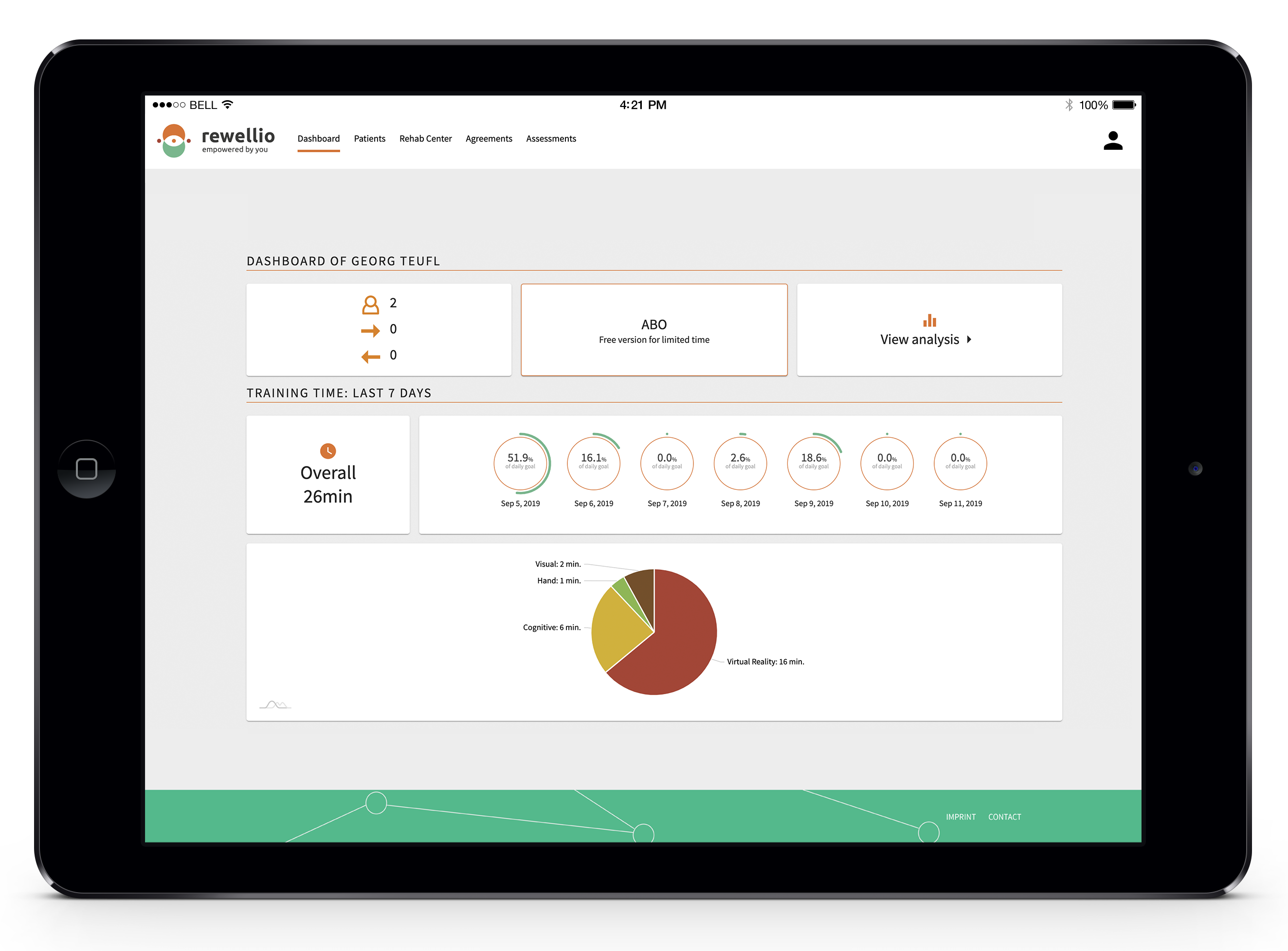 VIEW YOUR JOURNEY Track your progress Every accomplishment and development is tracked to help you monitor your progress in your dashboard.
---

HAND MOVEMENT
Improve your hand function
This rewellio module was specifically designed to improve the hand function after a stroke or brain injury. If you have suffered from a hemiparesis of the upper limb with no to little gross motor function in the hand – or in other words: if no visible movement of your fingers and wrist is possible or you can't voluntary extend/flex the fingers or your wrist – you will benefit from the exercises in the rewellio hand movement module. One huge milestone in rehabilitation is regaining the functional use of your hand. Grabbing and releasing objects are your immediate goals and we want to support you achieving them. The traditional therapy approaches for these achievements are mirror therapy and motor imagery.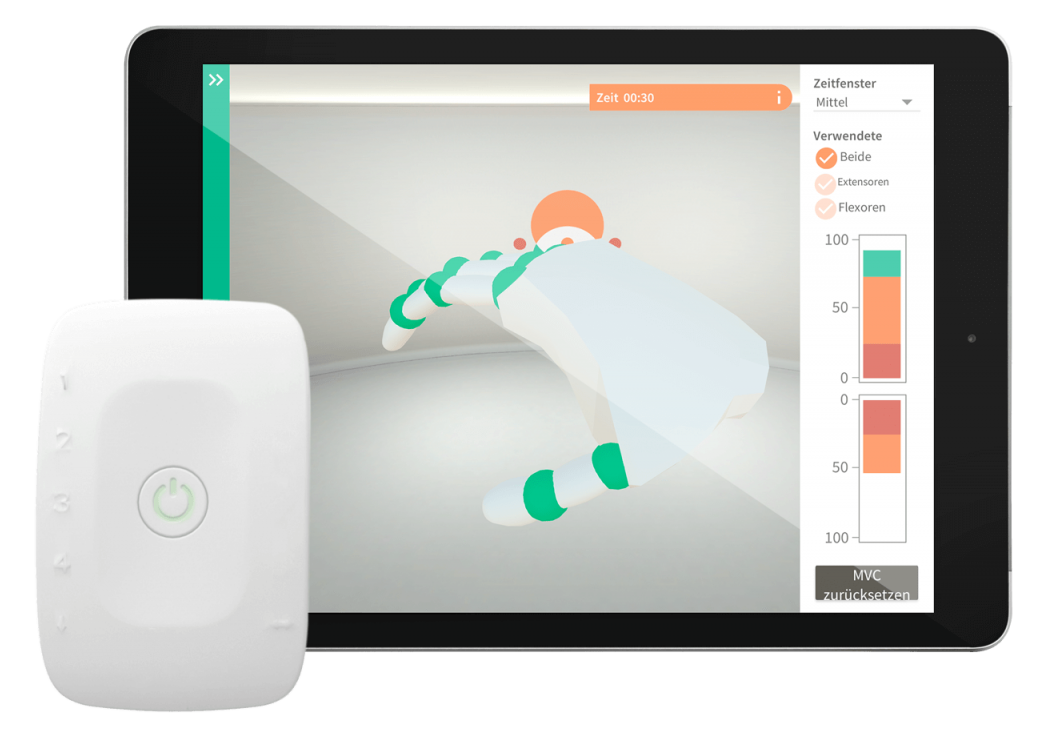 THEIR TOOL EMG-biofeedback Their EMG-biofeedback module can be used to relearn movement after a stroke. Especially in an early functional stage where no motion is yet visible, their rewellio EMG-biofeedback can provide an extra feedback loop. At a later stage patients with increased flexor muscle tension can learn how they can control their muscle tone.
HAND MOVEMENT
How it works
The EMG-biofeedback therapy module is designed to detect the slightest signals from the brain to the hand, which would not be visible otherwise. These optically imperceptible muscle activities will be amplified by rewellio and shown by a virtual hand on the screen. Activating and recognizing your arm, hand and paretic side can prevent learned none-use and increase representation in your brain. The repeated use of the motor feedback loops prepares you for your sessions with your therapist. "It is unbelievable how sensitively I can control the hand in different ways and not only increase the usual pattern with tone and flexion" – patient feedback after 3 month use of the module.
Know more Activating the flexor muscles can often work better than activating the extensor muscle. The motor feedback loop for the flexor muscle is getting stronger while the feedback loop for the extensor is staying weak. Rewellio uses 2 channel EMG and tracks the flexor and the extensor muscle activity at the same time. The aim is to help you relearn how you can relax the flexor muscle and activate die extensor muscle at the same time.
EXAMPLES OF EXERCISES
Hand movement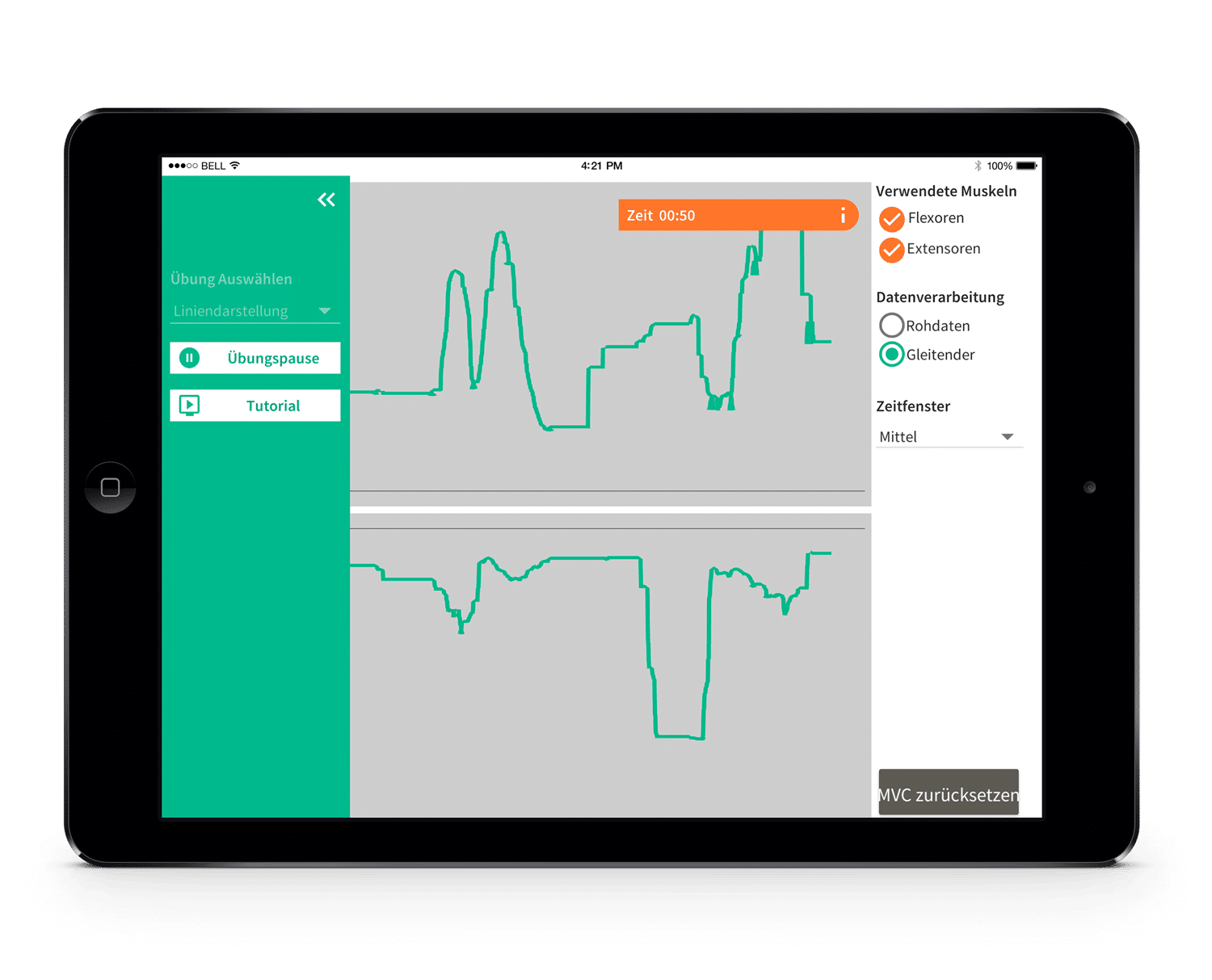 Feedback guaranteed:
Line visualization helps to build up a basic motor feedback loop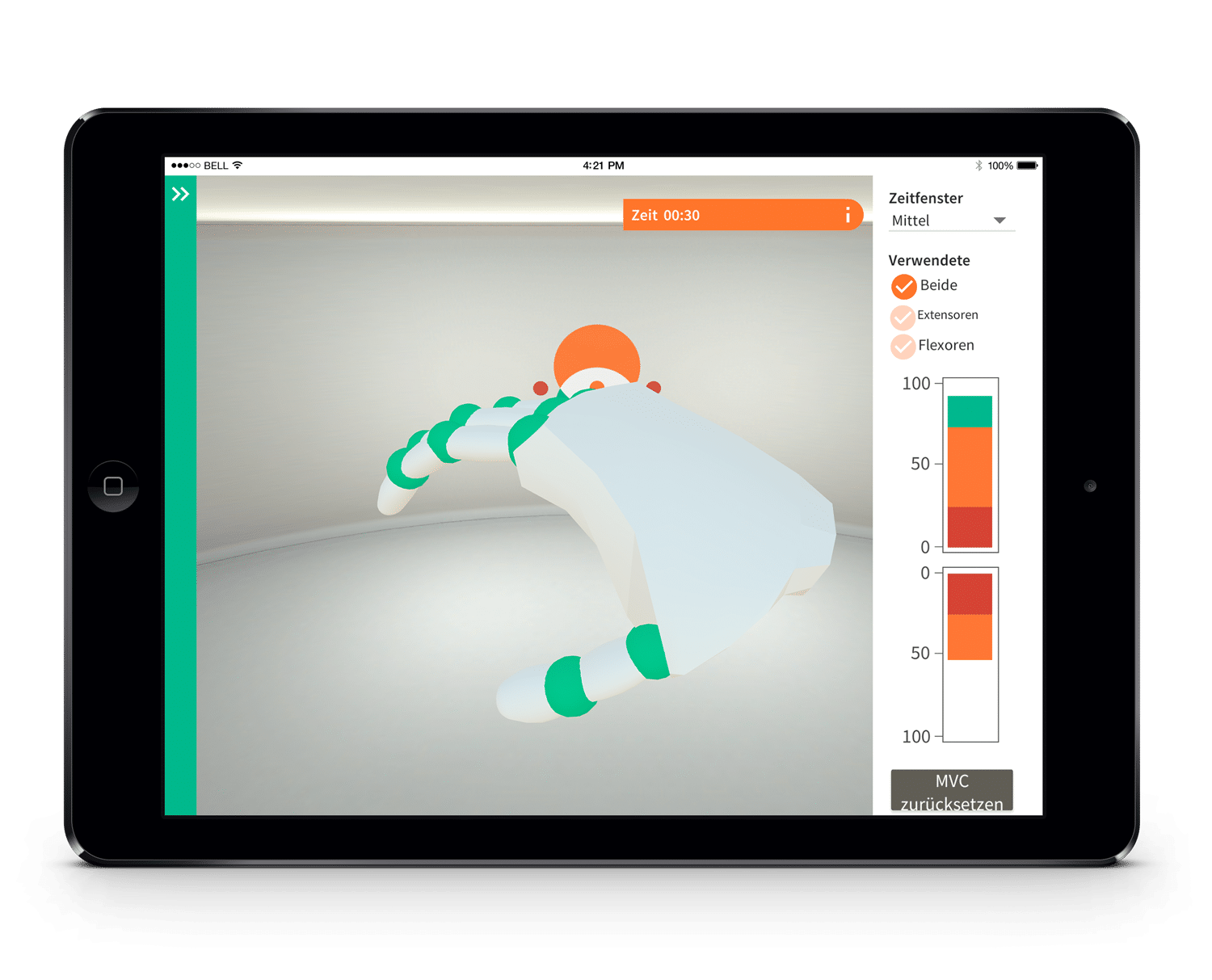 See every movement:
A virtual hand shows even the smallest movements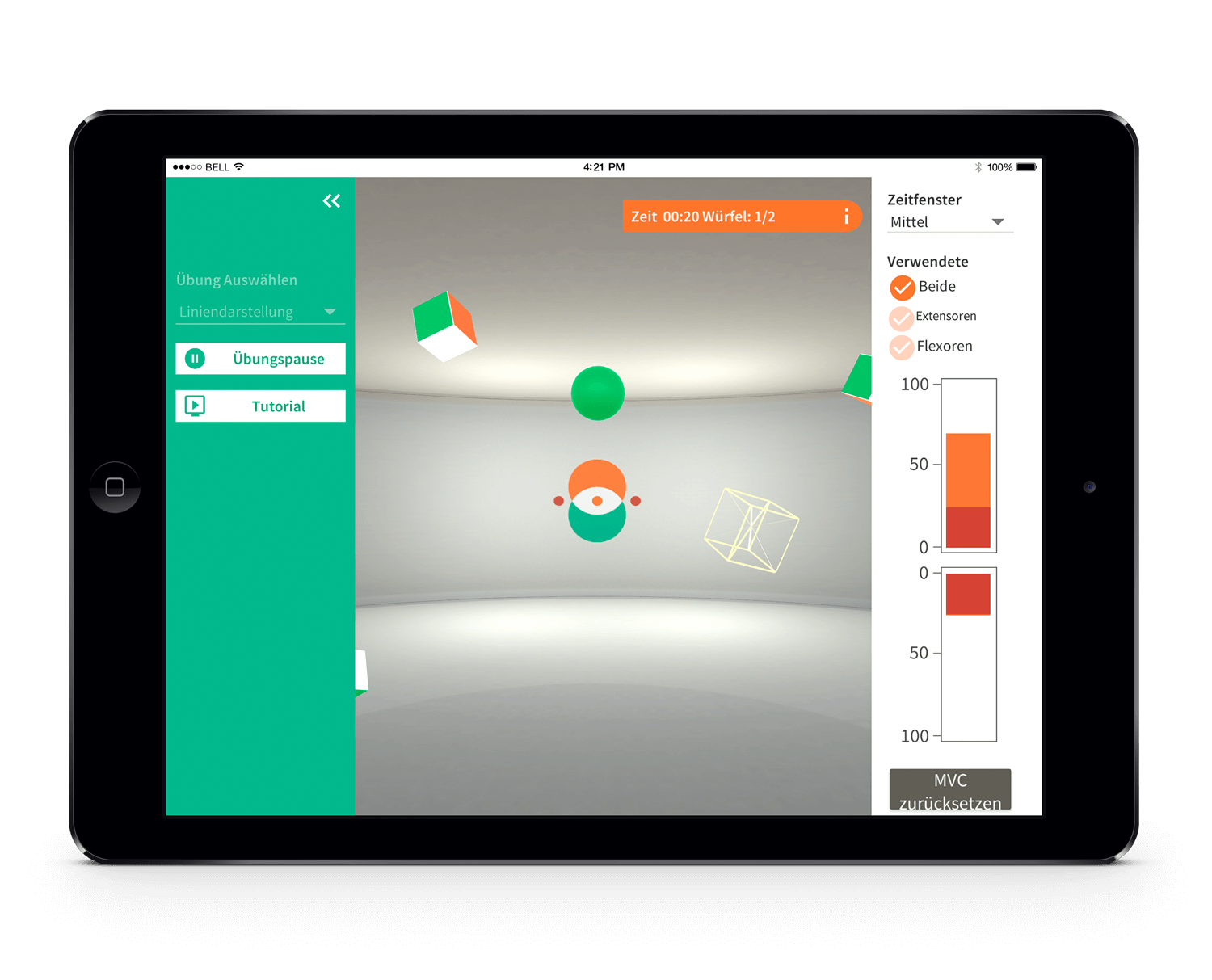 Fun exercises:
Special games with time-triggered events will challenge you
---

CONCENTRATION AND COGNITION
Train your brain
Rewellio offers multiple exercises to train your concentration and cognition after a stroke or brain injury. Cognitive training can be particularly challenging and requires a lot of effort and motivation. But don't worry, they will guide you through that phase and make sure you enjoy the exercises they have developed for you. Give yourself time to adapt to the new situation and a chance to reactivate your learning skills. Concentration is not something you can demand from your body and mind but rather something that will grow with every challenge you face. They have assembled some exercises that help you reorganize your brain, improve your learning skills and keep you motivated.
SAMPLE EXERCISES
Concentration & Cognition
---
ARM MOTION
Improve your arm function
This rewellio module was specifically designed to improve the arm function after a stroke or brain injury. If you have no function in your shoulder and elbow or your range of arm movement is reduced the exercises in this module can help you to regain your arm function. Training and regaining function of the shoulder are the main goals of the rewellio arm motion module. If you can already perform movements of your shoulder, elbow, and forearm but haven't regained your normal strength and reach, rewellio can help you to improve the motor functions and range of motion. The exercises in this module are based on the therapeutic approaches of Mirror Therapy and Observation of Movement – you can find more information on these approaches in our blog. Repetition is key to improve the range of motion and coordination – but to get there you need motivation. Rewellio keeps you motivated with the gamification of your rehabilitation exercises.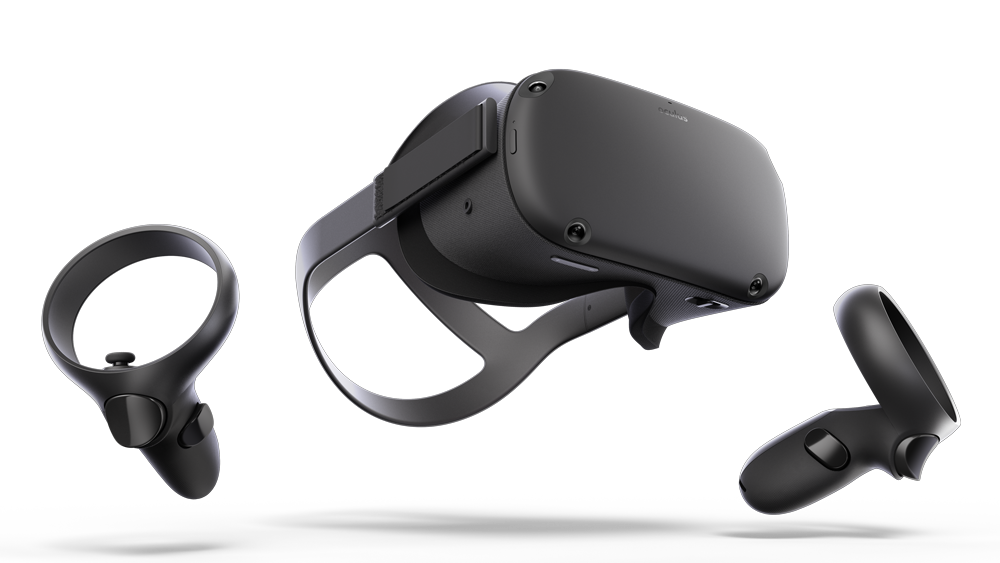 THEIR TOOL
Oculus Quest
With Oculus Quest you can dive into a virtual world that allows you to experience both of your hands as active hands. You hold the Oculus touch controller in both hands so that they are present in the virtual world. Rewellio learns the range of motion of your affected hand and challenges you to increase the range of motion.
While playing a game you will repeat your tasks as often as possible to prepare you for your therapist sessions and to give on your movement quality the finishing touch.
SAMPLE EXERCISES
VR Boxing
This exercise is designed to motivate you and to be a bit of a challenge at the same time. Even small movements in your affected arm will be enough to throw a punch as we amplify your motion in virtual reality. Are you ready to put on those virtual gloves and to start your first round ?
---
Rewellio's launch of stroke rehabilitation VR App at Rehacare 2019