•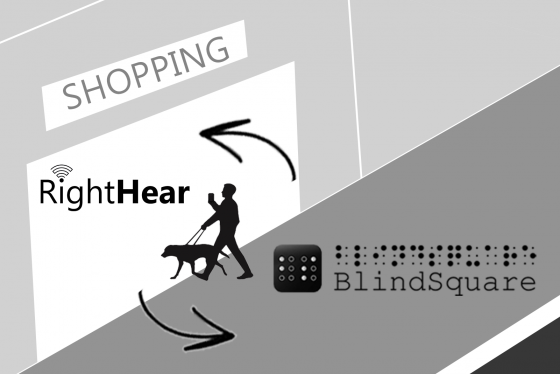 Users can automatically jump between the two services for an uninterrupted navigation and orientation experience

Image description: Grayscale background of a person walking with a guide dog into a shopping mall. The RightHear logo is inside of the mall and the BlindSquare logo is outside. Arrow show the BlindSquare logo pointing to the RightHear logo and the RightHear logo pointing to the BlindSquare logo.
Even though the 4th of July was yesterday, these two companies focus on independence and equality every day –  not just once a year.
Imagine, being blind, and being able to easily transition between outdoor travel to indoor orientation. Thanks to a first-of-its kind collaboration between RightHear and BlindSquare, persons who are blind or partially sighted have access to this sort of seamless navigation and orientation support no matter where they are.
Because of the new integration, RightHear users can now select BlindSquare as their preferred travel method to get to the location of their choice. Once at the location, users will be automatically notified if it's a RightHear Accessible Zone and prompted to switch into the RightHear app. Users will be able to automatically jump between the two services for an uninterrupted navigation and orientation experience.
RightHear co-founder and CEO Idan Meir notes, "This partnership will bring unprecedented accessibility to the blind or partially sighted community all over the world. The assistive tech field is always exciting, and now even more so."
Ilkka Prittimaa, CEO and lead iOS developer at BlindSquare adds, "Today we support travel indoors, in several hundred locations in many countries, with our own indoor navigation solution. We want, always, to encourage free travel for the current and future BlindSquare community. Where quality information is present, whether transportation, weather, millions of points of interest, or complementary indoor travel information such as with RightHear, we will present it to benefit our community first."
BlindSquare, used in 160 countries and 25 languages, is the most-popular app supporting travel by persons who are blind, partially sighted or deaf-blind.  BlindSquare connects people with information necessary for safer travel and fun adventures.  Whether indoors or outdoors, BlindSquare provides the power of information and choices for people moving in the world we share.  Seamless travel is an fundamental of BlindSquare's design – whether travelling to a BlindSquare Enabled indoor environment or to a RightHear Accessible Zone, the flow of information continues. BlindSquare, in it's 6th year, is available as a lifetime purchase for US$40 in the iTunes app store.
RightHear, a free app available on both iPhone and Android, provides orientation support once users are inside of venues equipped with the RightHear technology. The app alerts users whenever they are near an Accessible Zone and supports orientation once users are inside. RightHear users also hear helpful information about their surroundings. Because RightHear utilizes Bluetooth technology, it works without an Internet connection. To use the RightHear solution, users simply have to enter an Accessible Zone and point their smartphone in a direction they are interested in traveling in. The app, entirely compatible with VoiceOver and TalkBack, will then verbally announce points of interest in that direction and any information relevant to them. Users can also call for additional assistance directly from the app. RightHear is currently installed in hundreds of Israeli venues as well as dozens more around the world.
This collaboration creates unparalleled opportunities for those who are blind or partially sighted to travel independently and helps create a more accessible world for all.\
Right-Hear is an advanced accessibility solution that allows people who are blind or visually impaired to acquire better orientation in indoor public spaces. Founded in just 2015, RightHear has already equipped over 100 locations in Israel and dozens more around the world as Accessible Zones.
About BlindSquare
BlindSquare is the world's most popular accessible GPS-app developed for the blind and visually impaired. It describes the environment, announcing points of interest and street intersections as you travel. In conjunction with free, third-party navigation apps, it's a powerful solution providing most of the information that those who are blind and blind or partially sighted need to travel independently.