•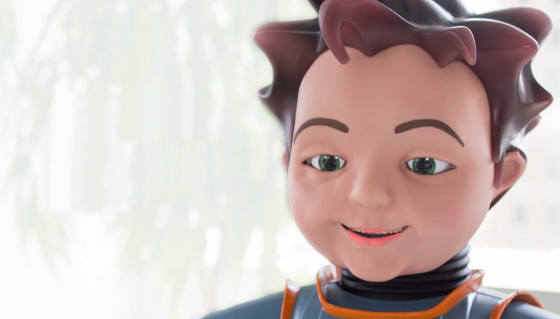 The future of education and socialization for learners with autism.
A non-threatening way for learners with ASD to practice their communication and social skills.
Milo the robot is designed to be interesting and approachable for learners with ASD. He can walk, talk and even model human facial expressions. Milo never gets frustrated or tired. He consistently delivers lessons in a way that learners with ASD respond to. This recurring positive experience creates an environment in which learners can learn and thrive. Robots4Autism helps learners improve their social and behavioral skills and gain the confidence they need to succeed academically and socially.
Using the Robots4Autism program, individuals with ASD learn to:
Tune in on emotions
Express empathy
Act more appropriately in social situations
Self-motivate
Generalize in the population
The Robots4Autism lessons are designed to teach social behaviors and emotional identification to learners ages 5-17 who meet the Prerequisite Skills. To determine if the curriculum is appropriate for your child, please read the prerequisite skills needed.
Robots4Autism: Teacher Testimonials from RoboKind on Vimeo.
Milo delivers lessons verbally. As he speaks, symbols are displayed on his chest screen that will help your learner better understand what he is saying. Throughout the lessons, Milo will ask your learner to watch four to five second video clips on the student tablet. The videos show learners displaying the skills or behaviors both correctly and incorrectly that Milo is teaching. Your learner will be asked "yes" or "no" questions to determine if the learners in the video are doing the behaviors right or wrong.
It is recommended that your learner work with Milo, along with an educator or therapist, for 30 to 60 minutes at least three times a week.
The Curriculum
The Next Generation of Intervention Tools
Therapists, educators, and para-professionals use Milo, Robots4Autism's humanoid social robot, together with traditional intervention methods to help individuals with ASD reach their developmental goals. Innovative robot-generated instruction teaches social understanding and improves a learner's ability to use social behaviors in natural contexts.

The objectives of robot interventions include learning to pick up on emotions, express empathy, act more appropriately in social situations, self-motivate, and generalize in the population. The Robots4Autism curriculum is available for elementary and middle school.
Robots4Autism is available on both the Android Play Store and iOS App Store.
Benefits of Robots4Autism
Designed around the academic and mechanical strengths of individuals with ASD
Quick engagement
Intrinsically motivates children to learn
Simple for facilitator and learner to use
Consistently delivered lessons – robots do not get frustrated
Produces observable increases in eye contact, body language and friendliness
Documents and records sessions for later review and inclusion in IEPs
CONVERSATIONS
Greetings, Talking, Resolving Problems
EMOTIONS
Identifying, Interpreting, Predicting, Acting Out, Responding
BEHAVIOR
Meanings, Emotions, Interpretation
The Robots4Autism curriculum is implemented using a robot-tablet interface. A professional and/or parent receive a multimedia instructional manual/DVD that explains how to conduct the baseline and post assessments, implement lessons, monitor progress data collected by the robot, view recordings, and promote generalization of the goals to natural settings.
Results With Milo
Learners engage the robot almost immediately
Observable increases in eye contact, body language and friendliness
Shorter connection time than developing a relationship with person
Click here for more information.