•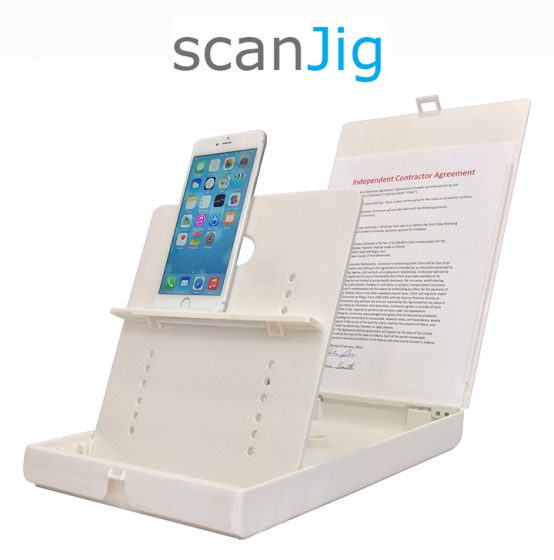 Transform Your Smart Device
Scan – Email – Copy – Fax – Recognize Text (OCR)
scanJig Pro is a portable scanning stand that holds your smart tablet or phone in the correct position for fast, precisely aligned scans of documents, receipts, books and business cards. The scan stand provides a stable platform and works with any document scanner app to help turn your tablet or phone into a productive, accurate, document imaging device.
Why buy an expensive portable or desktop scanner? Do more with the tablet or phone you already own.
 Assistive Technology
For The Blind, Visually Impaired and those with Fine Motor Difficulties
 This stable scanning stand provides easy tactile and guided positioning of both your mobile device and document.  You get correct alignment and field of view on the first scan using text-to-speech (OCR) apps.
Faster Scans
Can You Scan 10 Pages A Minute With Your Smart Device?
 Open the ScanJig, place your phone, and start scanning in seconds. With built-in guides you can quickly capture many document pages.
Fewer Steps
No Additional Hardware, Connections or Power Needed
 Use the solution you know and trust – your own phone or tablet.  Scan directly to your mobile device, immediately convert to PDF and upload to the cloud, email, fax or print.
Neat Images
Improve Search Accuracy
 With focused and aligned documents text can be recognized more accurately.  ScanJig's angled design helps capture more light and avoid shadows.
Travel Friendly
Scan Anywhere, Anytime
Folds down flat and snaps shut to easily fit in a backpack or suitcase.
Durable & Adjustable
Supports A Variety Of Devices
Molded plastic parts provide stable, precise imaging and firm support for larger devices including tablets.
Testimonials
Student gains more independence using SnapType App & ScanJig
Heather Hopper, OTR has been helping a young student with cerebral palsy use the SnapType app on the iPad.  By adding the ScanJig scanning stand the 3rd grader has found it much easier to navigate the app.
Here is the feedback from Heather:
 I am an occupational therapist in the school setting in Corydon, Indiana. I have a 3rd grader named Adam at Corydon Elementary School on my caseload who has cerebral palsy and cannot physically write, as he has trouble grasping a pencil. He can however extend his finger to type. He does not have any cognitive delays and is working on 3rd grade level. I currently have him using an iPad with the snaptype app (this is an app that after you take a photo of the worksheet, it provides text boxes for him to type his answers, then email his worksheet to the teacher), and google docs to type other written classroom assignments. Since he has decreased hand/arm control, it is hard for him to hold the iPad steady and take pictures.
Prior to using the ScanJig, another staff member, or his mom, would come in and take photos of his weekly worksheets so he could complete the classwork.
One of his goals that he has now met is that he is able to take his own snaptype photos since the ScanJig stabilizes the iPad and the worksheet thus allowing him to take the picture by himself. He is taking his own pictures each day, which frees up staff members to work with other children in the building. This also gives him a sense of independence since he is not relying on his mom to help.