•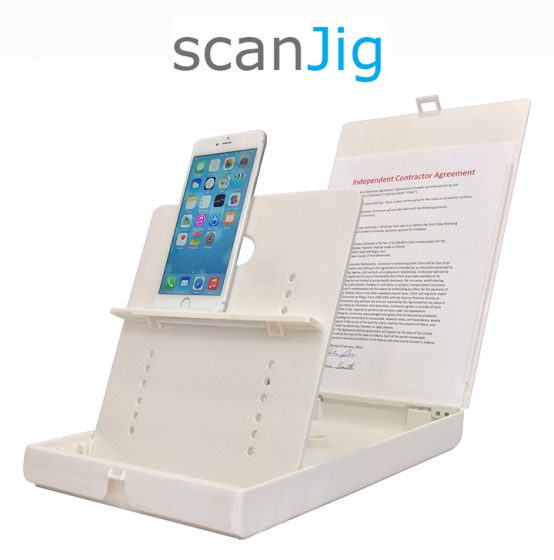 Transform Your Smart Device
Scan – Email – Copy – Fax – Recognize Text (OCR)
scanJig Pro is a portable scanning stand that holds your smart tablet or phone in the correct position for fast, precisely aligned scans of documents, receipts, books and business cards. The scan stand provides a stable platform and works with any document scanner app to help turn your tablet or phone into a productive, accurate, document imaging device.
Why buy an expensive portable or desktop scanner? Do more with the tablet or phone you already own.
 Assistive Technology
For The Blind, Visually Impaired and those with Fine Motor Difficulties
 This stable scanning stand provides easy tactile and guided positioning of both your mobile device and document.  You get correct alignment and field of view on the first scan using text-to-speech (OCR) apps.
Faster Scans
Can You Scan 10 Pages A Minute With Your Smart Device?
 Open the ScanJig, place your phone, and start scanning in seconds. With built-in guides you can quickly capture many document pages.
Fewer Steps
No Additional Hardware, Connections or Power Needed
 Use the solution you know and trust – your own phone or tablet.  Scan directly to your mobile device, immediately convert to PDF and upload to the cloud, email, fax or print.
Neat Images
Improve Search Accuracy
 With focused and aligned documents text can be recognized more accurately.  ScanJig's angled design helps capture more light and avoid shadows.
Travel Friendly
Scan Anywhere, Anytime
Folds down flat and snaps shut to easily fit in a backpack or suitcase.
Durable & Adjustable
Supports A Variety Of Devices
Molded plastic parts provide stable, precise imaging and firm support for larger devices including tablets.