•
About Smart Solutions – Devin Braswell CEO of Smart Solutions
"I started Smart Solutions with a goal to provide home automation solutions at a lower price point so that more people could benefit from home technology. About four years into my new endeavor, I experienced the second of two strokes. I have fully recovered, but these experiences have given me valuable insight into the challenges those with mobility deficits face each day."
"My experience has also motivated me to focus on using home automation solutions as an "Assistive Technology" to aid those who wish to live more independently. I have made it my goal to provide affordable and reliable solutions that promote independent living."
Using state-of-the-art technologies, they provide solutions that enable you to manage your living environment – doors, lighting, climate, security, cameras, and more – all from an easy-to-use touch panel. Using a straightforward design, the program options can easily be designed to meet your specific needs. Their system also provides a Caregiver Solutionthat allows a caregiver to remotely log in to check on a loved one.
---
Smart Solutions is a consumer electronics company dedicated to making lives easier by enabling community based living with technology.
They strive to empower persons with disabilities and the aging population with a solution to control their home environment with an easy to use, person centric application – Smart Care. Caregivers now have the tools needed for peace of mind their loved ones are safe.
Smart Solutions offers a diverse range of products that will help with whatever your needs may be. To keep everything simplified with your smart home, all of their  products are manageable from their app. Buy their products a la carte, or with their Smart Care Starter Kit, which includes everything to kick-start your smart home today.
Starter Kit
Connected Control Using an internet-connected hub, Smart Care lets you take control of your home with easy control of your connected smart devices.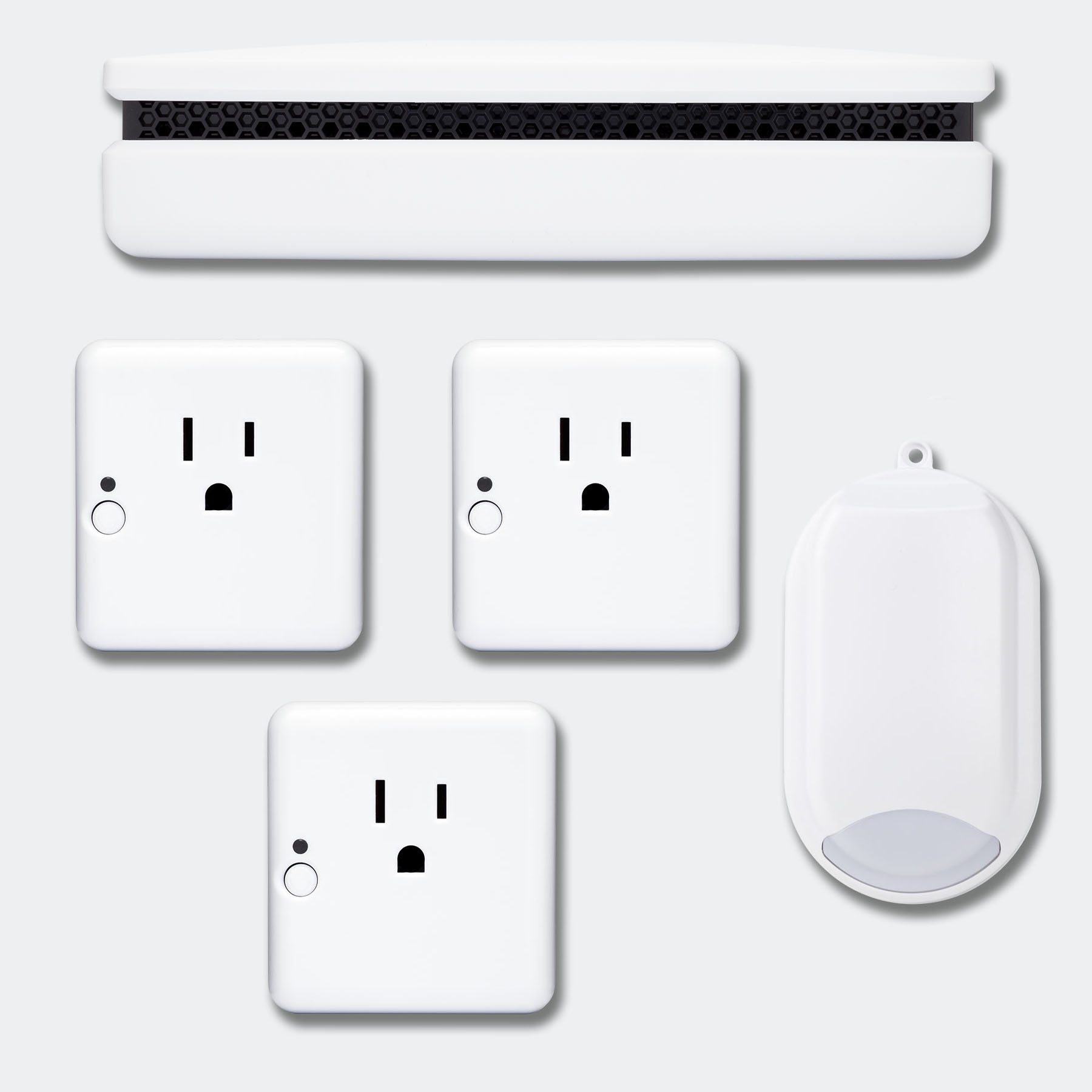 Some Features of Smart Care
Control of supported smart devices
Create custom automation tasks that can be activated by touch, switch scanning, eye tracking, and voice (Amazon Echo required)

Schedule automation tasks to run at a specified time

Access to current weather for your location

View recent history of events via Activity Log

Customize your Home Screen based on your preferences
Requirements
Broadband internet access with a wireless router

Available ethernet port on your wireless router

iOS version 11.0 or higher on an iPhone 6 or newer

Android version 8.0 or higher

Windows version 10 or higher
Starter Kit Inventory
Smart Care Hub (1)

Smart Outlet (2)

Smart Dimming Outlet (1)

3-in-1 Night Light (1)

Smart Care Hub Power Supply (1)

AA Batteries (4)

Ethernet Cable (1)
---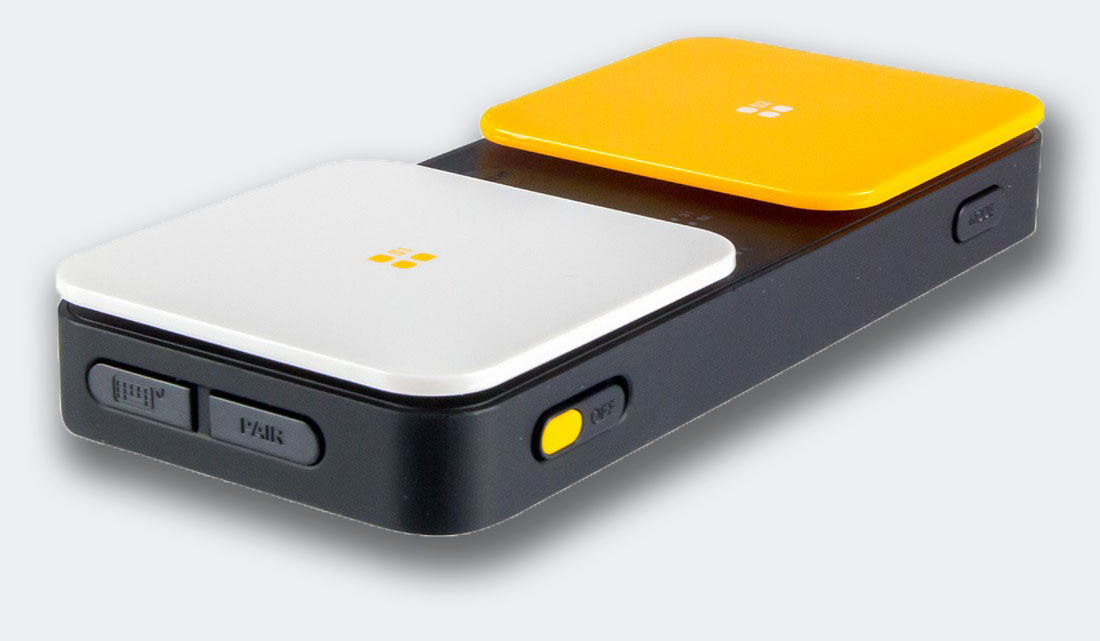 Blue2 Bluetooth Switch
The NEW Blue2 Bluetooth switch provides single or dual switch access to iDevices running iOS 7, Apple desktop or laptop computers running OS X Mavericks, and all switch accessible apps or software on iOS, OS X, Windows, and Android! Blue2 connects to your favorite device via a Bluetooth connection that is easy and quick to set up. New features include an improved switch activation surface that takes 40-percent less pressure to activate, multiple modes of operation for compatibility to all apps, a long-lasting rechargeable battery, and a sleek, modern design. Note: The NEW Blue2 switch is compatible with most tablet, desktop, and laptop computers that have a Bluetooth connection. iOS 7, OS X Mavericks, or switch accessible software or apps are required.
Now with an improved Bluetooth connection! Blue2 provides single or dual switch access via Bluetooth connection to iOS, macOS, Windows, Chrome, and Android devices. Includes an integrated rechargeable battery, two external switch jacks, and tactile feedback.
---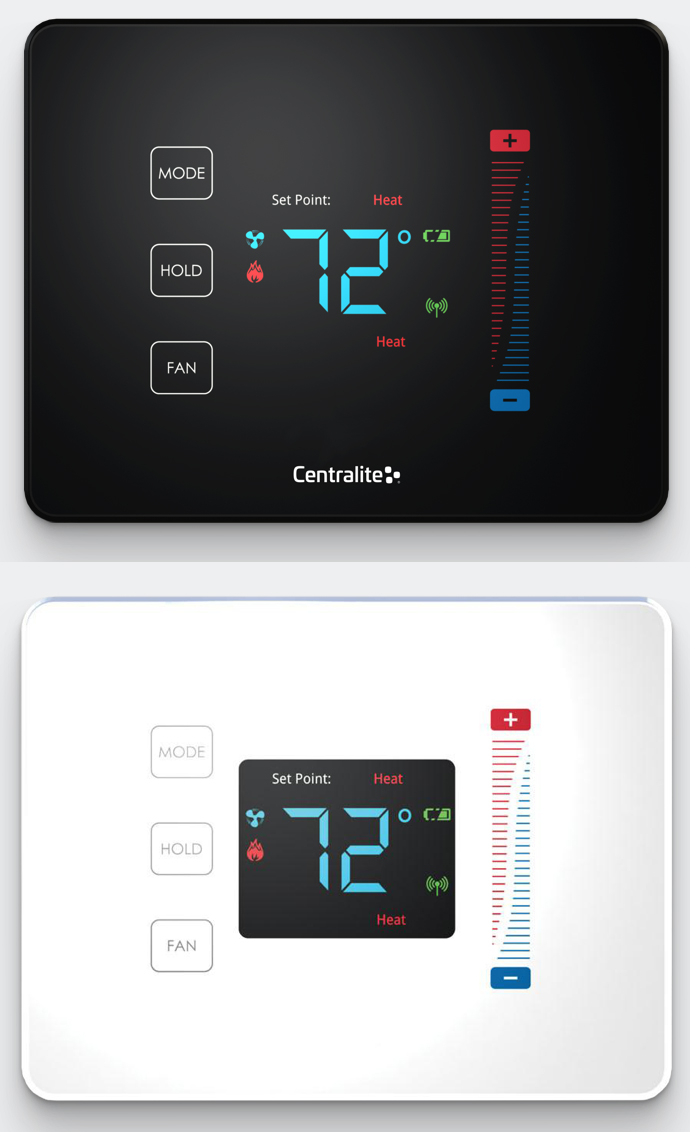 Smart Thermostat
Smart Solution's Smart Thermostat combines contemporary aesthetics with easy-to-use controls. Utilizing a capacitive touch display, the thermostat delivers precise control and an unparalleled user experience.
Connected Comfort
Using an internet-connected ZigBee HA 1.2 hub, the Smart Thermostat lets you take control of your comfort with the ability to set up schedules and events. The Smart Thermostat also reports humidity (optional) and temperature down to 0.1°C, giving your connected home a more accurate view of how your HVAC system is performing.
Capacitive Touch Controls
The Smart Thermostat's capacitive touch controls eliminate physical buttons to provide a more reliable, stylish, and convenient way to interact with your thermostat. With the swipe of a finger, you can set the temperature or lock changes using the HOLD button.
Ultimate Compatibility
Certified for ZigBee Home Automation 1.2, the Smart Thermostat is compatible with over a dozen connected home platforms that support ZigBee HA 1.2. The Smart Thermostat works with nearly all residential HVAC systems including Electric, Heat Pump, Gas, and Oil systems. Allowing for up to two stages of heat and two stages of cool, the Smart Thermostat is compatible with newer, high-efficiency HVAC systems.
Easy Installation
The Smart Thermostat can be installed by most homeowners in less than 15 minutes. Easy quick-connect wiring terminals eliminate the need for specialty screwdrivers or an extra set of hands. The Smart Thermostat will also automatically detect what type of configuration is needed.
Save Energy, Save Money
By adding connected home HVAC control, your home can be smarter about when it uses energy to heat and cool. Beyond simple features like setting back the thermostat while you're away from home, the Smart Thermostat offers advanced features like the use of remote temperature sensors to eliminate hot and cold spots in the home.
Features
Easy, Accurate Capacitive-Touch Interface

Stylish Design

2 Color Choices (White and Matte Black)

Compatibility with many Home Automation Systems

15-minute Installation

ZigBee H.A. 1.2 Compatibility
And many more products to check out!
---
The Situation
DD is passionate about three things in life: family, traveling, and horses. She grew up on a small farm in Tupelo, MS and spent her entire life riding and showing horses. Then everything changed in an instant. Three years ago during a routine practice session, DD had a riding accident. After three days in a coma, DD awoke to a new reality. The accident had caused spinal cord damage that left her paralyzed from the neck down. Never one to give up, DD endured intensive rehabilitation where she re-learned how to communicate and function in her "new norm". Her son, Patrick, moved DD into his house and hired in-home care providers. This created its own set of challenges, including caregiver accountability, that both DD and Patrick accepted as just part of their new lives.
The Smart Solution
After meeting with DD and Patrick, Smart Solutions developed a comprehensive technology plan that would empower them both. For DD, the plan included automated lights, thermostats, door locks, and security cameras, controlled through the Smart Care™ app installed on DD's tablet. DD can now adjust lights and temperature, control the TV, and even check to see who is at the front door. For Patrick, the plan included cameras throughout the house so that he can check on his mother and her caregivers at any time. Through the Smart Care™ app, Patrick can view real-time feeds from any of the cameras – whether at work or traveling.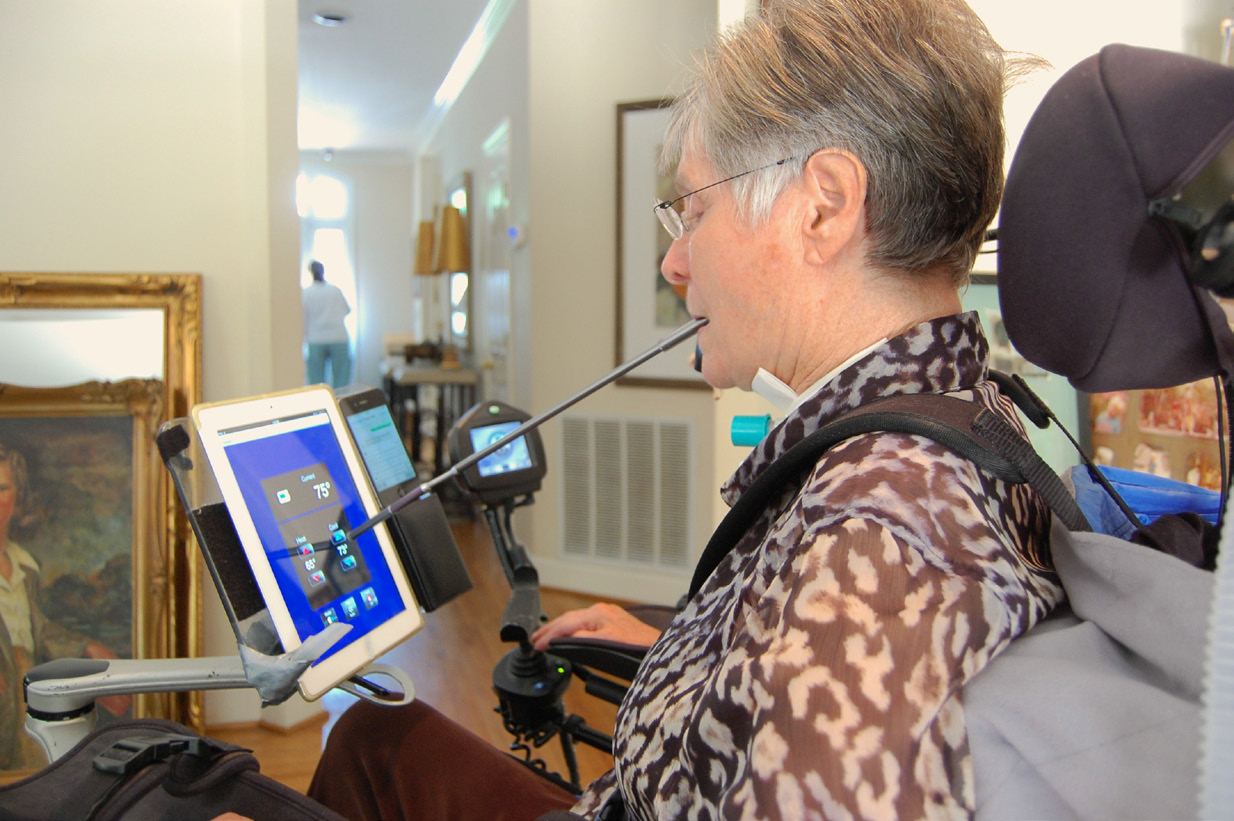 The Outcome
Smart Solutions allowed DD to achieve independence. DD, a born hostess, loves the fact that she can easily turn lights on for her guests, see her guests arrive at the front door, unlock the door, and even turn on music. Patrick now has peace of mind and can check on his mom and or caregivers when he is away from the house. DD and Patrick have embraced their Smart Care™ system and the independence it provides.
---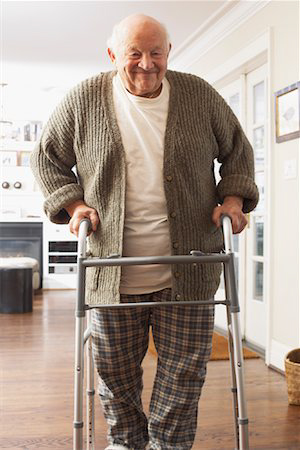 The Situation
Mr. Jones is a 97-year-old World War II veteran. He lived alone for many years until one day, when getting up to answer the phone, he fell and broke his hip. After completing rehabilitation, his son James and daughter-in-law Evelyn couldn't fathom the thought of Mr. Jones going back to his house alone or a nursing home. The family agreed that the best arrangement would be for Mr. Jones to live with James and Evelyn. James and Evelyn converted their basement to an in-law suite for Mr. Jones. However, James and Evelyn still felt uneasy leaving Mr. Jones alone, and were not able to spend time together away from home.
The Smart Solution
Smart Solutions installed four cameras in Mr. Joneses in-law suite so that James and Evelyn can check on Mr. Jones at all times. The cameras broadcast secure, real-time video footage of Mr. Jones to their smartphones, giving James and Evelyn the peace of mind they needed. Mr. Jones also has a fall pendant that he wears in case of emergencies.
The Outcome
Prior to Smart Solutions, James and Evelyn were hesitant to leave Mr. Jones alone by himself. James and Evelyn changed their entire daily routine to care for Mr. Jones. Installing four cameras and an emergency fall pendant, has given the Joneses peace of mind knowing that Mr. Jones is always just a click away. Mr. Jones is enjoying his new independence with the comforting knowledge that they are always there to help him, if need be.
Click here for more information.