•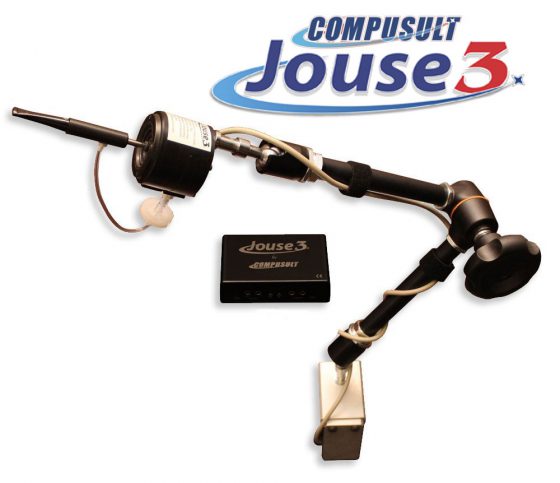 The all new Jouse3 is an advanced, joystick-operated plug-and-play solution.
Just move the precision joystick with your mouth, cheek, chin or tongue to control your computer, mobile device*, or switch-controlled device or AAC system. The further you move the joystick, the faster the cursor travels. You can perform right-click, left-click and double-click actions with the sip and puff switches built into the Jouse3.
The Jouse3 requires minimal action. The cursor movement is fast, smooth and very accurate, which is great for drawing and playing games.
The Jouse3 will mount to almost any desktop, wheelchair or bedframe. It also includes mounting options for ancillary equipment such as microphones, switches and Web-cams. Compusult also offers custom Jouse3 mounting hardware, switch controls and interfaces for many special needs.
The Jouse3 comes with two types of mouth pieces; a disposable type for multiple users and a rigid, more comfortable type in two different lengths for full-time users. The Jouse3 comes with 20 disposable mouthpieces, as well as two long and five medium-length permanent mouthpieces.
The Jouse3 comes with built-in support for two external switches. If the user cannot perform a sip or puff function (e.g., if they are on a respirator), they can use a switch as an alternative.
In addition to the replaceable and washable sip and puff tubes and tube holder, a saliva filter for enhanced hygiene and a spare filter unit is also included.
Jouse3 – Features and Benefits
The all new Jouse3 is based on USB technology. This provides much easier configuration and cross platform compatibility.
Jouse3 has been completely redesigned, with fully updated and improved hardware and electronics.
Jouse3 supports: Windows, Macintosh, Linux and Unix based computers, Android and iOS based mobile devices*, control for switch-enabled devices, and AAC systems with USB ports.
Jouse3 offers high-quality and durable hardware and electronics. The mount and all required accessories are included.
The USB interface makes it truly plug-and-play, and it works on all operating systems and platforms offering USB support.
With the Jouse3 nothing is attached to you. You don't have to wear anything to control your computer.
The Jouse3 has accurate tracking combined with extremely smooth operation and dwell cursor capability providing an ideal mouse replacement for drawing or any application requiring fine cursor control.
All features are provided directly through Jouse3 electronics. No additional software is required.
Jouse3 includes an advanced, adjustable, articulated 3-joint arm with a single dial lock that mounts easily to almost any desktop, wheelchair or bedframe.
The Jouse3 incorporates mounting options for ancillary equipment such as microphones, switches and Webcams.
The Jouse3 operates independently of any other pointing devices.
Supports for one or two external switches and includes two types of mouthpieces for sip and puff control.
No external power supply required, eliminating tangled wires and enhancing portability. Can sustain battery life of your device by using the auxillary power option.
Comes with a two-year return-to-depot warranty and free technical support. Extended warranties are available.
CE Certified.
System Requirements
Jouse3 supports:
Windows
Macintosh
Linux and Unix based computers
Android and iOS based mobile devices
Control for switch-enabled devices
 AAC systems with USB ports