•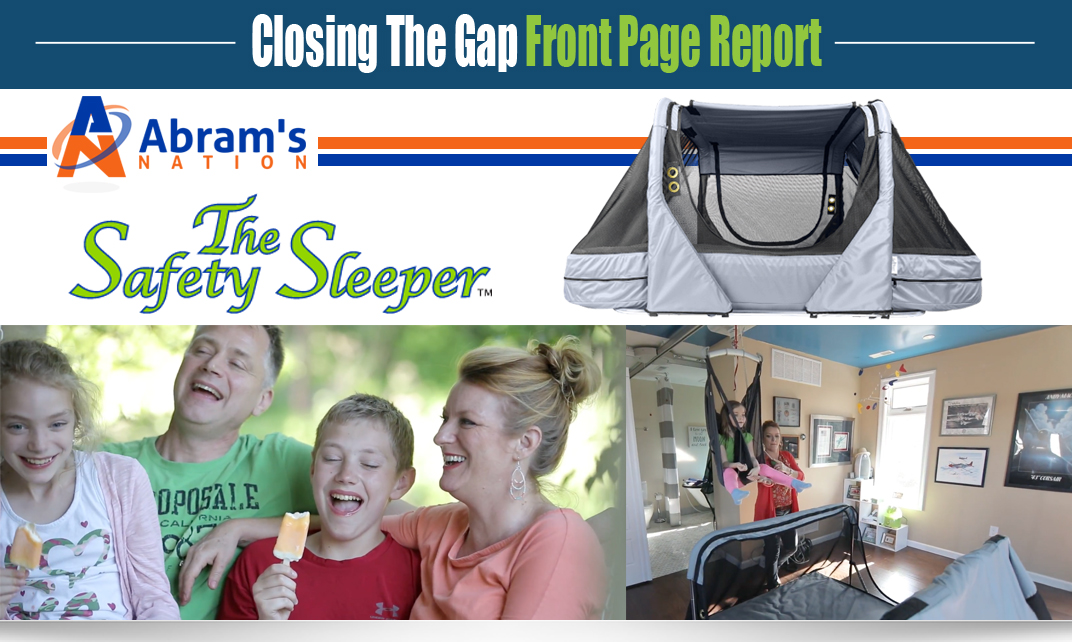 About Rose Morris, Creator of the Safety Sleeper
10 years ago, Rose was just a mother in pursuit of a safe solution for her son's sleep issues. This inspired her to develop The Safety Sleeper, a medical-grade, enclosed canopy bed system designed for anyone living with a diagnosis that affects safe sleep or routine sleep schedules. She never imagined it would turn into the birth of a nation – Abram's Nation!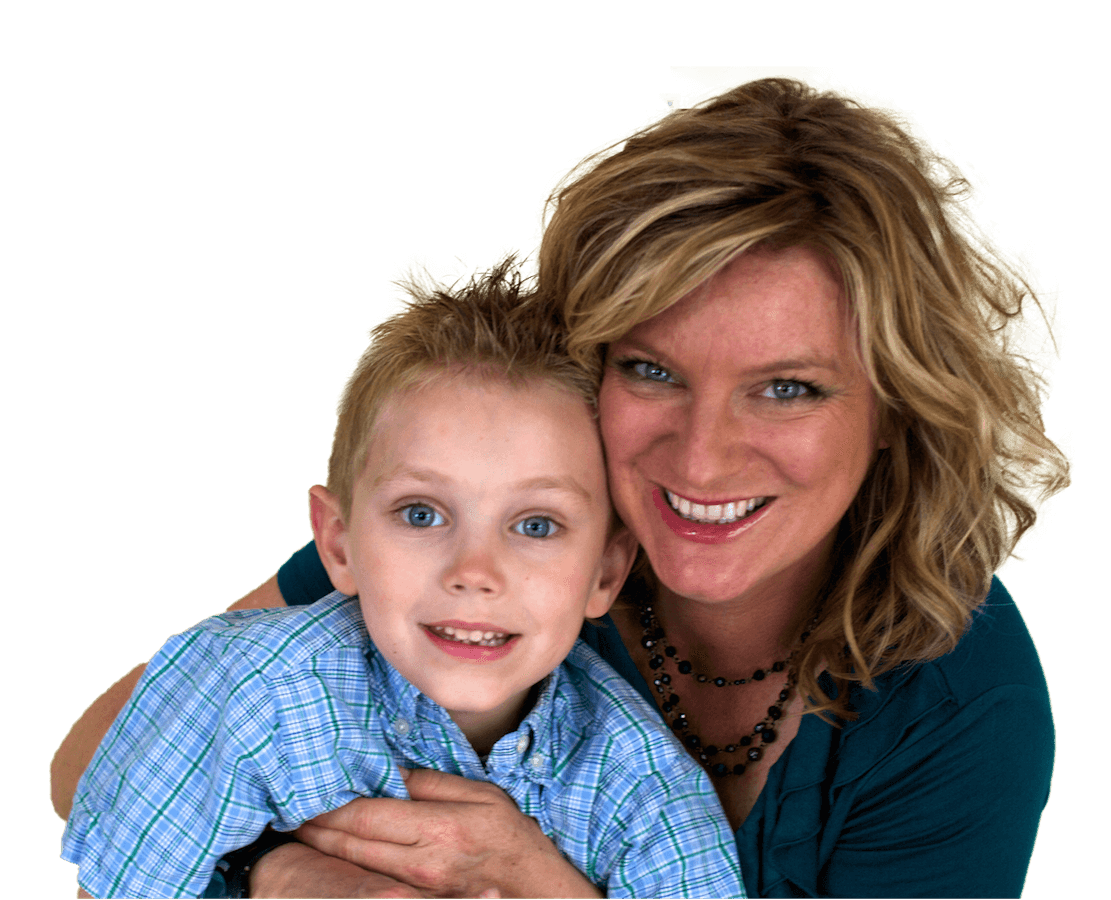 Abram's Nation, is a company dedicated to developing products that improve the quality of life for families and individuals with special needs, is launching a Pay-It-Forward program to celebrate a decade of innovation and community support. The public is invited to nominate deserving families for the opportunity to win a featured Abram's Nation product of the month. The Pay-It-Forward program launches in February and will continue through November as a 10-month celebration for the company's 10-year anniversary.
"It is such a blessing to be celebrating 10 years," said Rose. "I can't believe what started out as my own ambition to protect my child has now helped tens of thousands of families with special needs throughout the world. Over the past 10 years, the Abram's Nation team has grown to include innovative thinkers, creators and problem solvers, who are all passionate about joining me on a mission to give families with special needs the support they deserve through product innovation and community."
Core to the company values, the Abram's Nation team develops new products by listening to the concerns of families with special needs and understanding how to innovate solutions to improve their everyday lives. Building on the flagship The Safety Sleeper, Morris has led the growth of Abram's Nation into the premier manufacturer of durable medical-grade equipment, sensory products including Fidget Folder and Weight Mate, and the upcoming release of the Abram's Wearables line of adaptive clothing.
"We would not be where we are today without the amazing families that make up the Abram's Nation community," said Morris. "As we celebrate 10 years of success and innovation, we are driven to pay it forward by creating opportunities for new families to have the chance to become part of our special family."
To kick off the Pay-It-Forward program in February, Abram's Nation will accept nominations for a deserving family to win the first prize, The Fidget Folder, a unique sensory therapy tool designed to help individuals accomplish behavioral and developmental goals through active, educational play. The Fidget Folder is compact, easily transportable and fully customizable for individual developmental needs, such as tactile, sensory and motor skills. As part of the Pay-It-Forward program, Abram's Nation will unveil a new prize each month via its newsletter and social media platforms
---
The Safety Sleeper™ is a safe, fully enclosed bed system for children and adults with special needs for daily and travel use.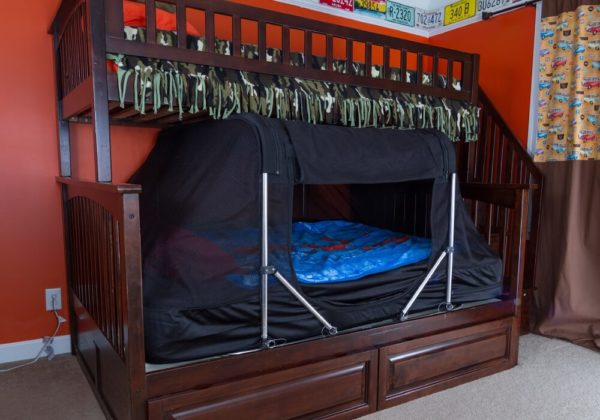 Everyday Use
Fully enclosed bed system 
Peace of mind that your loved one is Safe & Secure
Prevents unattended wandering
Promotes healthy sleep habits
Reduces visual stimulation
Safe & Secure
FDA product registration number: 3011389091
 Listed
 Pressure tested for up to 300 lbs.
Built from durable fire-retardant materials
Designed to hold up against high activity levels and such behaviors as head banging, seizures, and the like.
Eliminates entrapment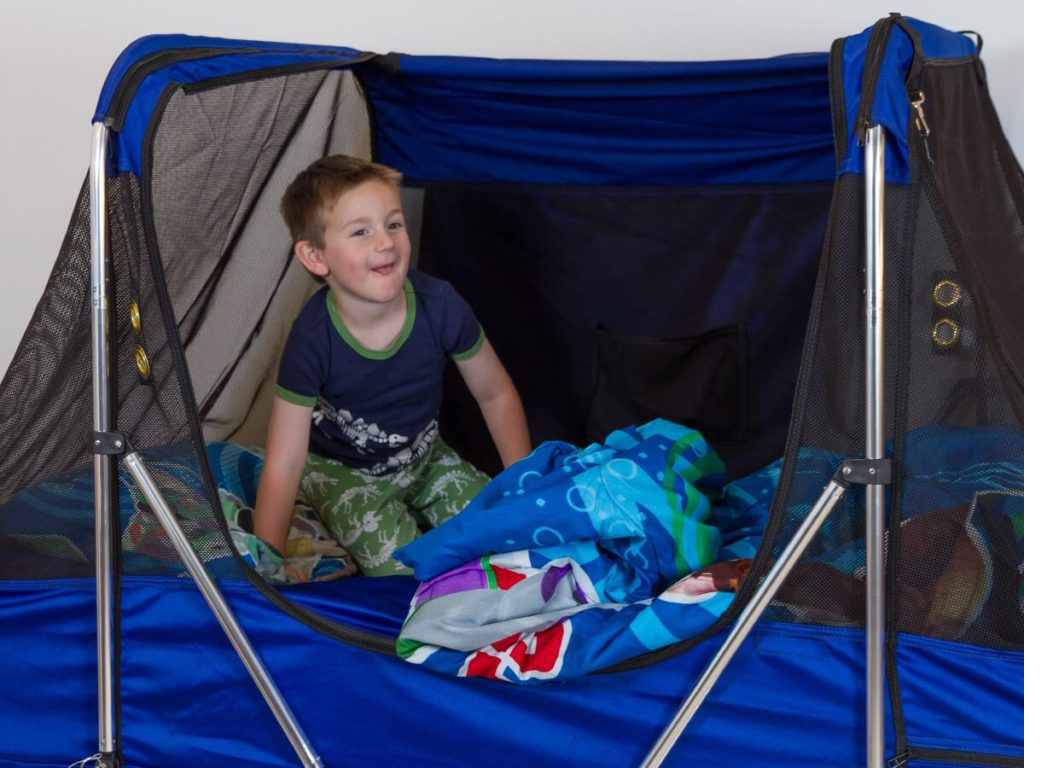 Customization
5 different models for you to choose from
Fully customized options to fit specific needs
5 fabric colors to choose from
Fits twin & full size mattresses for all country standards
Can be customized for a Custom Mesh Roof and Customized to fit in bottom bunk
Call our customer team for more information and pricing
Convenient
Spacious enough for an adult
Fits perfectly in any size room
Sets up in 5 minutes
Easy to assemble with no tools needed
Machine washable
Extra attachable sheets (Coverlet) available
Coverlet (sheet) is removable for easy laundering
Portability
Fully portable and easy to transport
Versatile for daily use and for travel
Includes hard shell wheeled suitcase and air mattress
Provides familiarity to loved one during travel
Their beds are easy to transport, weighs less than 37 LBS
Perfect for daily use, respite care, vacations, travel, hospital stays
Their beds offer more safety features than any other special needs bed on the market.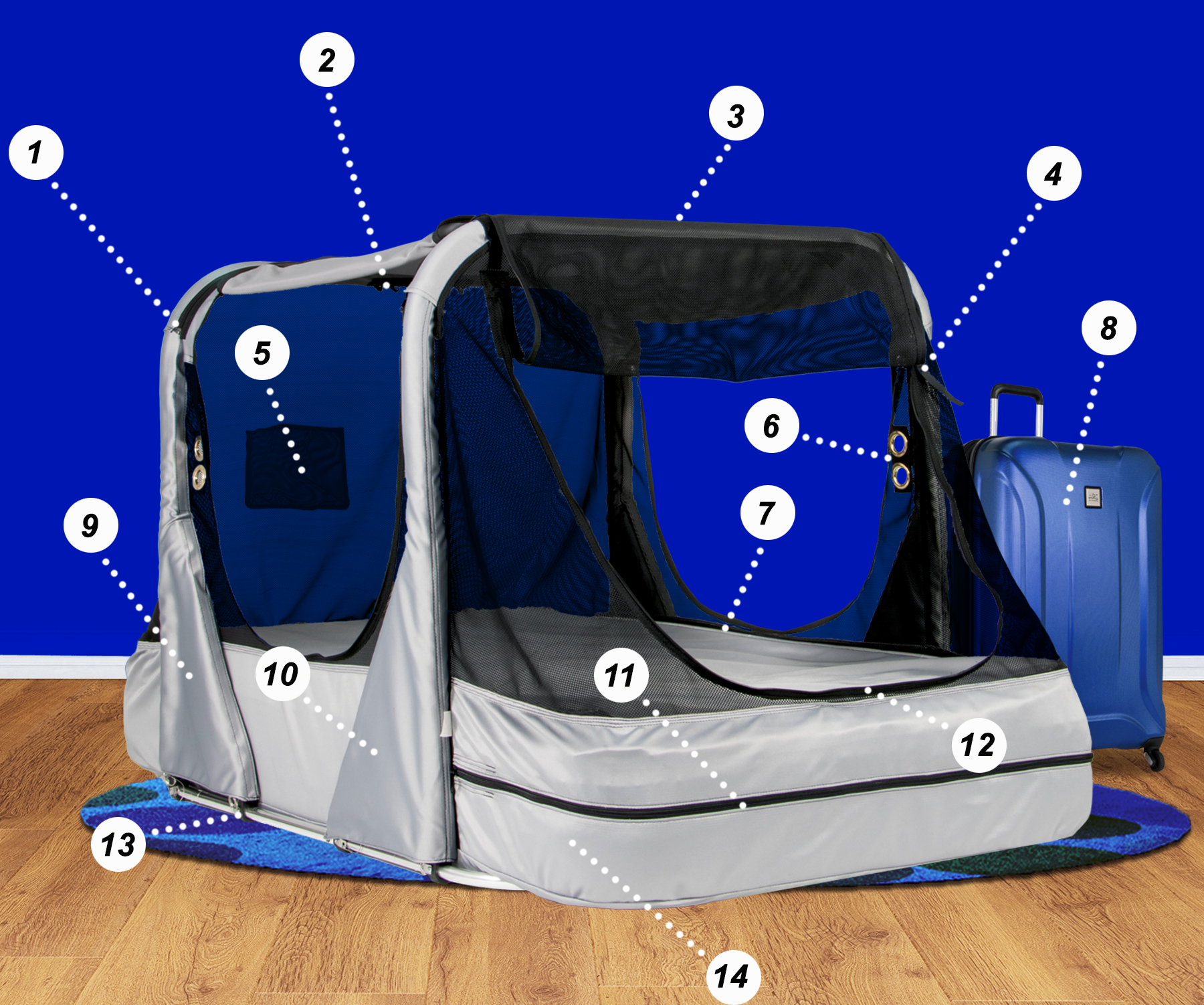 1. ZIPPER WEBBING
Additional back zipper webbing to avoid accidental reach of opening mechanisms from inside the bed; The Safety Sleeper™ completely contains your loved one in a secure non-threatening structure.

2. ATTACHMENT LOOPS
Attachment loops allow for fun and organization within your bed. Our six loop attachments can be installed on the roof of the enclosure for items intended for hanging.

3. SCREEN TOP
Their screen top allows families added security to easily monitor your loved one during the evening hours.

4. SAFETY ZIPPER
Safety zipper system provides extra safety at each entrance. A hook & loop system is connected to the zipper head of each entrance and is secured to the roof of the enclosure. This ensures your loved one cannot accidentally open the enclosed bed and fall into a dangerous situation.

5. INSIDE POCKET
Inside Pocket can be used for storing communication devices, toys, eye glasses or other items valuable to your loved one.

6. MULTIFUNCTIONAL ACCESS POINTS
Multifunctional access points can be inserted on the left and right sides of the enclosure to allow for multi-functional use for feeding tubes, oxygen tubing, pulse-ox sensors, monitors, etc.

7. COVERLETS
Coverlets are easily removed for washing and changing. This coverlet ensures that nothing can slip between the mattress and The Safety Sleeper™ enclosure, eliminate the threat of entrapment.

8. TRAVEL SUITCASE INCLUDED
A lightweight hardshell carry-on roller suitcase is included to allow families to travel with ease.

9. EXTRA FRAME PADDING
Extra frame padding to add another layer of safety and soft comfort for your loved one.

10. COLOR OPTIONS
Customize your bed color to match your personality.

11. AIR MATTRESS
They provide a durable, easy-to-fill air mattress to be used for times of travel.

12. SECOND POINT OF ENTRY
Includes a second bed entry point to add convenience or additional assistance for caretaker.

13. STABILIZING STRAPS
Stabilizing straps secure The Safety Sleeper™ to any twin or full size bed frames to eliminate tipping and moving of the bed.

14. FIRE RETARDANT MATERIAL
Fire retardant material adds an extra level of security by slowing down the spread of the fire and improving the opportunity for safe escape.