•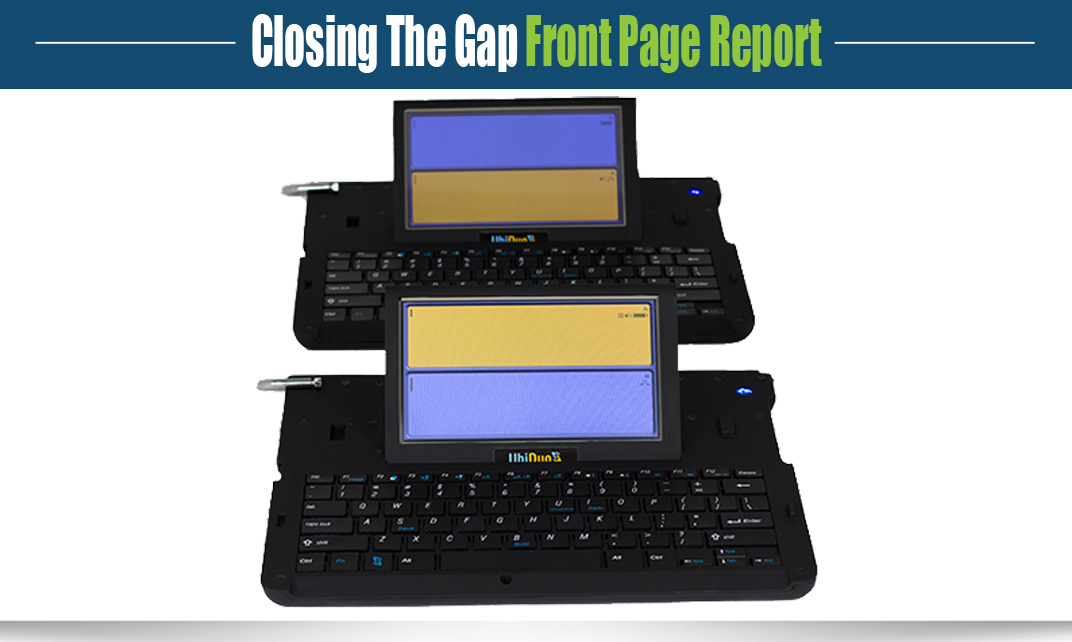 sComm is open, and the UbiDuo 2 is continuing to make an impact for people who are deaf, hard of hearing, late deafened, or who are unable to speak because of illness or injury.   
During this Covid-19 virus crisis, in addition to people who are deaf or hard of hearing, even more people who are late deafened or hearing are using the UbiDuo 2 during isolation, quarantine, or when they are on ventilators. UbiDuo users are able to communicate more readily and more effectively, while maintaining a safe social distance. Pen and paper or writing on a white board is time consuming and often unclear. It requires close contact. There is more chance of passing germs back and forth.
JAN, The Job Accommodation Network (within the Federal Department of Labor) provides information about workplace accommodations with people with disabilities. The UbiDuo is one of the products that JAN lists as an accommodation option.  JAN: Accommodation and Compliance: Deafness/Communication Access Technologies. Sign language interpreters are valuable, but they cannot be available 24 hours a day for any one person. The UbiDuo 2 fills in those hours when an interpreter is not present – which can be 90% of the time. For people who are late deafened, the UbiDuo 2 is needed because they do not know sign language.
The UbiDuo is Making Isolation Friendlier for Residents in Assisted Living, like Betty
Betty Hopkins in an Assisted Living Center environment utilizing the UbiDuo 2 communication device with her hearing peers.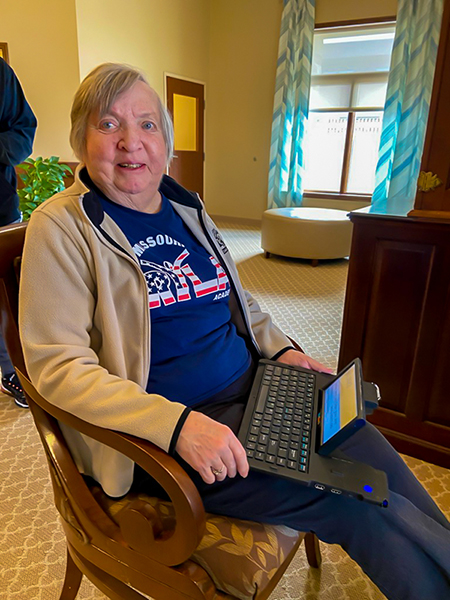 Betty's UbiDuo Story
Betty is in an assisted living center in "lock down" because of the Covid-19 Virus. No visitors are allowed. She has severe hearing loss and cannot hear over a land line phone or a cell phone. She can't use a cell phone for texting because the screen is too small for her to read and the keypad is too tiny for her to type.
Although she's in "lock down", Betty can still receive visits from her family and friends because they can communicate with her using her UbiDuo 2. The visitor is given one half of the UbiDuo to use outside the thick glass doors and Betty keeps her half on her side. The UbiDuo's wireless range of up to 100 feet, even through barriers, allows Betty to visit safely. Betty can laugh at jokes and clap for news about the grandchildren. She can show her sadness and empathy for friends who are ill.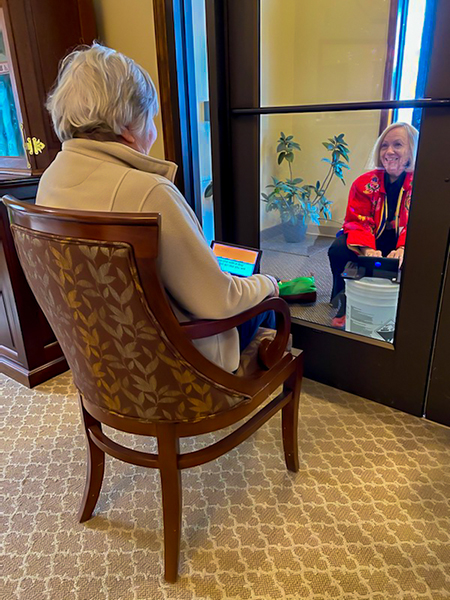 Even though Betty is in "lock down", she isn't isolated — which keeps her anxiety down, and helps her health and spirit stay up. The staff cleans the half of the UbiDuo when it is passed back through the doors. ("I carry my kitchen step stool in my car for me to sit on. I use the center's sand bucket they keep by the front door as my desk. We are good. We talk for an hour.")
---
Description
The unique patented hinge technology holds the two halves securely in place for easy transportation, and its 8-hour battery life ensures you won't be left stranded in the middle of those important conversations.
Try the new UbiDuo whenever you need a solution to facilitate face-to-face communication between deaf/hard-of-hearing and hearing people. This revolutionary device will help to eliminate bluffing, frustration and Communiphobia, as well as promote communication equality. Use it to empower people to share their thoughts and emotions seamlessly in real time just as in a normal conversation.
The Standard Wireless model of the UbiDuo connects each half with a built-in proprietary networking protocol that has a range of up to 300 feet.
Hardware
Standard wireless network connection – 2.4GHz Zigbee wireless transceiver
NXP ARM 9 CPU
128MB total storage (28MB reserved for operating system, 100MB for user storage)
7-inch diagonal color touch screen
8-hour lithium-polymer battery pack
4-pound total weight (2 lbs per half)
Micro USB port for charging
USB type A port for connecting flash storage
HDMI port for connecting a TV or projector
Patented hinge technology
Kensington anti-theft slots on each half
Software
UbiOS 1
Real-time split screen interface
Customizable fonts (12 point to 72 point)
Customizable text and background colors
Password protection on saved conversations
Password protection on configuration settings