•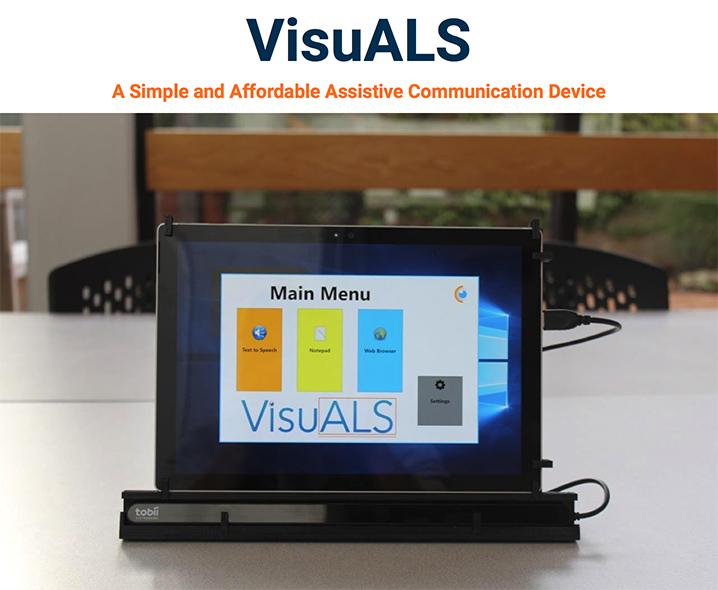 VisuALS is an affordable assistive communication (eye tracking) device that allows people to communicate and stay connected with their world by using only their eyes. The VisuALS system was originally developed by students at Oklahoma Christian University as part of an engineering senior capstone project. The students were originally tasked with helping ALS patients communicate with their eyes, but many different types of individuals may benefit from the VisuALS system including people with ALS & other motor neuron diseases, stroke victims, those with spinal cord injuries, non-verbal children with autism, people with muscle dystrophy, and more. 
The VisuALS System is an integrated alternative communications solution comprised of a tablet computer, eye tracking bar (purchased separately), bluetooth speaker, a case, a mount unit and proprietary software. All of these elements are pre-integrated by VisuALS before shipping to you to simplify initial setup. Features of the system include text-to-speech, web browser, notepad, home automation controls, commonly used phrases, and more.

Eye Tracking
The VisuALS system integrates with the leading eye tracking hardware to enable users to control the system entirely with their eyes. With an on-screen keyboard and predictive text, users can quickly type what's on their heart.

Communications & Connectivity
With built-in text-to-speech technology, users can speak to those around them. They can also e-mail friends, connect on social networks, browse the web, read online books, and write in their journal to keep their mind sharp and their relationships healthy.

Safety & Environmental Controls
Every screen of the VisuALS software includes an easy to access Alarm button to quickly get a caregiver's attention. VisuALS also provides easy access to a growing selection of light and environmental home automation devices (purchased separately) so that users can independently control their living space.

Affordability
At  less than $3000, the VisuALS system is a fraction of the cost of existing integrated options. Through the Love Fund, friends and family can easily contribute to ensure their loved ones can enjoy the love, care, and meaningful connections enabled by the VisuALS system.
Click here for more information.