•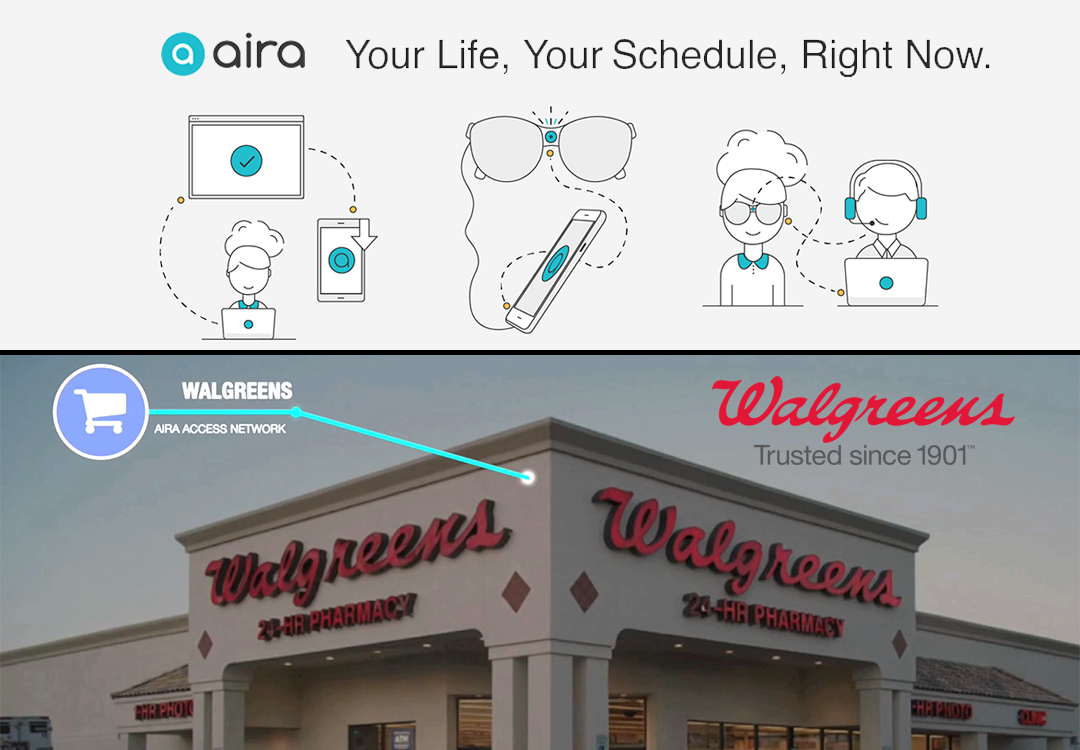 Yesterday, Aira is pleased to share that Walgreens, one of the nation's largest retailers, is the latest to join the Aira Access Network to provide free Aira service to shoppers who are blind or low vision.
Aira connects people who are blind or low vision with a live, sighted agent who provides visual information on-demand. Walgreens shoppers will be able to use the Aira app on their mobile phone to locate products, read labels, use self-checkout kiosks, and more.
Walgreens has a history of breaking new ground to meet its customers' needs and improve their health, from offering self-service stores beginning in the 1950s to developing a 5-star rated mobile app used by customers across the nation. Today, Walgreens continues its tradition of innovation by becoming the first healthcare retailer and pharmacy chain to enable free Aira Access – meaning that Aira is free to use in any one of the 9,560 Walgreens stores in the United States.
"Aira Access is all about ensuring that people can access visual information when and where they need it," said Suman Kanuganti, CEO of Aira. "Walgreens is a big presence in American life, and we're excited that Aira will now be a part of the shopping experience for Walgreens customers who are blind or low vision."
Aira is now available in all Walgreens stores across the United States. Shoppers can take advantage by downloading the Aira app on their Apple or Android phone, completing a quick registration, and placing a call when visual assistance is needed with shopping-related tasks.
---
Welcome to Aira
Aira is today's fastest growing assistive community. One tap of a button instantly connects you with a sighted professional agent who delivers visual assistance anytime and anywhere.
How it Works
Aira is on a mission to provide instant access to information to anyone, no matter where they are in life's journey. Whether an Explorer is learning, job seeking, working, parenting, or just living their life, Aira is there.
The world can be complex. Using Aira is simple.
Aira is a service that connects blind and low-vision people to highly trained, remotely-located agents. Through an app on your smartphone, or through an optional pair of Horizon Smart Glasses, Aira delivers instant access to visual information at the touch of a button – enhancing everyday efficiency, engagement, and independence. Straightforward and simple.
STEP ONE

Subscribe and Download

Pick the plan that makes the most sense for you, sign up in a couple of minutes and download the Aira app to your smartphone. Simple.

STEP TWO

Connect with a certified Aira agent

On the first call, connect with our specially trained Agents and learn how everything works.

STEP THREE

Receive real-time assistance

At the touch of a button, Aira delivers instant access to information, enhancing everyday efficiency, engagement, and independence.