•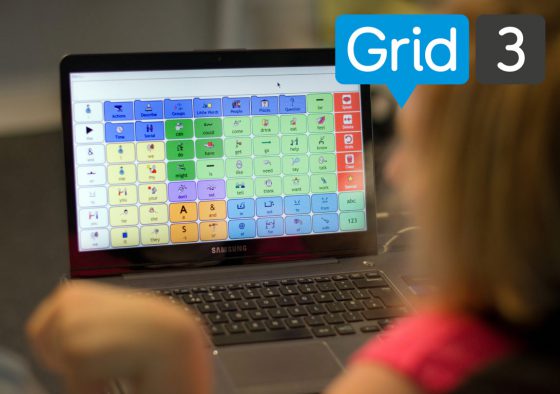 You can do so much more with Grid 3
Grid 3 software empowers people with disabilities across the world to communicate, control their environment and control their computer. You can use Grid 3 with every type of access, from eye gaze and switch technology to touch and pointing devices.
Find out what Grid 3 can do for you. Download and start exploring the next generation of AAC software.
Easy editing
Creating and personalising resources in Grid 3 is so simple and intuitive. You can achieve everything, from editing a cell to creating whole new grid sets, within only a few clicks. It is quicker than ever to make changes on the go using the touch-friendly interface.
Beautifully simple
Grid 3 not only has an intuitive user interface but it looks great too. The design and styling make your grids look fantastic and simpler to use.
Endless possibilities
Whether you're new to assistive technology or a technology whizz, Grid 3 supports you through your day-to-day life, with ready-made grid sets available for you to get started straight away.
First of its kind
After years of research and development Grid 3 raises the bar for assistive technology, featuring patented technology not available in any other software. Grid 3 is a complete software solution and provides a breadth of tools and features that has never been available before.
The power to have your own voice
Grid 3 software powers high-tech communication aids; turning text and symbols into speech. We have a library of voices that can be tailored to create a voice that belongs to you.
Keep in touch with people around the world
Using accessible tools for email, Skype and popular social media options like Facebook, you can keep in touch with family, friends and colleagues all over the world.
Tools for work, school and home
Whether you use symbols or text to communicate, there are applications and grid sets that will support you to achieve in the workplace and while studying. From powerful Computer Control tools that give you full access to Windows through to resources for people developing the early skills to use a communication aid.
Control your environment
Grid 3 also includes our Servus Environment Control technology. So if you use Grid 3 on a Grid Pad or dedicated Servus device you can operate any compatible accessory, from televisions and telephones to heaters and beds.
Designed for access
The accessible design of Grid 3 means that your dashboard, Grid Explorer, and every grid set is constructed using cells which can be accessed using eye gaze, touch, switch and pointing devices.
Bespoke to you
Grid 3 is ready to go straight out of the box, but has been designed so you can edit your grid sets to suit your needs. So whether you would prefer larger text, high contrast colours or larger cells to target, everything is possible.
Symbol communication
Symbol communication in Grid 3 enables you to use symbols to represent words and phrases for choosing what you want to say. A wide range of ready-made grid sets are available as soon as you power up your device, so you can get started straight away!
Text communication in Grid 3 empowers literate users to communicate more quickly and more accurately than ever.
Interactive Learning in Grid 3 is a completely new way for people to learn and explore through animated activities.
Accessible apps
Accessible apps in Grid 3 enable you to browse the web, use social media and so much more.
Servus environment control
Servus allows you to take control of the world around you by operating anything from your television to your telephone.
Computer control
You can also control all aspects of your computer and use any program you want: at home at school or at work.
Access options
From pointing devices to touch screens, eye gaze to switches; Grid 3 has innovative new features that make alternative access easier and more effective.
Your voice
Grid 3 comes with a selection of high quality voices out of the box. More voices can be installed to have an even larger choice of accents and ages.
Remote editing
The support you can receive from family and professionals is unlimited with all new Remote Editing, where anyone you wish to have access to your user profile and grid sets can login and edit wherever they are in the world.
All they need is a free trial version of Grid 3 and your login details.
Share your grids with the world
Join the Online Grids community and download grid sets from other users straight into Grid 3, or share your grid sets with the world. Simply export or add grids, all from within Grid 3.
In your language
Grid 3 is currently available in:
English (UK, US, CA and Aus)
Spanish
Portuguese
Italian
Hebrew
Swedish
Czech
Afrikaans
Dutch
Flemish
French
German
Norwegian
Polish
Greek
Slovakian
With more languages coming soon!